The Few, The Proud...The Award-Winning Toys!
Who Made the Cut This Year?
By Alison Marek and Julie L. Jones
---
Thousands of products are introduced to the toy industry every year, but only a limited number are good enough, playable enough and innovative enough to garner an award.

In addition to issuing TDmonthly Awards, TDmonthly Magazine regularly asks manufacturers to present their award winners to our readers so that retailers can quickly identify products with great potential and manufacturers can learn and be inspired by others' successes. Here are the most recent responses:
Sophie the Giraffe by CALISSON INC.



Suitable for babies 0 to 3 months and up, this teether and discovery toy features a contrasting spot pattern that offers visual stimulation, plus a squeaker for amusement. It is made of natural rubber from Hevea tree and colored with food paint. Sophie is distributed in the United States by Calisson.
— Retailers surveyed by TDmonthly have been naming Sophie the Giraffe as a best-seller since 2009.
― Nicole Boomhover, assistant manager of Learning Express in Cahaba Heights, Ala. told TDmonthly in late Spring 2011 that they sold between five and ten Sophies a month.
— In an April 2012 survey, three out of 11 retailers told TDmonthly that Sophie the Giraffe was their best selling infant & toddler product.
― "Sophie giraffe is a great baby product that we order over and over again," Diana Nelson, owner of Kazoo & Company in Denver, Co., told TDmonthly in June 2010. "I can't keep them on the shelf," agreed Keith Schumacker, general manager at Talbot's Toyland in San Mateo, Calif.
― During a March 2010 survey of 39 retailers, seven said Sophie the Giraffe is a top-selling toy for infants. Sales averaged 24 per month.
— Want this? As of 05/06/2011, this product was available for purchase at Learning Express of Cahaba Heights, Ala.
AWARDS: 2014 TDmonthly Magazine Top Toy Award, 2010 TDmonthly Top Seller


4/10/2009 (Age: 0 to 1) [Add to my Inquiry Basket][?]



Related Video:
Yo Baby Kick Flipper by GarageCo Toys, Inc.



This is a plastic, blow-molded skateboard deck only, NO WHEELS OR TRUCKS. Kids learn, practice, and get skills from balance and action sports moves indoors or out. The Yo Baby Kick Flipper is a great INDOOR sports toy. Whether it's too hot outside or the snow is coming down, children stay active and practice the fastest growing sport in the world indoors or outdoors. Parents love the product because children can learn boarding skills safely. The DVD that comes with it is mesmerizing for children and they watch it over and over hoping to master the same moves with their Yo Baby Kick Flipper.
Awards: 2007 TDmonthly Innovations Award; 2009 product of the year; 2008 preferred choice; ASTRA pick of the year; 2008 Seal of Excellence; Action Product Award ASR 2009
— "We're doing well with Yo Babys, [and] ordering a case a month," said Connie Hoeft, owner of C R Toys in Kearney, N.E., when asked about her best-selling sports toys in spring 2009.

Past Videos: Toy Fair 2009
4/2/2009 (Price: $14.95; Age: 3 to 10) [Add to my Inquiry Basket][?]



Related Video:
Strider Running Bike by STRIDER SPORTS INTERNATIONAL INC.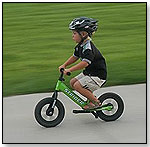 This lightweight running bike is designed to help children gain practice in balance and control as they ride without pedals. It features a steel frame and handlebars and has Launch Pad™ footrests. The handlebar and seat height are adjustable to accommodate riders from 30" to 44" tall. Rider weight limit is 50 lbs. The bike is available in green, red, blue, yellow, orange and pink.
Awards: A TDmonthly Classics Award for being an all-time favorite toy.
— As of 7/21/2011 this product had 4.7 out of 5 stars from 140 review on Amazon.com.
— "We've sold 10 of the 12 [bikes]," Fred Meyer, owner of Meyer's Toy World in Battle Creek, Mich., told TDmonthly of this new product in his store in April 2010.
3/31/2009 (Price: $99.00; Age: 1 to 5) [Add to my Inquiry Basket][?]



Related Video:
Boikido Eco-friendly Wooden Tina the Turtle by BOIKIDO

Winner of 2009 Creative Child Seal of Excellence Award!
This environmental friendly wooden turtle is made of wood from FSC monitored source, painted with water based paints, packaged in a box made of recycled materials and printed with soy bean ink. Parents and gift givers will be proud to have made an environmental friendly purchase. This whimsically painted Tina The Turtle is happy to help kids to figure out how things fit together. Just the right size for little hands, the three colorful pieces of Tina's shell nest inside each other – a terrific activity to improve motor skills and get your tiny tot thinking. Tested to meet European and U.S. safety standards.
3/25/2009 (Price: $21.99; Age: 1 and up) [Add to my Inquiry Basket][?]



Related Video:
Boikido Wooden Marine Maze by BOIKIDO



Winner of Oppenheim Toy Portfolio Gold Seal Award 2009! Building hand-eye coordination is an exciting part of being a toddler. Designed for children 18 months and older, this unique and colorful bead maze features a nautical theme, with two wire bead coasters and a maze – featuring a fun whale and boat to spur your little one's imagination. Children love to play with these toys in doctors' offices and waiting rooms – now you can have one at home. Tested to meet European and U.S. safety standards.
3/25/2009 (Price: $34.99; Age: 1 and up) [Add to my Inquiry Basket][?]



Related Video:
PlasmaCar Purple by PLASMART INC.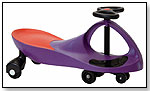 Now more than 10 years old, PlasmaCar continues to intrigue and fascinate with millions of units sole and multiple awards in over sixty countries worldwide. Just sit, put your feet up, and turn the steering wheel to propel yourself forward up to 6 mph on any smooth, flat surface. With a maximum weight capacity of 220 lbs., even parents and grandparents have experienced a giggle by taking it for a spin. Made from state-of-the-art, high-quality ABS plastics, this kid-powered, durable, ride-on vehicle comes in a variety of colors.
— "I can't believe how many of these I sell," remarked Jacque Flagg, owner of Jacque's Inc. in Bryan, Texas. In a March 2009 survey, Flagg reported sales of around 20 per month.
— In spring 2009, 41 percent of 60 retailers listed PlasmaCar as a best-selling ride-on in their stores, reporting sales of a dozen per month on average.
Awards: 2012 Parents Choice Awards Recommended, 2009 Green Parents List Check Mark, 2009 DisneyFamily.com Top Action Figures and Toys for Toddlers, 2009+2008+2005 The National Parenting Centre Seal of Approval, 2008 iParenting Media Toy Award, 2008 Fat Brain Toy Award Active Play, 2006 TIA Outdoor Toy of the Year - Specialty Toy of the Year, 2006 Oppenheim Toy Portfolio Platinum Award, 2005 Oppenheim Toy Portfolio Gold Seal Award, 2005 Dr. Toy Best Vacation Products, 2005 Creative Child Seal of Excellence, 2001 International Patent Fair, Hong Kong Gold Medal
3/24/2009 (Price: $69.95; Age: 3 and up) ENTER PLASMART INC. TOYSHOW [Add to my Inquiry Basket][?]



Related Video:
mark-my-time Bright Digital Bookmark by MARK-MY-TIME LLC



These digital timing bookmarks allow kids to track their nightly reading homework minutes for school or for the summer library reading programs. The bookmark now includes a 60-second timer for fluency checks. "Its unique, patented design allows for both count-up and count-down timing and removes the dreaded, 'Am I done yet?' from the nightly homework routine. The bookmark's price point makes it an ideal add-on sale for the specialty retail market," Owner Maureen Farinella of Mark-My-Time told TDmonthly. It has received the following awards: iParenting Media, National Parenting Center, Mr. Dad, Teachers' Choice, Family Review Center, Creative Child Magazine, and Parent to Parent Adding Wisdom. Launch date: February 17, 2009.
3/12/2009 (Price: $8.95; Age: 5 and up) [Add to my Inquiry Basket][?]



Related Video:
Lubies™ Pig by ROCKET USA

Pig Lubie is just like its traditional counterpart; pink and round, but smaller and softer. The Lubies collection received a 2009 Oppenheim Toy Portfolio Gold Seal Award. Launch date: 2009.
3/12/2009 (Price: $9.99; Age: All Ages) [Add to my Inquiry Basket][?]



Related Video:
Lubies™ Lion by ROCKET USA

Lion Lubie sports a cute and peaceful face. Have this Lubie be the king of the plush jungle. The Lubies collection received a 2009 Oppenheim Toy Portfolio Gold Seal Award. Launch date: 2009.
3/10/2009 (Price: $9.99; Age: All Ages) [Add to my Inquiry Basket][?]



Related Video:
Tanya by MARU & FRIENDS LLC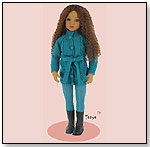 This 21" vinyl play doll wears a knit sweater and leather boots and comes with a certificate of authenticity. It was sculpted by Dianna Effner and has childlike facial features. Tanya comes with a "Forever Friends" storybook written by Maritza Gutierrrez and illustrated by Rhiannon Cunag. The doll received a 2009 DOTY award.
2/26/2009 (Price: $110.00; Age: 3 and up) [Add to my Inquiry Basket][?]



Related Video:
Following are some of the programs represented in TDmonthly.com's section of award winners: Dr. Toy, iParenting Media Awards, TIA T.O.T.Y., Oppenheim Toy Portfolio, The National Parenting Center, and Parents' Choice Awards.

You may also access TDmonthly's review section to see which products earned 5 TD stars.