The Few, The Proud...The Award-Winning Toys!
Who Made the Cut This Year?
By Alison Marek and Julie L. Jones
---
Thousands of products are introduced to the toy industry every year, but only a limited number are good enough, playable enough and innovative enough to garner an award.

In addition to issuing TDmonthly Awards, TDmonthly Magazine regularly asks manufacturers to present their award winners to our readers so that retailers can quickly identify products with great potential and manufacturers can learn and be inspired by others' successes. Here are the most recent responses:
Safe Sippy by KID BASIX LLC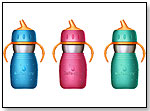 Suitable for ages 6 months and up, this stainless steel cup was designed to contribute to a less-toxic world. All plastic used on the cup is free of Bisphenol A, DEHA and phthalates. The Safe Sippy features a straw-shaped spout, is surrounded in a colorful, thermo plasticized rubber sleeve that acts as a grip, cushion and insulator, and has a tapered waist and handles with nubs to make it easier for children to hold. It comes in blue, green and pink, with orange accents. "The Safe Sippy™ provides an inert, non-toxic water container that eliminates the problem of toxic chemicals leaching into liquids, a problem common with plastic sippy cups," Bret Plate of Kid Basix told TDmonthly. This product received a 2007 iParenting Media Award. Launch date: trade – September 7, 2007; consumers – November 2007.
12/7/2007 (Price: $14.95; Age: 1 and up) [Add to my Inquiry Basket][?]



Related Video:
Tony Chestnut & Fun Time Action Songs by THE LEARNING STATION



This award-winning, musical collection is brimming with 14 lively action songs, circle games and upbeat, learning fun. Top rated internationally by educators and parents this CD features the HIT songs, Tony Chestnut, Five Little Monkeys and Shiny Clean Dance. On top of all this fun, it's quite a healthy workout too!
Awards: A TDmonthly Classics Award for being an all-time favorite children's product; 2009 Creative Child Magazine Seal of Excellence; 2008 Children's Music Web Best Recording for Preschoolers.
12/6/2007 (Price: $15.00; Age: 3 to 8) [Add to my Inquiry Basket][?]



Related Video:
Generation Baby Handy Sack by GENERATION BABY

This organizer for both parent and child stores everything from messy baby essentials that can leak or spill onto toys, snacks and medicine. Its clear front pocket allows parents to see exactly what's inside. The Velcro closure keeps contents safely in place, while the sack's liquid and stain repellent fabric lets parents easily wipe away messes with a damp cloth. This product is a 2007 iParenting Media Award winner.
12/6/2007 (Price: $24.99; Age: 0 to 2) [Add to my Inquiry Basket][?]



Related Video:
Phonics (RL948) by ROCK 'N LEARN INC.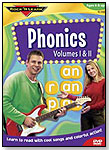 Upbeat songs and rhymes, colorful animation and energetic performers make learning fun. Children control the pace, advancing as they master each new skill. Delayed answers and the "on-screen mouth" let students check their reading and pronunciation. Free supplementary materials are available on the website. "Parents love seeing the success their children have using Rock 'N Learn Phonics program," Rock 'N Learn Inc. Communications Manager Jessica Cates told TDmonthly. "It is a great way to entertain children while helping them develop the skills they need to succeed!" Launch date: 2003.
Awards: Mom's Best Award 2010, Dr. Toy 100 Best Children's Products - 2010
12/5/2007 (Price: $19.99; Age: 4 to 7) [Add to my Inquiry Basket][?]



Related Video:
Writing Strategies (RL202) by ROCK 'N LEARN INC.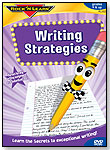 Marko the Pencil introduces viewers to his Writer's Toolbox, packed with smart, easy-to-implement strategies for improving writing. Marko makes lessons meaningful and memorable by using real passages to demonstrate his writing tools at work. He also teaches strategies for use on writing assignments and standardized tests. "This unique product is a fantastic resource for sharpening writing skills and improving performance on standardized tests," Rock 'N Learn Inc. Communications Manager Jessica Cates told TDmonthly. "Marko the Pencil keeps children entertained as he presents effective tools for becoming a fantastic writer!" This product is a 2008 iParenting Media Award winner. Launch date: December 2007.
12/5/2007 (Price: $19.99; Age: 9 and up) [Add to my Inquiry Basket][?]



Related Video:
Illuminated W.O.R.D. by TECHNO SOURCE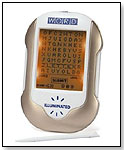 Play Word Search, Text Tumbler, Letter Train and Alpha-Mixer all on a hand-held, fully illuminated touch screen device. The games feature multiple levels, varying skill levels, animation and sound effects. This product is a 2008 iParenting Media Award winner. Launch date: Fall 2007.
12/5/2007 (Price: $19.99; Age: 8 and up) [Add to my Inquiry Basket][?]



Related Video:
Spanish for Beginners: Los Animales (Animals) by WHISTLEFRITZ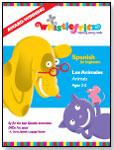 In this program, children explore the world of animals and sounds, and get treated to a few surprises along the way. Children will giggle with glee at this motley group of animals, including a timid elephant who gets chased out of town by a mouse, a witty dog who can mimic the sounds of his farm friends, and a mischievous donkey who stirs up a hullabaloo in the barnyard. These playful puppets will have kids up on their feet dancing and singing along to beloved Spanish-language folksongs. The DVD introduces children to the names and sounds of animals in Spanish. It received a 2007 NAPPA Honors Award. Launch date: October 2007.
11/30/2007 (Price: $19.99; Age: 2 to 5) [Add to my Inquiry Basket][?]



Related Video:
Barney & Friends™: Celebrating Around the World by HIT ENTERTAINMENT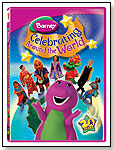 For his 20th year anniversary celebration, Barney and his friends take a magical train ride on Barney's Imagination Unlimited and explore the different types of celebrations around the world. This product received a 2008 Parents' Choice Approved award, a Dove Family Approved Seal, a Parent to Parent Adding Wisdom Award and The Toy Man Product Guide Award of Excellence and Seal of Approval. Launch date: January 29, 2008.
11/30/2007 (Price: $14.98) [Add to my Inquiry Basket][?]



Related Video:
Bambooga® - The Human Puzzle Game by UNCLE SKUNKLE TOYS, INC.



In this human-puzzle game, players use color wristbands to bind their hands and feet to one another, leading to a sticky mess of people. The goal of the game is to crawl, walk, scoot or jump one's way towards the finish line, all the while maintaining the connections determined by a shake of the Bambooga Shaker. Bambooga is safe and eco-friendly, adhering to "green-" manufacturing practices with second-generation, sustainable bamboo construction. "Bambooga is the result of a social-entrepreneurship project sponsored by Kids Ark Foundation of Thailand,...an organization that hopes to find a solution to the AIDS epidemic in Thailand," Uncle Skunkle Toys Inc. Marketing and Communications Director Maya Cardoso told TDmonthly. A portion of "the proceeds from the manufacturing of Bambooga [is] recycled back to Kids Ark and [goes] towards projects to raise education and standards of living." Launch date: April 2008.
Awards: Bambooga is a winner of "Dr. Toy's 100 Best Picks Children's Products for 2009" and also won Creative Child Magazine's "Toy of the Year Award" for 2008. Bambooga has also been recognized with a favorable review by The Old Schoolhouse, a magazine for homeschooling families.
11/30/2007 (Price: $34.99; Age: 8 and up) [Add to my Inquiry Basket][?]



Related Video:
Parenting Well in a Media Age by PERSONHOOD PRESS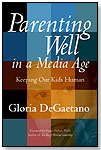 This book by Gloria DeGaetano provides clear and compelling information for parents about the long-term impact of media immersion on our kids. With common sense answers to concerns for children's exposure to violence, questionable values, and consumerism, the author offers hopeful alternatives for parents on meeting kids' real needs in a culture dictated by impersonal corporate business and industry. "The author takes a firm stand on the importance of educating parents on the effects of media on their children's social, emotional, physical and ethical development. What messages do you want to be most influential in shaping the emerging identity of your child — yours, or an industry-generated culture?" asked Publisher Cathy Winch of Personhood Press. This book received an iParenting Media Award. Launch date: May 2004.
11/28/2007 (Price: $18.95; ) [Add to my Inquiry Basket][?]



Related Video:
Following are some of the programs represented in TDmonthly.com's section of award winners: Dr. Toy, iParenting Media Awards, TIA T.O.T.Y., Oppenheim Toy Portfolio, The National Parenting Center, and Parents' Choice Awards.

You may also access TDmonthly's review section to see which products earned 5 TD stars.