The Few, The Proud...The Award-Winning Toys!
Who Made the Cut This Year?
By Alison Marek and Julie L. Jones
---
Thousands of products are introduced to the toy industry every year, but only a limited number are good enough, playable enough and innovative enough to garner an award.

In addition to issuing TDmonthly Awards, TDmonthly Magazine regularly asks manufacturers to present their award winners to our readers so that retailers can quickly identify products with great potential and manufacturers can learn and be inspired by others' successes. Here are the most recent responses:
MainStreet Village™ SunnySide Farm by THE STEP2 COMPANY

The farm play set includes a farm house, Farmer Toy, Mrs. Farmer Liz, the farm dog Carmel, a cow, a horse, a pig and a lamb. This product is a 2007 Parent's Choice Award winner.
5/23/2007 (Price: $29.99) [Add to my Inquiry Basket][?]



Related Video:
Calico Critters Lambrook Sheep Family by INTERNATIONAL PLAYTHINGS LLC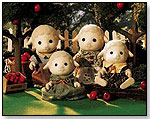 Everyone in the Lambrook Family loves nothing better than fresh fruit. This is not surprising, as Father Danny is in charge of the orchards in Cloverleaf Corners where he grows delicious apples and pears. Mother Barbara helps him take care of the trees, while sister Iona and brother Winton help with smaller jobs after school. Calico Critters are a best seller at Henry Bear's Park stores in Massachusetts, Owner Sally Lesser told TDmonthly in spring 2007.
― In spring 2007, Roberta Edwards, owner of Wishes Toys & Gifts in La Quinta, Calif., named International Playthings as a vendor who has "gone the extra mile."
— "We probably sell more of the Calico Critter dollhouse than anything from International Playthings. They're hot," said Jeanne McCullough, owner of Children's Store Inc. in Boise, Idaho. Five of 62 retailers cited Calico Critters when asked about best-selling play houses or furniture in their stores.
— Known as the Sylvanian Families across the pond, Calico Critters' cute little animal families are collected and loved by little girls and boys around the world. Since being reintroduced to the States, the furry minis have taken off big time, earning them a TDmonthly Classic Toy 2007 award.

Where to Buy: Luv U Pumkin; Blue Turtle Toy Store
5/22/2007 [Add to my Inquiry Basket][?]



Related Video:
Lovely Baby Music Presents...The Famous Composers Series by LOVELY BABY MUSIC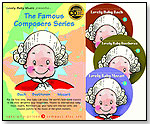 For the first time ever, babies can enjoy the world's best-loved classics in the most important and delightful way imaginable. Thanks to international baby music expert Raimond Lap, babies can now interact and respond with joy to the music of the great masters, while benefiting from arrangements that will help maximize their development. This is a specially priced three-CD set. "Lovely Baby is the first and only original music series in the world specifically created for babies. Created for, not adapted for," President Gary Brody of Lovely Baby Music told TDmonthly. The product received a spring 2007 Parents' Choice Award.
5/21/2007 (Price: $31.98; Age: 0 to 3) [Add to my Inquiry Basket][?]



Related Video:
Piano Made Easy® by MAYRON COLE MUSIC CONSERVATORY INC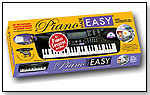 Piano Made Easy turns learning into a piano-playing adventure. As the child is taken on a musically guided tour of a very funny zoo, he or she will explore 10 different areas, in sequential order, and learn such things as note values, keys on the piano and rhythm. In addition to 57 original compositions, the interactive CD also features 10 rhythm and keyboard games. The 49-key battery-operated piano keyboard is placed in front of the computer screen in place of the typing keyboard. Piano Made Easy has won a 2007 iParenting Media Award for Excellent Products, a Toy Man Seal of Approval Award of Excellence, a Family Review Center Platinum Award, an eChoice Award and a 2007 Toy of the Year Award from Creative Child Magazine.
5/21/2007 (Price: $119.99; Age: 7 and up) [Add to my Inquiry Basket][?]



Related Video:
WonderMaze by MUSEUM TOUR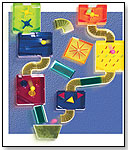 WonderMaze sharpens kids' thinking and navigational skills, while teaching them about teamwork and physics. The maze's magnetic backing holds gravity slides, angled slopes, spinners and pegs that become active as balls enter the maze and tumble down ramps and tunnels. Observing the movement of the balls and what affects those movements will teach kids about the principles of physics and cause and effect. Best of all, teamwork and cooperation are encouraged as children work together to make a giant maze. The maze includes six feature pieces, elbow ramps, two tunnels, six balls and one catch box. This product received a Parents' Choice Silver Honor Fall 2007 Award.
5/21/2007 (Price: $44.95; Age: 6 and up) [Add to my Inquiry Basket][?]



Related Video:
Nicky's Jazz Christmas by DOMINICK MEDIA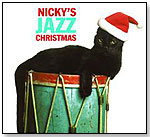 This first-of-its-kind Jazz Christmas collection for kids features a sweet and fun-filled holiday collection of classics like "Frosty the Snowman" and "All I Want for Christmas is My Two Front Teeth" as well as some rare surprises — all sung with spunk, spirit and swing by legendary artists such as Louis Armstrong, Lena Horne, Nat King Cole and Peggy Lee. Nicky's cool yule picks will have the whole house swinging for the holidays. "All tracks have been digitally remastered from their originals and the fidelity is state-of-the-art," Carol Friedman, president and owner of Dominick Media, told TDmonthly. This product received a spring 2007 Parents' Choice Silver Award.
5/21/2007 (Price: $16.95; Age: All Ages) [Add to my Inquiry Basket][?]



Related Video:
A Hop, Skip, and a Jump: Activity Songs for the Very Young by Pam Donkin by A GENTLE WIND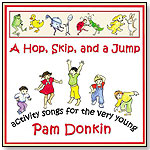 With an imaginative blend of music and creative movement, the playful images inspired by these adorable, easy sing-along songs will have everyone giggling and wiggling, twirling and clapping. This musical frolic also advances language, math, science, listening and movement skills. Song titles include "Wigglin Around," "Gotta Get the Beat," "Five Fluffy Puppies," "Little Red Train," "Country Lullaby" and more. This product received a spring 2007 Parents' Choice Approved Award. "[The] CD includes bonus features: two additional songs, an activity guide and a video through the computer," President Jill Person of A Gentle Wind told TDmonthly. Launch date: January 2007.
5/21/2007 (Price: $14.95; Age: 1 to 4) [Add to my Inquiry Basket][?]



Related Video:
Did You Hear That? by FOX AND BRANCH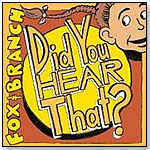 This second disc of folk music for families from Dave Fox and Will Branch is a musical version of the popular "Where's Waldo?" books. Children try to find 15 different musical instrument sounds scattered throughout the CD. Each sound is named and demonstrated early on and then used in remaining songs. The CD insert includes an illustration of the instruments being played and a listing of those played on each song. "Fox and Branch specialize in children's music that is deeply rooted in traditional American folk music, not pop or rock music. Their CDs have a depth and authenticity that other recordings of children's music lack," a representative of Fox and Branch told TDmonthly. This product received a spring 2007 Parents' Choice Recommended seal. Launch date: February 2007.
5/21/2007 (Price: $15.00; Age: 1 to 7) [Add to my Inquiry Basket][?]



Related Video:
Never Mind the Rain: Songs and Musical Stories for Families by PEACEFUL PLANET PUBLISHING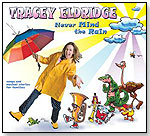 This album features upbeat songs and musical stories designed to teach children about styles of American "roots" music. It is a celebration of nature, movement and sounds and is educational, yet fun for kids. Children learn to identify sounds associated with regional styles of American music: zydeco, Dixieland, boogie woogie, bluegrass, rock 'n' roll, reggae, Hawaiian and so on. The product received a spring 2007 Parents' Choice Gold Award. Launch date: January 2007. "The songs are all 'originals,' fun and cleverly written," artist and performer Tracey Eldridge told TDmonthly. "Full bands made up of wonderful musicians round out the tunes. Sound effects add yet another dimension of interest."
5/21/2007 (Price: $15.00; Age: 3 to 9) [Add to my Inquiry Basket][?]



Related Video:
LifeStyle™ Grand Walk-In Kitchen by THE STEP2 COMPANY

A culinary playground of epic proportions, the Grand Walk-In Kitchen provides an interactive play experience that is second to none in features or accessories. "To have a kitchen that serves several different services — food preparation and serving, etc. — [provides] the ultimate role-play experience," Director of Marketing Communications Dotti Foltz of The Step2 Company told TDmonthly. This product is a 2007 Parent's Choice Award winner.
5/18/2007 (Price: $259.99; Age: 2 and up) [Add to my Inquiry Basket][?]



Related Video:
Following are some of the programs represented in TDmonthly.com's section of award winners: Dr. Toy, iParenting Media Awards, TIA T.O.T.Y., Oppenheim Toy Portfolio, The National Parenting Center, and Parents' Choice Awards.

You may also access TDmonthly's review section to see which products earned 5 TD stars.