The Few, The Proud...The Award-Winning Toys!
Who Made the Cut This Year?
By Alison Marek and Julie L. Jones
---
Thousands of products are introduced to the toy industry every year, but only a limited number are good enough, playable enough and innovative enough to garner an award.

In addition to issuing TDmonthly Awards, TDmonthly Magazine regularly asks manufacturers to present their award winners to our readers so that retailers can quickly identify products with great potential and manufacturers can learn and be inspired by others' successes. Here are the most recent responses:
Thomas & Friends™: Engines and Escapades by HIT ENTERTAINMENT



Thomas and his friends are featured in six new adventures, including "Cool Truckings," "Skarloey Storms Through" and "Wash Behind Your Buffers." In addition, children can sing-along with the puffing steam cloud to two music videos. The DVD has an approximate running time of 50 minutes. This product received a 2008 Parents' Choice Approved award. Launch date: March 4, 2008.
— According to Bennie Campbell, owner of ABC Toys in Conway, Ark., "Thomas the Train always has been" the stores' hottest selling line.
2/8/2008 (Price: $14.98) [Add to my Inquiry Basket][?]



Related Video:
Rapid 4® Wood by UNCLE SKUNKLE TOYS, INC.



The wooden version of the quick-connection game involves both luck and strategy. Players take turns dropping marbles through the maze of levers in order to get a winning combination of four marbles in a vertical, horizontal or diagonal. The removal of a fifth marble in a column allows for continuous play and unexpected twists. The beautiful, fold-up wood design makes Rapid 4® Wood attractive when left out in a den and a snap to pack up and take on vacation. This product is a Dr. Toy Best Product Award winner. Launch date: June 2008.
2/4/2008 (Price: $44.95; Age: 8 and up) [Add to my Inquiry Basket][?]



Related Video:
Destruct 3© by UNCLE SKUNKLE TOYS, INC.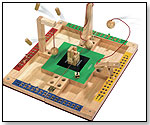 Players build the tower, roll the dice to determine the destructive device and then knock down the tower with the Catapult, the Pendulum or the Ramp. The entire set is made from beautiful, sustainable rubber-tree wood. This game received a 2007-2008 Informal Education Products Award. Launch date: June 2008.
1/29/2008 (Price: $69.99; Age: 8 and up) [Add to my Inquiry Basket][?]



Related Video:
Telepaths by OUTSET MEDIA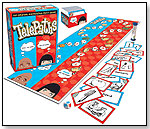 In this game, players guess what their teammates will associate with various words and pictures, and try to match answers. Players only have 30 seconds to come up with matching words, so the game is a race against time and other players. A trilingual edition in English, French and Spanish is also available. This product is a National Parenting Center Seal of Approval Award, Canadian Toy Testing Council Best Bet Award and 2004 Games Magazine Games 100 Award winner. Launch date: 2008.
1/29/2008 (Age: 8 and up) [Add to my Inquiry Basket][?]



Related Video:
Campfire Kev and Mary Lafleur: The Pet Project by CAMPFIRE KEV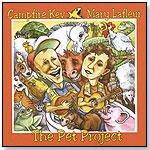 The album uses folk, bluegrass, country, pop and rock to celebrate the prestigious place animals hold in the lives and lore of people all over the world. Inspired by the 2006 Collaborative Summer Library Program, "Paws, Claws, Scales and Tales," the CD contains songs about presidential pets, funny farm animals, proper pet care, plush and plastic playmates, save-the-day dogs, animal rescues, pets in the Dewey decimal system and more. This product is a Parents' Choice Award and Children's Music Web Awards winner.
1/29/2008 (Price: $14.97) [Add to my Inquiry Basket][?]



Related Video:
Songs From a Naturalist's Notebook, Children's Nature Songs by NATURE THEATRE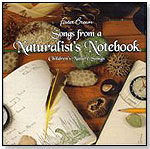 The record includes both fan favorites and new tunes, all with lyrics teaching youngsters about the glorious natural world. Foster also draws upon the musical talents of friends, resulting in infectious instrumentations. This product is a 2006 Parents' Choice Recommended Award winner. Launch date: 2006.
1/29/2008 [Add to my Inquiry Basket][?]



Related Video:
Cora Lee by Doris Stannat by MASTERPIECE DOLLS

Doris Stannat has sculpted a beautiful silicone/vinyl baby, Cora Lee, height 21". Her face is so sweet and adorable. She has lovely blue eyes. Her cheeks are softly blushed in pink and her lips are painted a pretty pink to match her outfit as well. Doris has sculpted her with arms above the elbow and legs above the knee. Her blonde, baby-fine wig is adorably styled with a pretty pink bow. Her white over-dress is beautifully detailed with accents of eyelet lace. Her pink shirt is soft jersey. Her sneakers are a pretty pink with pink socks to match. Clown accessory included. Limited edition 350 pieces. This doll was a 2008 DOTY (Doll of the Year) Industry's Choice Award winner.
1/28/2008 (Price: $159.00) [Add to my Inquiry Basket][?]



Related Video:
Abigail by Monika Peter-Leicht by MASTERPIECE DOLLS

Monika Peter-Leicht has created an adorable sister and brother seated and holding hands. They are sold separately, and both are the 32" size babies in silicone/vinyl. Their arms are full length and attach directly into the shoulder plate so they can wear sleeveless outfits as shown. Their legs are sculpted well above the knees so they can attach to a small cap cloth portion into the body to make them easy to pose. Their legs can cross in front as shown or hang down if seated in a chair. Abigail has blue eyes and a beautiful brunette wig with soft curls down to her neckline. She has cute pink barrettes in her hair. Monika has dressed her in an adorable sleeveless dress with a pink floral design. Her sweater is done in lime green edged with the material of her dress. She wears white socks with a lace edge and adorable pink shoes. Limited Edition of 350 pieces. This doll received a 2008 DOTY (Doll of the Year) Industry's Choice Award.
1/28/2008 (Price: $189.00) [Add to my Inquiry Basket][?]



Related Video:
Pingu: On Thin Ice by 20th CENTURY FOX HOME ENTERTAINMENT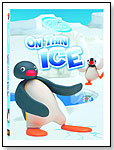 This 59-minute DVD features the mischievous penguin named Pingu and his comical escapades in the South Pole. Episodes include "Pingu's Balancing Act," "Pingu and Pinga Go Camping" and "Pinga Has Hiccups." This product received a Dove Family Approved Seal. Launch date: January 28, 2008.
1/17/2008 (Price: $14.98; Age: 3 to 6) [Add to my Inquiry Basket][?]



Related Video:
Debbie and Friends: Story Songs and Sing Alongs by DEBBIE AND FRIENDS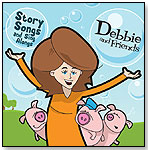 This family-friendly CD features rock, country, pop, reggae and Broadway-esque musical styles, original story-songs such as "Jack and the Beanstalk," and a powerful ballad known to stir the emotions, "Love is a Family." It combines Debbie's vocals with the voices of 15 Boston-area kids and the instrumental talents of numerous Berklee College of Music students and faculty. The five story songs on the CD "promote literacy and provide a wonderful opportunity for cross-promotion with books and toy products that are based on children's classic tales," Debbie Cavalier told TDmonthly. This product received the Dove Foundation Family Seal of Approval award. Launch date: October 9, 2007.
1/17/2008 (Price: $14.95; Age: 2 to 7) [Add to my Inquiry Basket][?]



Related Video:
Following are some of the programs represented in TDmonthly.com's section of award winners: Dr. Toy, iParenting Media Awards, TIA T.O.T.Y., Oppenheim Toy Portfolio, The National Parenting Center, and Parents' Choice Awards.

You may also access TDmonthly's review section to see which products earned 5 TD stars.