The Few, The Proud...The Award-Winning Toys!
Who Made the Cut This Year?
By Alison Marek and Julie L. Jones
---
Thousands of products are introduced to the toy industry every year, but only a limited number are good enough, playable enough and innovative enough to garner an award.

In addition to issuing TDmonthly Awards, TDmonthly Magazine regularly asks manufacturers to present their award winners to our readers so that retailers can quickly identify products with great potential and manufacturers can learn and be inspired by others' successes. Here are the most recent responses:
Descender by M.Y. PRODUCTS LLC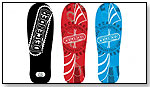 Rockboard takes boarding to an all new level in 2012 with the brand-new Descender, the first of its kind! Featuring innovative high-performance treads never before applied to the boarding experience, this unique cross-over board bridges the gap for summer and winter outdoor sports enthusiasts, enabling riders to "surf" down grass and all-terrain hills. With its four treads positioned around triple sets of wheels for maximum traction and power, The Descender extends the fun of snowboarding and surfing into every season. Launch date: June 2012.
Awards: 2012 TIA Outdoor Toy of the Year
5/11/2012 (Price: $120.00; Age: 8 and up) [Add to my Inquiry Basket][?]



Related Video:
Hold-On Handles by GREATER THAN ONE KIDS LLC



Hold-On Handles is the new, fun and stylish tool to help moms teach young children to stay within arm's reach in the mall, at the amusement park, or while running errands around town. Moms share many things, including the stress of their children wandering off. And with all the juggling that mothers have to do, especially if they have multiple children close in age, ensuring that the kids are always safely within arm's reach and out of danger when out and about is a priority. That's why we created Hold-On Handles the first stroller accessory and walking rope designed for up to three children ages 18 months and older. With a quick click of the unique, oversized carabiner, it can transform from stroller accessory to a reinvented walking rope that can be worn comfortably on a parent's wrist, bag, or through a belt loop. Children befriend the whimsical, colorful handles, freeing up mom or dad's hands to push the stroller, hold the bags, or open doors. Unlike with restraining and embarrassing harnesses or "leashes," parents can teach their children to stay "in line" and "hold on" while allowing them their physical liberty. With Hold-On Handles, moms will feel more confident, and their children can be safer, more active, and happily independent – a far better option, we believe, than a leash or harness. Launch date: September 2010.
Awards: 2011 Top Choice of the Year Award, Creative Child 2011 Four-Star Certified, WTS Toy Review 2011 Cribsie Award Finalist
5/11/2012 (Price: $19.99; Age: 1 to 6) [Add to my Inquiry Basket][?]



Related Video:
Brainetics Kit by BRAINETICS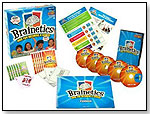 Brainetics teaches how to MASTER all the vitally important learning SKILLS (focus, concentration, problem solving, thinking outside the box, organizational, increased mental capacity and memory) that are rarely taught in schools and people lack throughout their lives. Brainetics TRAINS two different parts of the MIND to work simultaneously yet independently of each other. One part memorizes information while another part is sorting and processing new information. The mind will begin to work much more efficiently and be more powerful giving Brainetics kids a huge advantage throughout their academic lives and beyond. Brainetics can either be learned alone, or entire families can learn together. Package includes 5 DVDs, Parents Manual, Playbook with practices and exercises, flash cards, and playing cards.
Awards: Parents Choice Gold Award; Dr. Toy's Best Classic Toys 2012.
5/11/2012 (Price: $149.99) [Add to my Inquiry Basket][?]



Related Video:
Bink and Gollie by Kate DiCamillo and Alison McGhee by CANDLEWICK PRESS



Meet Bink and Gollie, two precocious little girls--one tiny, one tall, and both utterly irrepressible. Setting out from their super-deluxe tree house and powered by plenty of peanut butter (for Bink) and pancakes (for Gollie), they share three comical adventures involving painfully bright socks, an impromptu trek to the Andes, and a most unlikely marvelous companion. No matter where their roller skates take them, at the end of the day they will always be the very best of friends. Full of quick-witted repartee, this brainchild of Newbery Medalist Kate DiCamillo and award-winning author Alison McGhee is a hilarious ode to exuberance and camaraderie, imagination and adventure, brought to life through the delightfully kinetic images of Tony Fucile. Launch date: April 2012.
Awards: 2013 TDmonthly Seal of Approval, Theodor Seuss Geisel Award
5/11/2012 (Price: $6.99; Age: 6 to 8) [Add to my Inquiry Basket][?]



Related Video:
Black T-Bar Steering Maxi Kick Scooter by KICKBOARD USA LLC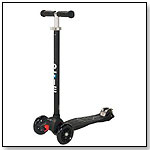 The maxi kick Scooter is an award-winning, high performance, 3-wheel scooter for kids ages 6-11. Weight limit 120lbs. The Swiss-designed maxi, like its sibling the mini (for kids ages 3-5), has a lean-and-steer mechanism that makes it unique and fun, giving kids the feeling of surfing the sidewalks as they curve and carve. The maxi has an amazingly smooth, quiet ride, even on urban sidewalks and it's light weight, yet exceptionally durable construction is easy for kids and parents alike to see and appreciate.
Awards: 2009 Oppenheim Portfolio's Gold and Platinum Award Seals; Oppenheim SNAP award seal; Toy Report Best Scooter for Kids ages 6-11; NBC Today Show 'Best Toys for Summer 2009.
— Alexander McPherson, toy supervisor at Little Dickens in Lynchburg, Va., told TDmonthly in a March 2013 survey that Kickboards are their best selling ride on toy, especially during Summer and around the holidays.
— Joe Barardoni Jr., owner of Pun's Toys in Bryn Mawr, Pa., told TDmonthly in a March 2014 survey that Kickboard scooters were best-selling ride-on toys.
4/30/2012 (Price: $134.99; Age: 6 to 11) [Add to my Inquiry Basket][?]



Related Video:
Hiccups by PLASMART INC.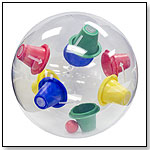 8 cups, plenty of Hiccups. This hand-held puzzler has straightforward direction but challenging play. Pass the ball sequentially from cup to cup without a hiccup. Drop the ball and start back at cup #1. Frustratingly fun.
Awards: 2012 Creative Child Awards – Seal of Excellence
4/27/2012 (Price: $14.99; Age: 6 and up) ENTER PLASMART INC. TOYSHOW [Add to my Inquiry Basket][?]



Related Video:
K'NEX Thrills: Atomic Coaster by K'NEX BRANDS



Kids can build an atomically cool coaster with dueling action, using over 850 K'NEX pieces to create a thrilling roller coaster building experience. 2 dueling cars twist, turn, and dive as they race through over 37 feet of track. The Atomic Coaster builds over 4 feet tall and includes a motorized chain lift. Color-coded, easy-to-follow building instructions are included. Go to the K'Nex website to download instructions for a 2nd coaster model. Launch date: September 2012.
Awards: 2012 Best in Play at Toy Fair - Parenting Magazine
4/27/2012 (Price: $69.99; Age: 9 and up) [Add to my Inquiry Basket][?]



Related Video:
Tall-Stacker Mighty Monkey Playset by PATCH PRODUCTS INC.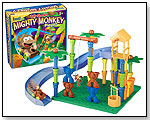 Now youngsters can take pegging to a whole new level of excitement when playing with this versatile building set that combines popular Tall-Stacker Pegs with Mighty Monkey Pegs. Kids can stack colorful pegs and create different configurations for their monkeys to play. Use the included monkey figurines to swing from a vine, zoom down the slide or ride the elevator basket — with the Tall-Stacker Mighty Monkey Playset, the thrills are endless. "The Tall-Stacker Mighty Monkey Playset encourages free-form building and role-play, while fostering creativity and imagination," Mary Dolan, public relations coordinator for Patch Products, told TDmonthly. Launch date: July 2012.
Awards: 2013 TDmonthly Seal of Approval
4/27/2012 (Price: $29.99; Age: 3 to 8) [Add to my Inquiry Basket][?]



Related Video:
Snap Circuits XP by ELENCO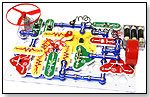 Kids can build and program their own computer. As easy as snapping together the circuits and downloading Elenco's programs. Kids can write their own programs using Basic commands or flowcharts. Includes over 100 projects and over 50 parts. A great introduction to microcontrollers and how they are used in the world around us. Requires 3 "AA" batteries.
Awards: 2013 TDmonthly Seal of Approval
4/24/2012 (Price: $99.99) ENTER ELENCO TOYSHOW [Add to my Inquiry Basket][?]



Related Video:
Turnstile by THINKFUN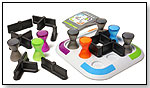 The goal is to move the colored tokens through the maze to their respective corners. To do this, players must pass through turnstiles, shifting walls to form new pathways...and new barriers. Clever challenges exercise strategic thinking muscles, as one turn may lead to victory or may leave players stranded.
Awards: 2013 TDmonthly Seal of Approval
4/24/2012 (Price: $19.99; Age: 8 and up) [Add to my Inquiry Basket][?]



Related Video:
Following are some of the programs represented in TDmonthly.com's section of award winners: Dr. Toy, iParenting Media Awards, TIA T.O.T.Y., Oppenheim Toy Portfolio, The National Parenting Center, and Parents' Choice Awards.

You may also access TDmonthly's review section to see which products earned 5 TD stars.