The Few, The Proud...The Award-Winning Toys!
Who Made the Cut This Year?
By Alison Marek and Julie L. Jones
---
Thousands of products are introduced to the toy industry every year, but only a limited number are good enough, playable enough and innovative enough to garner an award.

In addition to issuing TDmonthly Awards, TDmonthly Magazine regularly asks manufacturers to present their award winners to our readers so that retailers can quickly identify products with great potential and manufacturers can learn and be inspired by others' successes. Here are the most recent responses:
CONNECT'EM™ 4480PC Puzzle – The Beatles by THE CANADIAN GROUP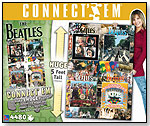 Build four individual puzzles, and then connect them to create a puzzle display that measures over 5" in length. The box comes with four 1,120-piece puzzles, which join to make one master puzzle. This product is a Dr. Toy 10 Best Active Toy Award winner.
2/25/2008 (Price: $24.99; Age: 12 and up) [Add to my Inquiry Basket][?]



Related Video:
Boochie™ by GAMEWRIGHT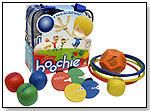 The action-packed family game has players tossing, kicking, bowling and throwing a distinctive 12-sided ball. The game comes with four toss rings, four bean balls, four wrist trackers, a 12-sided Boochie target, a vinyl travel bag and play rules. This product has received the following awards: Dr. Toy Award for Best Products for Summer 2008; Oppenheim Toy Portfolio Gold; iParenting Media; National Parenting Center Seal of Approval; Major Fun; Parents' Choice Silver Honor; Creative Child Magazine Game of the Year; and NAPPA Gold. Launch date: 2008.
— Employee enthusiasm over Boochie helped The Wooden Toy in Wethersfield, Conn., sell out of its initial shipment of the updated bocce ball game soon after it arrived, Storeowner David Ekwall told TDmonthly in May 2008. "It sells for about $35, so I was kinda surprised that it sold as fast as it did," he said.
— Eleven reviews with an average rating of 4.5 out of 5 stars on Fatbraintoys.com showed that parents rate this game very highly. It is interactive, encourages physical activity, offers endless variety, and there is no age limit, so the whole family is welcome to play. One minor shortcoming is that is only for four players. (09.15.08)
2/25/2008 (Price: $34.99; Age: 8 and up) [Add to my Inquiry Basket][?]



Related Video:
My Choice Chart™ by MY LIFE TIES



The mom-invented magnetic chart helps children make good behavioral choices, develop important life skills and highlight family values. The kit includes over 100 positive choice words and 50 celebration activity ideas. Children and parents choose – together – six positive character traits and a celebration activity to post on the magnetic chart. Children add stars to the night sky area on the chart each time they display any of the posted character traits. My Choice Chart is not a rewards-based system; it is an interactive teaching tool that supports ongoing character development and family togetherness.This product is an iParenting Media Award winner. Launch date: June 2007.
2/25/2008 (Price: $24.95; Age: 4 and up) [Add to my Inquiry Basket][?]



Related Video:
Intellitoys - Smart-E-Bear and Friends by KIDS PREFERRED INC.


The 13" plush encourages children to discover and explore through a library of thousands of award-winning songs, interactive stories, educational games and other content that parents can selectively purchase through the Internet and download to the toy with a super-easy USB connection. The smart-e-software allows the toy to change and grow with each child's interests. The plush utilizes electronics about the size of a deck of cards and contains no moving parts that can easily break and harm a child. Smart-e-bear, smart-e-dog and smart-e-cat are each sold separately. Smart-e-bear received a 2009 Tillywig Brain Child Award.
2/20/2008 (Price: $85.00; Age: 3 to 6) [Add to my Inquiry Basket][?]



Related Video:
Readers Digest National Word Power Challenge™ Game by McNEILL DESIGNS FOR BRIGHTER MINDS LLC



The game sharpens vocabularies, boosts test-taking skills and fosters a love of language in a fun ad competitive format. Players use facts from four categories — word origin, fill-in-the-blank, definition and synonyms — and gain an intensive knowledge of each word. The game also includes vibrant visual reminders to heighten vocabulary retention. "The unique game mechanic of asking for specific word clues causes players to scan and remember clues (accompanied by stimulating images) takes vocabulary building to a higher level!" McNeill Designs for Brighter Minds LLC President Martin Uniacke told TDmonthly. This product is a 2008 iParenting Media Award winner. Launch date: November 2007.
2/19/2008 (Price: $19.95) [Add to my Inquiry Basket][?]



Related Video:
Pucca: Ninjas Love Noodles by SHOUT! FACTORY



With best friends Abyo and Ching, pet cat Mio, Master Soo, Policeman Bruce and even Santa, Pucca and Garu keep their rivals at bay in a land where ancient Asian traditions and mythical creatures coexist with modern-day pop culture. A wonderfully weird mix of comedy, kung fu combat and kissing, "Ninjas Love Noodles" is "Pucca" at its fighting best. This 13-episode program features "Noodle to the Stars," "Four Alarm Fire" and "Misplaced Face," and includes a limited-edition ninja license. This program received two Leo Awards, which celebrate excellence in British Columbian film and television. Launch date: March 18, 2008.
2/18/2008 (Price: $14.99; Age: 7 to 12) [Add to my Inquiry Basket][?]



Related Video:
Sproutz® 4 Station Art Center by JONTI-CRAFT INC.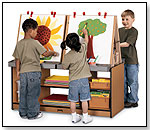 The art center features material made from recycled wood waste and formaldehyde-free resin. The unit also features KYDZSafe® edges, KYDZStrong® construction and KYDZTuff® finish, allowing it to stand up to everyday classroom use. Ample elbow and storage room makes the unit perfect for children. This item is an Instructor Magazine Teacher's Pick Award winner.
2/12/2008 [Add to my Inquiry Basket][?]



Related Video:
A Tale of Difference by SO SMART! PRODUCTIONS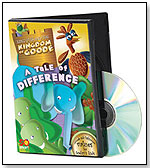 King Otis DVDs help teach preschoolers lessons through fun, imaginative stories specially developed for their level of learning. In this episode, Lollybird doesn't fit in. After all, she's the only elephant with bird legs in the entire town. But Lollybird's difference becomes the one thing that will save their leader. This title was a Parenting Magazine Parenting Pick.
2/12/2008 (Price: $19.98; Age: 3 to 6) [Add to my Inquiry Basket][?]



Related Video:
So Smart! Sleepytime by SO SMART! PRODUCTIONS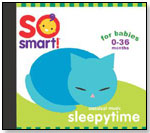 This classical music CD of songs performing by leading orchestras is designed to help little ones drift off to sweet sleep. It received the Early Childhood News Directors Choice Award.
2/12/2008 (Price: $12.98; Age: 0 to 3) [Add to my Inquiry Basket][?]



Related Video:
So Smart! Letters by SO SMART! PRODUCTIONS



Specially developed for babies and toddlers and set to a world-class, classical music soundtrack, this 30-minute DVD introduces the alphabet to the youngest ages as shapes transform into letters and familiar objects, from Apple to Zebra. It includes printable story cards and fun games that can be played on a television using the TV remote. It was named Parenting Magazine's Video of the Year.
2/12/2008 (Price: $16.98; Age: 1 and up) [Add to my Inquiry Basket][?]



Related Video:
Following are some of the programs represented in TDmonthly.com's section of award winners: Dr. Toy, iParenting Media Awards, TIA T.O.T.Y., Oppenheim Toy Portfolio, The National Parenting Center, and Parents' Choice Awards.

You may also access TDmonthly's review section to see which products earned 5 TD stars.