The Few, The Proud...The Award-Winning Toys!
Who Made the Cut This Year?
By Alison Marek and Julie L. Jones
---
Thousands of products are introduced to the toy industry every year, but only a limited number are good enough, playable enough and innovative enough to garner an award.

In addition to issuing TDmonthly Awards, TDmonthly Magazine regularly asks manufacturers to present their award winners to our readers so that retailers can quickly identify products with great potential and manufacturers can learn and be inspired by others' successes. Here are the most recent responses:
Digger the Dog by STUFFIES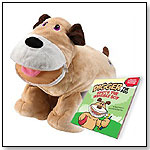 Always the faithful companion, Digger the dog digs deep to help anyone. In Digger's storybook, the kids on the playground discover the importance of including others. Ideal for reading aloud, this 33-page interactive book offers fun-filled rhymes and beautiful illustrations. Stuffies are clever, cozy toys on a mission to keep kids' treasures safe. They have top-secret pockets that are fun to discover and store all kinds of keepsakes.
Awards: 2012 National Parenting Center Seal of Approval; Parents' Choice Classic, Fun Stuff Award Winner
— As of 12/11/2012 this product had 4.8 out of 5 stars from 16 reviews on Amazon.com. Pros: Well made; Lots of pockets for kids to store their stuff; cuddly. Cons: One reviewer said the book accompanying the toy wasn't well written.


12/11/2012 (Price: $29.95; Age: 3 and up) [Add to my Inquiry Basket][?]



Related Video:
Make Clay Charms by KLUTZ

Make Clay Charms features simple step-by-steps for more than 30 different designs — cute fruit, adorable animals, sweet treats, and tons more. Make your charms with the nine bright colors of clay, bake them, add shine (with our specially formulated glaze), and then attach your creations to the included bracelet.
Awards: 2013 TDmonthly Seal of Approval
— Dean Smith, owner of JaZams in Princeton, N.J., told TDmonthly in a May 2014 survey that Make Clay Charms from Klutz is the store's best-selling activity kit.
12/10/2012 [Add to my Inquiry Basket][?]



Related Video:
Animal Face Tot Tower by eeBoo corp.



Stephanie Graegin, the artist behind eeBoo's popular "Animal Village" graphics, has lent her talents to eeBoo's new Animal Tot Tower. Each side of the light, stackable blocks features a different illustration: the face of an animal, a rhyme, and the number that corresponds to the block's place in the stacking sequence. For instance, the largest block features the number 10, an elephant decked out in a spiffy orange hat and pink dress, and the following rhyme: "The elephant is loyal, wise / And also packed with power. / And when she wants to take a bath, / Her trunk works like a shower."
Awards: Openheim Toy Portfolio Best Toy Award Gold Seal
12/7/2012 (Age: 2 and up) [Add to my Inquiry Basket][?]



Related Video:
TABLET TEDDY BEARS by TABLET TEDDY BEARS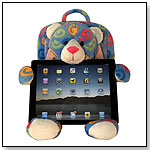 Tablet Teddy Bears are plush tech tablet accessories for kids and their tablets. Fits all and any size tablets and iPads, with a removable backpack to store tablets. Ergonomiclly and therapeutically designed by pediatric occupational therapist. Patents Pending, copyrighted, and trademarked. Launch date: January 2012.
Awards: 2012 CES Las Vegas Best Kids Tablet Accessory product; Featured on MSNBC, FOX news, and Bloomberg News 2012.
12/5/2012 (Price: $24.95; Age: 3 to 10) [Add to my Inquiry Basket][?]



Related Video:
Cleopatra Queen of Egypt by CANDLEWICK PRESS



The story of Cleopatra's life has captured the imagination of countless writers and artists for centuries. As one of history's most enduring figures, much lore has obscured the real woman behind the myth. Was she a beautiful and heartless schemer who stopped at nothing to get what she wanted? Or was Cleopatra a tragic victim of her own heart? This next volume in the acclaimed Notebook series offers a fascinating look into the world of one of Egypt's most notorious leaders. Featuring a fictional journal that invites us into Cleopatra's inner world, this is an exquisite guide bursting with gorgeous illustrations and packed with fun interactive extras such as flaps featuring historical facts and pop culture references.This is a riveting volume rife with battles, passion, and even murderous intrigue — an exclusive look into the legendary queen's dramatic life. Launch date: October 2012.
Awards: 2013 TDmonthly Seal of Approval
11/20/2012 (Price: $19.99; Age: 8 to 12) [Add to my Inquiry Basket][?]



Related Video:
Down at the Zoo by TRACE ELEMENTS SHRUB MUSIC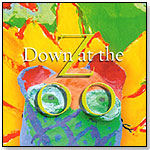 DOWN AT THE ZOO is a 10 song album for children featuring songs about different animals. Launch date: 2002.
Awards: Parent's Choice Approved; Oppenheim Toy Portfolio Gold Seal Award
11/20/2012 (Price: $12.99) [Add to my Inquiry Basket][?]



Related Video:
World Sing-Along by PUTUMAYO KIDS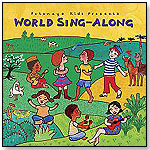 A catchy melody and a rhyming lyric invite singing along, no matter what the language. The Putumayo Kids team searched worldwide for songs that are easy to sing along with. World Sing-Along includes familiar tunes like Jorge Anaya's cumbia version of "La Cucaracha," and the Fiddler's Green Bush Band's sprightly arrangement of "Waltzing Matilda" as well as Father Goose's Jamaican rendition of the American folk song "Jig Jog Jee." Top U.S. children's music artist Dan Zanes is featured on that song as well as "Jamaican Farewell," which he performs with Anjelique Kidjo. As they sing along, kids will learn a little Portuguese with the greeting song, "Como Vai" (by Brazilian artist Hélio Ziskind, some Spanish with Jorge Conde y Ola Fresca, with their salsa tune "Pititi y Titi," and even "A Little Mandarin" with Shàng Xué Gē. Frances England and Asheba, are among the other familiar artists with songs featured on World Sing-Along.
Awards: 2013 TDmonthly Seal of Approval
11/20/2012 (Price: $14.98) [Add to my Inquiry Basket][?]



Related Video:
Kids On Stage by UNIVERSITY GAMES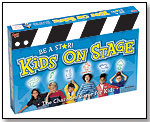 Kids love to get into the act, and this charades game is made especially to put youngsters in the spotlight. In this game, every player gets in the act on every turn, so it's ideal for home or school play. And there is no reading required, so little ones can play without help from Mommy or teacher. Encourage creativity and communication skills while having active fun. It's a game the whole family can play and enjoy. National Parenting Publications Award and Early Childhood News 100 Best Picks.
11/20/2012 (Price: $16.99; Age: 3 to 6) ENTER UNIVERSITY GAMES TOYSHOW [Add to my Inquiry Basket][?]



Related Video:
Diary of a Wimpy Kid - The Third Wheel by ABRAMS BOOKS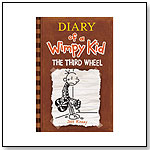 Love is in the air—but what does that mean for Greg Heffley? A Valentine's Day dance at Greg's middle school has turned his world upside down. As Greg scrambles to find a date, he's worried he'll be left out in the cold on the big night. His best friend, Rowley, doesn't have any prospects either, but that's a small consolation. An unexpected twist gives Greg a partner for the dance and leaves Rowley the odd man out. But a lot can happen in one night, and in the end, you never know who's going to be lucky in love. Launch date: November 13, 2012.
Awards: 2013 TDmonthly Seal of Approval
— As of 11/19/2012 this product had 4.5 out of 5 stars from 241 reviews on Amazon.com.
— In a Winter 2012 survey, half of retailers surveyed by TDmonthly said that the Diary of a Wimpy Kids series were their bestselling books.


11/19/2012 (Price: $13.95; Age: 8 and up) [Add to my Inquiry Basket][?]



Related Video:
Schoenhut Student Guitar by SCHOENHUT PIANO COMPANY



Little rock stars will take center stage playing Schoenhut's "next generation" guitar. Schoenhut's innovative design incorporating a molded composite body with dual curves greatly enhances sound and durability. The birch soundboard which offers excellent tone and resonance, hardwood neck (for rigidity), and molded composite fretboard ensure proper height and spacing of the frets. Six steel strings permit a wide range of rich sounds. Available in several vibrant designs. Includes: Pick and Extra String. Launch date: January 2012.
Awards: 2013 TDmonthly Seal of Approval


11/16/2012 (Price: $59.99; Age: 3 to 12) ENTER SCHOENHUT PIANO COMPANY TOYSHOW [Add to my Inquiry Basket][?]



Related Video:
Following are some of the programs represented in TDmonthly.com's section of award winners: Dr. Toy, iParenting Media Awards, TIA T.O.T.Y., Oppenheim Toy Portfolio, The National Parenting Center, and Parents' Choice Awards.

You may also access TDmonthly's review section to see which products earned 5 TD stars.