The Few, The Proud...The Award-Winning Toys!
Who Made the Cut This Year?
By Alison Marek and Julie L. Jones
---
Thousands of products are introduced to the toy industry every year, but only a limited number are good enough, playable enough and innovative enough to garner an award.

In addition to issuing TDmonthly Awards, TDmonthly Magazine regularly asks manufacturers to present their award winners to our readers so that retailers can quickly identify products with great potential and manufacturers can learn and be inspired by others' successes. Here are the most recent responses:
Settlers of Catan Family Edition by MAYFAIR GAMES INC.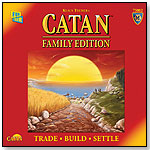 Begin a quest to settle the island of Catan. Guide brave settlers to victory by using clever trading and shrewd development. Use resources—grain, wool, ore, lumber, and brick—to build roads, settlements, cities and key cultural milestones. Get resources by rolling the dice or by trading with other players. Catan is a modern classic. It truly redefines social board games and been awarded with "Game of the Year" honors in Germany, the United States, and a host of other countries. This New edition features a six piece reversible board allowing for more replay value than the previous Gallery Edition. Launch date: 2012.
Awards: 2013 TDmonthly Seal of Approval
8/23/2012 (Age: 10 and up) [Add to my Inquiry Basket][?]



Related Video:
Neat-Oh!® ZipBin® Dinosaur Bring Along Backpack (Dark Green) by NEAT-OH! INTERNATIONAL LLC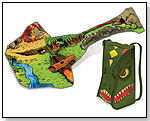 This ferocious dinosaur head is the perfect place to store and play with the Tyrannosaurus Rex that's included. Unzip the backpack to reveal a prehistoric jungle, tar pit, volcano and lava filled gorge. When it's time to go, kids can pack-up the dinos, zip up the backpack and throw it over their shoulder. Includes 1 dinosaur. Colorful, Durable, wipe-clean surface.
Awards: 2012 TDmonthly Top Toy Award. Why it Won: This dinosaur shaped back pack unzips into a colorful, durable playmat. The playmat features prehistoric scenes like a tar pit and an erupting volcano. The backpack comes with one toy dinosaur, and kids can add their own collection as well. They can even have fun with the zipped-up backpack, which resembles the face of a fearsome green dino. The material is durable and easily wipes clean, and the zippers run smoothly, securely holding dinos and other toys until kids are ready to unzip and play again.
8/21/2012 (Price: $19.99) ENTER NEAT-OH! INTERNATIONAL LLC TOYSHOW [Add to my Inquiry Basket][?]



Related Video:
Suspend Family Game by MELISSA & DOUG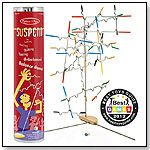 Suspend comes with 24 notched, rubber-tipped wire pieces to hang from a tabletop stand. Sound easy? Try adding another piece! Each time a bar is added, the balance shifts, the difficulty changes and the incredible midair sculpture transforms. Can players add all their game pieces without making it fall? This tricky game for 1-4 players is a test of steady nerves and steady hands.
Awards: 2013 TDmonthly Seal of Approval, 2012 Best Toys Guide Best Games
— In a February 2014 survey, Joe Novak, owner of Kazoo Toys of Buckhead in Buckhead, Ga., told TDmonthly that Suspend was one of their stores top-3 best-selling games.
8/8/2012 (Price: $16.99; Age: 8 and up) [Add to my Inquiry Basket][?]



Related Video:
HEXBUG Warriors Battle Stadium by INNOVATION FIRST LABS, INC.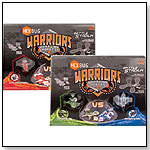 The ultimate large scale battleground for all HEXBUG Warriors students comes with two fully-armored collectible HEXBUG Warriors, eight Battle Stadium Pieces (compatible with Battle Arena) and 12 standoffs. There are two assorted HEXBUG Warrior Battle Stadiums available for fans to collect. Each features a different opposing pair of Warriors.
— "Super easy to snap together...my son gave it a huge thumb's up!" - Review from Kathy at DetroitMommies.com.
Awards: 2013 TDmonthly Seal of Approval
8/8/2012 (Price: $29.99; Age: 6 and up) [Add to my Inquiry Basket][?]



Related Video:
Rollick! by THE GAME CHEF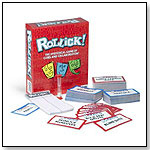 Rollick! is a new hit party game that's a fast and furious team competition. With Rollick!, the entire team works together to act out clue words for one person to guess. It's a hysterical, fun, fast-paced, team competition game that's a hit at parties, family gatherings, work events, holiday celebrations, with friends, and even teenagers. Rollick! can be taught in 2 minutes, played in 25 minutes, and accommodates 6-20+ people.
Awards: 2013 TDmonthly Seal of Approval
— As of 08/08/2012 this product had 4.9 out of 5 stars from 90 reviews on Amazon.com. Pros: A great ice breaker for parties; rules are easy to understand; fun for kids and adults of all ages; fun for small and large groups.


8/8/2012 (Price: $19.99) [Add to my Inquiry Basket][?]



Related Video:
MyPlate Food Bingo Game by SMARTPICKS INC.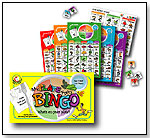 Eating is one of life's greatest pleasures, but poor food choices and eating habits can lead to a lifetime of obesity and other health problems, low energy, general malaise, and even poor self-esteem. MyPlate Food BINGO is a fun, easy way to teach 9 year olds and up how important it is to eat healthy and grow up feeling energized and feeling great. Based on the USDA's revamped MyPlate food categories - vegetables, fruit, whole grains, protein and dairy - this gustatorial game's 95 different foods will get everyone involved considering different options, portion sizes and combinations.
Awards: 2012 Tillywig Brain Child Award; 2012 Parent's Choice Approved Award; 2012 Dr. Toy's Best Vacation Product; 2012 Dr. Toy's Alumni Award of Excellence; 2012 Family Review Center Gold Award; 2012 Creative Child Magazine Game of the Year Award.
— "So much packed into this little package. Great for teachers to incorporate into a classroom activity and great for at home too...An overall great learning tool, that promotes healthy standards in an easy to understand and easy to implement manner." - a review on Family Review Center.
8/8/2012 (Price: $39.95; Age: 9 and up) [Add to my Inquiry Basket][?]



Related Video:
Fashion Angels Tapeffiti 30pc Caddy by FASHION ANGELS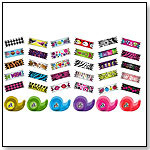 Forget plain boring tape. In kids' next craft project, try Tapeffiti by Fashion Angels Enterprises. Wrap pencils, make tape bracelets and fashion accessories, or customize notebooks and just about anything. With these fabulous and fashionable patterned tapes the fun and possibilities are endless. This 30 Piece Tapeffiti Set includes 30 mini tape dispensers each filled with 9-feet of different patterns of Tapeffiti that will stick to just about any surface. The great thing about this tape: if kids need to reposition it, or remove it, Tapeffiti will come right off. The 30 rolls of Tapeffiti come in a fun desktop holder so kids can easily store all their decorative tape.
Awards: 2013 TDmonthly Seal of Approval
8/3/2012 (Price: $11.99; Age: 8 and up) ENTER FASHION ANGELS TOYSHOW [Add to my Inquiry Basket][?]



Related Video:
WaterWorks by PLASMART INC.



Make bath time more constructive with this innovative play set. Arrange the assortment of twisty, straight, and stair chutes, along with the giant water wheel, to create a unique water cascade. 8-oz. reservoir and scooping cup keeps the flow going until bath time is done. Mix and match pieces mean endless possibilities.
Awards: 2013 TDmonthly Seal of Approval
8/2/2012 (Price: $19.99; Age: 3 and up) ENTER PLASMART INC. TOYSHOW [Add to my Inquiry Basket][?]



Related Video:
Orbo by PLASMART INC.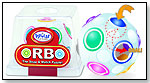 The snap and match puzzle. Push the colored balls and snap them into empty spots to fit each one with its matching, colored ring. Mix them up again for a brand new challenge.
Awards: 2012 The National Parenting Centre – Seal of Approval, 2011 Parent Tested Parent Approved – Best Product Media Seal of Approval
8/2/2012 (Price: $9.99; Age: 4 and up) ENTER PLASMART INC. TOYSHOW [Add to my Inquiry Basket][?]



Related Video:
PlasmaCar Blue by PLASMART INC.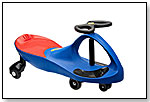 Now more than 10 years old, PlasmaCar continues to intrigue and fascinate with millions of units sole and multiple awards in over sixty countries worldwide. Just sit, put feet up, and turn the steering wheel to propel forward up to 6 mph on any smooth, flat surface. With a maximum weight capacity of 220 lbs., even parents and grandparents have experienced a giggle by taking it for a spin. Made from state-of-the-art, high-quality ABS plastics, this kid-powered, durable, ride-on vehicle comes in a variety of colors.
Awards: 2012 Parents Choice Awards Recommended, 2009 Green Parents List Check Mark, 2009 DisneyFamily.com Top Action Figures and Toys for Toddlers, 2009+2008+2005 The National Parenting Centre Seal of Approval, 2008 iParenting Media Toy Award, 2008 Fat Brain Toy Award Active Play, 2006 TIA Outdoor Toy of the Year - Specialty Toy of the Year, 2006 Oppenheim Toy Portfolio Platinum Award, 2005 Oppenheim Toy Portfolio Gold Seal Award, 2005 Dr. Toy Best Vacation Products, 2005 Creative Child Seal of Excellence, 2001 International Patent Fair, Hong Kong Gold Medal
— Mary Sisson, owner of Kazoodles in Vancouver, Wash., told TDmonthly in a Fall 2012 survey that the Plasmacar is one of her top-2 overall best selling toys.
8/2/2012 (Price: $69.95; Age: 3 and up) ENTER PLASMART INC. TOYSHOW [Add to my Inquiry Basket][?]



Related Video:
Following are some of the programs represented in TDmonthly.com's section of award winners: Dr. Toy, iParenting Media Awards, TIA T.O.T.Y., Oppenheim Toy Portfolio, The National Parenting Center, and Parents' Choice Awards.

You may also access TDmonthly's review section to see which products earned 5 TD stars.