The Few, The Proud...The Award-Winning Toys!
Who Made the Cut This Year?
By Alison Marek and Julie L. Jones
---
Thousands of products are introduced to the toy industry every year, but only a limited number are good enough, playable enough and innovative enough to garner an award.

In addition to issuing TDmonthly Awards, TDmonthly Magazine regularly asks manufacturers to present their award winners to our readers so that retailers can quickly identify products with great potential and manufacturers can learn and be inspired by others' successes. Here are the most recent responses:
SmartMax Flower Palace by SMART TOYS AND GAMES INC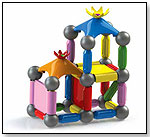 SmartMax Flower Palace provides your child with four colorful flower-shaped pieces, along with 19 magnetic medium bars, 16 large ball-shaped magnetic connectors, and two peaked rooftops so she can use their imagination to build a multitude of creations. These extra-large pieces make it easy to use creative-thinking skills to mix-and-match the pieces and create new combinations. Unique houses and large-scale castles are among just a few of the many options. Children can use the four panels to strengthen the structure of their construction and build walls, floors, or forts. Flower Palace is one of several new 2012 sets in the award-winning SmartMax® magnetic construction toy line. It can also be combined with all existing Smart Max ® sets for unending play opportunities.
Awards: 2012 Dr.Toy Best Picks
12/14/2012 (Price: $59.99; Age: 3 to 12) [Add to my Inquiry Basket][?]



Related Video:
Pony Royale™ Dressing Carousel Playset by RAZOR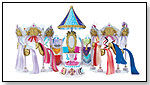 This beautiful tented carousel is adorned with intricate royal details and opens up to two-feet wide, revealing a dream closet fit for a Princess Pony. The playset features display areas not only for her Change-It-Up Hair™, but for her Mix-It-Up Fashions™, too, making it easy for the Princess Pony to appraise her pony wardrobe and decide on just the right fashion for the royal occasion. The Styling Center, with three mirrors and storage for her hair brushes, jewelry, and Saddlettes™, lets girls add the finishing touches. The Dressing Carousel comes with two Princess Pony skirts, which also dress the windows as fanciful curtains.
Awards: 2012 Dr.Toy Best Picks
12/14/2012 (Price: $29.99; Age: 3 to 12) [Add to my Inquiry Basket][?]



Related Video:
Touch Magic Rockin' Guitar by LEAPFROG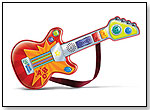 Touch Magic™ is a new product line from LeapFrog that brings intuitive touch technology to preschool toys for the first time. It combines fun, learning, and creativity. Touch Magic learning toys utilize capacitive touch technology that recognizes every tap, touch, and swipe to bring each product to life. This new collection of interactive toys includes four products that help develop core learning skills, and encourage exploration and discovery. The Touch Magic Rockin' Guitar brings musical fun and develops preschool skills with every little touch. It fits kids' development, engages their creativity, and builds their confidence as they learn ABCs and many new words through educational songs. Kids can choose to play solo without a backup, play along with a band, or select an electric or acoustic guitar to accompany songs including Rockin' Robin, Itsy Bitsy Spider, If You're Happy and You Know It, and Pop Goes the Weasel.
Awards: 2012 Dr.Toy Best Picks

TDmonthly recommends looking at Schoenhut for similar, high-quality musical toys and instruments.
12/14/2012 (Price: $24.99; Age: 3 to 5) [Add to my Inquiry Basket][?]



Related Video:
Sparkling Hair Accessory Set by CREATIVITY FOR KIDS


Sparkling Hair Accessories provides your child with all the items needed to create fashionable hair accessories with trendy ribbons, feathers, rhinestones, bows, gemstones and sparkle accents and make an endless array of interchangeable designs with six glittery headbands and four spring hair clips. Complete set includes glue and all the crafting essentials needed.
Awards: 2012 Dr.Toy Best Picks
— In a July 2013 survey, two out of 12 retailers told TDmonthly that products from CREATIVITY FOR KIDS were their best-selling toys overall.
12/14/2012 (Price: $20.00; Age: 5 to 12) [Add to my Inquiry Basket][?]



Related Video:
Glitter Nail Art by CREATIVITY FOR KIDS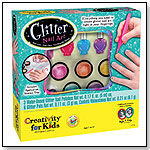 Super sparkly manicures are right at your little girl's fingertips. Glitter Nail Art craft kit includes glitter application station to minimize mess and maximize fun! Complete set also includes six pots of glitter, confetti and rhinestones, sparkling nail file, three bottles of glitter nail polish, tweezers and manicure storage bag.
Awards: 2012 Dr.Toy Best Picks
12/14/2012 (Price: $22.00; Age: 9 to 12) [Add to my Inquiry Basket][?]



Related Video:
YouTurns by B. toys by BATTAT INC.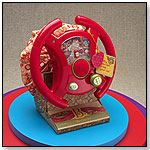 Get the road trip started as you steer your little car around the B. town on the screen, which lights up for night driving. Shift through forward, neutral and reverse. Both the engine and the horn make actual sounds. The LED blinkers let everyone know where your little driver is headed. Your child can push the music button to hear 3 driving songs in 3 unique styles. The YouTurns also make the perfect car seat toy – flip it over and it doubles as a pillow.
Awards: 2012 Dr.Toy Best Picks
12/14/2012 (Price: $19.99; Age: 1 to 5) [Add to my Inquiry Basket][?]



Related Video:
Temple In Paradise Scramble Squares® 9-Piece Puzzle by b. dazzle, inc.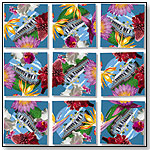 The Temple In Paradise Scramble Squares® 9-piece educational brain teaser puzzle for all ages celebrates The San Marga ("The Good Path") Iraivan Temple being constructed at the foot of an extinct volcano on Kauai, the northernmost of the Hawaiian Islands. The temple is being constructed at Kauai's Hindu Monastery, 5 miles from the town of Kapaa, 4 miles inland from the Pacific Ocean. The temple construction commenced in 1975 and is scheduled for completion in 2017. There are Hindu temples in virtually every nation on earth, over 1,000 in the United States and nearly a million in India, but this temple was destined to be unique—a white-granite edifice being brought stone by stone from south central India after being hand-carved by 75 sculptors working for 27 years with simple bamboo-handled mallets and tens of thousands of mild steel chisels. Their monumental efforts reflect the ultimate in artisan craftsmanship and design, surrounded by as beautiful a setting as the paradise island of Kauai could provide.
Awards: 2012 Dr.Toy Best Picks
12/14/2012 (Price: $8.95; Age: 4 to 12) ENTER b. dazzle, inc. TOYSHOW [Add to my Inquiry Basket][?]



Related Video:
Charles the Airplane by RUBBABU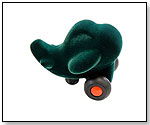 This special assortment of 8 fuzzy colorful durable, safe and fun toy vehicles includes plane, car, fire engine and bus. They are the perfect size for little ones to grab onto. With all the different colors and shapes they provide endless hours of pretend play and story telling. Rubbabu toys are made of soft, squishy rubber foam, which is organic, hypo-allergenic, and completely biodegradable. They are covered with the brightest, best-quality Swiss flock for a surface your child will enjoy playing with. This is a safe, durable and fun toy for preschoolers to enjoy at home and on travel. They are also available as a Little Vehicle Assortment B and the new Shape Sorter Bus.
Awards: 2012 Dr.Toy Best 20 for $20
12/14/2012 (Price: $19.95; Age: 0 to 6) [Add to my Inquiry Basket][?]



Related Video:
Tapeffiti Tape Art Tote Set by FASHION ANGELS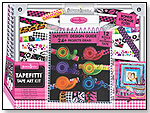 Tapeffiti Tape Art Tote Set is a fashion craft kit. Decorate the tote bag with 6 mini tape dispensers with different colors and patterns. Also has 6 replacement rolls and a style design guide with more than 2 dozen other project ideas, including tape bracelets, picture frames, pens or pencils, and pen/pencil containers. (Comes in Barbie licensed version, too). Also sold separately are 4 or 6 roll collection of Tapeffiti tapes in various designs, patterns, and colors. Color and pattern tapes for decorating is one of the hottest personal style trends for teens and tweens. Included are a full size tote bag, 6 mini tape dispensers with assorted colors and patterns.
Awards: 2012 Dr.Toy Best 20 for $20
— Karen Laroche, manager of Kid's Ketch in Lews, Del., told TDmonthly in a Fall 2013 survey that Tapefetti is one of their best-selling tween products.
— Molly McMullin from Twirl in Ranchos de Taos, N.M., told TDmonthly in a January 2014 survey that Fashion Angels Tapeffiti was a best-selling arts & crafts toy.
12/14/2012 (Price: $13.99; Age: 8 to 12) ENTER FASHION ANGELS TOYSHOW [Add to my Inquiry Basket][?]



Related Video:
Tinga Tinga Tales Create-A-Creature Game by COLORFORMS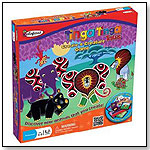 Colorforms, an iconic play product, once again brings classic Colorforms® to life with the Tinga Tinga Tales™ Create-A-Creature Game. Using African artwork from the loveable Disney Junior TV Show, Tinga Tinga Tales™, players use their imagination to tell stories about the unique creatures they create. So 2 to 4 players can take turns spinning the wheel to see which body part to select from the 32 pieces. When all players have collected a pair of legs, a tail, a head, and two ears and arranged them on a scene card, players take turns telling imaginative stories about how their creatures were created. Every generation will enjoy playing with the reusable pieces as they bring to life never before seen animals. Once the hilarious creatures are formed, the Create-A-Creature Game promotes imagination and creativity through the story each player tells about the new animal. The stories of how each animal came to be change every time as numerous animal combinations are created.
Awards: 2012 Dr.Toy Best 20 for $20
12/14/2012 (Price: $13.98; Age: 3 to 8) [Add to my Inquiry Basket][?]



Related Video:
Following are some of the programs represented in TDmonthly.com's section of award winners: Dr. Toy, iParenting Media Awards, TIA T.O.T.Y., Oppenheim Toy Portfolio, The National Parenting Center, and Parents' Choice Awards.

You may also access TDmonthly's review section to see which products earned 5 TD stars.