The Few, The Proud...The Award-Winning Toys!
Who Made the Cut This Year?
By Alison Marek and Julie L. Jones
---
Thousands of products are introduced to the toy industry every year, but only a limited number are good enough, playable enough and innovative enough to garner an award.

In addition to issuing TDmonthly Awards, TDmonthly Magazine regularly asks manufacturers to present their award winners to our readers so that retailers can quickly identify products with great potential and manufacturers can learn and be inspired by others' successes. Here are the most recent responses:
Happily Ever Moey! A Fairy Tale Lark in Central Park by LEMONADE PRODUCTIONS LLC/ MOEY'S MUSIC PARTY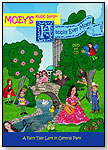 15 fairy tales burst to life as joyful songs and colorful videos in this rocking new Parents' Choice Award Winning CD/DVD, Happily Ever Moey! A Fairy Tale Lark in Central Park. 65 children join Moey, New York City's "Pied Piper in Pink" to turn classic tales into songs and videos with new kid-power endings. "Little Red Riding Hood" rescues herself from the Big Bad Wolf. Snow White and Sleeping Beauty wake themselves up with their own magical kiss. Goldilocks is a parable to protect the environment. The true princess in Princess and The Pea gives her mattresses to the homeless and sleeps on a king-size futon! Entertaining, engaging, inspiring, and empowering, this award-winning DVD gets children and grown ups dancing to the beat.
Awards: 2011 Parents' Choice "Fun Stuff" Award
8/10/2011 (Price: $19.95; Age: 0 to 10) [Add to my Inquiry Basket][?]



Related Video:
DINGaRINGs by O.B.DESIGNS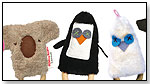 DINGaRINGs are a 3-in-1 RATTLE, SOFT TOY & TEETHING RING all rolled into one cheeky Australian character. Emma Owl is a truck driver who loves Country music & Surfing, but hates VPL & Speed cameras. Keith Koala works as a DJ, loves schmoozing & silk PJs, but is sick of trying to get the glitter out of his fur in the morning! DINGaRINGs are safe, non-toxic, and highly interactive. Open up your babie's senses with the perfect gift for ages 0 & up. Conceived & created in Byron Bay Australia. Made with a social and ethical conscience in Indonesia.
Awards: Top 10 infant toy of 2010 from Babyology, Top 10 new products from Life Instyle trade show 2009 from KidsStyleFile
8/5/2011 (Price: $19.95; Age: All Ages) [Add to my Inquiry Basket][?]



Related Video:
Costume Club Treehouse by PADDYWHACK LANE LLC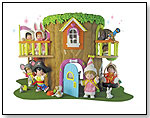 There are so many fun things to do in the Costume Club Treehouse. Play on the tube slide. Have a turn on the tire swing. Gaze through the swivel telescope. Share a cup of tea with a friend, or take a snooze on the comfy bunk beds. Paddywhack Lane® Costume Club Treehouse can be Combined with the Costumed Kids Figures & Accessories. INCLUDES: Tube Slide, Tire Swing, Table & Chairs, Swivel Telescope, Bunk Beds, Fleece Pillows, Gingham Sheets, Circular Area Rug.
Awards: TDmonthly Top Toy Award, August 2011.
— Why it won: This play set for adorable child figures is high-quality and stimulates imaginative play in girls and boys.
7/27/2011 (Price: $59.99; Age: 3 and up) [Add to my Inquiry Basket][?]



Related Video:
Wool Felt Bug Kit by ARTTERRO

Fun and easy to sew, colorful wool felt is perfect for making your own fuzzy caterpillars, dragonflies, ladybugs and more! With easy to follow tips and lots of examples for inspiration, use craft thread, beautiful ribbon and beads to make wings, eyes and antennae. Make up to 7 creepy-crawly bugs! Two bonus projects in every kit! Turn the box into a mailbox, birdhouse or special treasure box. The inner tray is perfect for framing your art. Ages 8 and up
Awards: 2015 TDmonthly Magazine Top Toy Award; 2010 NAMTA (National Art Materials Trade Association) Best New Kids' Product
7/26/2011 (Price: $22.00; Age: 8 and up) [Add to my Inquiry Basket][?]



Related Video:
Katatu by CURTLIN TOYS AND GAMES LLC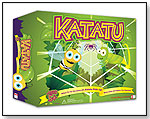 KATATU, which means 'three', is a unique abstract strategy board game, very rich in history, that takes its roots from a 3000 year old game that was played originally in Italy and Egypt and eventually made its way to Southern Africa. KATATU is adapted from this ancient game that has never before been available in a packaged form to the Western part of the world until now. Very easy to learn, but hard to master, KATATU can take some surprising twists and plays in about 15 minutes. Ages 5 and up. Where Tic-Tac-Toe leaves off, KATATU picks up.
Awards: 2012 Game of the Year and 2012 Preferred Choice Award from Creative Play Magazine; 2012 Seal of Approval National Parenting Center; Dr. Toy 2012 winner Best New Products; 2011 Preferred Choice Award Creative Child Magazine; TDmonthly Magazine Staff Pick August 2011
7/19/2011 [Add to my Inquiry Basket][?]



Related Video:
Skelanimals Qee Artist Collection Series 2 by Toy2R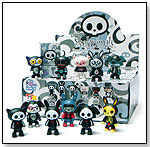 Toy2R is pleased to unearth the next series of artist 2.5" Skelanimal Qees. Featuring designs by Voltaire, Lunabee, Pocket Wookie, Albert Art, Nick Z, and PO! (Patricio Oliver) and also including classic editions of the Skelanimal characters Dax, Jack and Kit. This 25 pc blind box assortment is randomly packed. Each Skelanimal Qee includes keychain attachment so the Skelanimals don't get lost. Launch date: July 2011.
Awards: 2010 HKADF Outstanding Greater China Design Award; 2010 Best SME's Award; 2009 Hong Kong Ten Outstanding Designers by Hong Kong Communication Art Centre.
7/12/2011 (Price: $9.99; Age: 15 and up) [Add to my Inquiry Basket][?]



Related Video:
Wizarday - When Our Stuff Went Away! by TOYS 'N TAYLS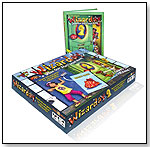 Think chores and schedules are boring and restrictive? Think again! Wizarday is an adventure story that will help the whole family – big and small – understand what an important role family schedules play in a happy, healthy life. Play the game and bring the Wizarday book to life creating your own daily family routine. Ages: 8+ .An 80 page chapter book and/or 3 interactive board & card games. "This product doesn't simply deal with helping parents program their children into doing their chores. It emphasizes the role of structure and boundaries as the foundation of a family's wellbeing, preparing children for a responsible adolescence," Dr. Sarah Itzhaki, Co-founder of ToysNTayls, told TDmonthly. Launch date: January 2011. Book plus game: $37.50; Game only - $25.00; Book only - $14.50.
Awards: 2011 Creative Child Game of the Year Award; 2011 The Toy Man eChoice Award.
7/11/2011 (Price: $37.50; Age: 8 to 12) [Add to my Inquiry Basket][?]



Related Video:
JURASSICMORPHS by RIVER DOLPHIN TOYS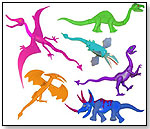 Jurassicmorphs #14: Jurassicmorphs, new for 2011, is part of the Zoomorphs pop-together building system. The child can build animals that exist or have existed in nature; or easily pop the pieces apart to make all sorts of friendly, poseable fantasy creatures. There are six characters in this set: Diplodocus, Pilosaur, Coelophysis, Rhamphorhyncus, Pterosaur and Triceratops All sets are interchangeable. All animals have hinged jaws. Also available: Junglemorphs #15. There are four characters in this set: Tree Python, Bird of Paradise, Tiger and Tropical Beetle. All sets are interchangeable. Some animals have hinged jaws.
Awards: Family Fun TOY of the Year
7/11/2011 (Price: $20.00; Age: 4 to 10) [Add to my Inquiry Basket][?]



Related Video:
Bubber - Box by WABA FUN LLC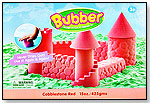 Bubber, the award-winning and lightest modeling compound on earth! This easy-to-use product feels great in your hands, and since it is so lightweight, you can mold just about anything. Bubber is a super-soft compound that leaves clean, sharp lines and takes amazing imprints. Bubber is non-toxic, leaves no stain or residue and never dries out, so you can play with it over and over. It is great for developing fine motor skills! Bubber is available in six beautiful colors.
Awards: ASTRA's Best Toys For Kids - Creative Play; Creative Child Magazine Toy of the Year; Dr. Toy 100 Best Children's Products
6/23/2011 (Price: $29.99; Age: 3 and up) ENTER WABA FUN LLC TOYSHOW [Add to my Inquiry Basket][?]



Related Video:
Now I'm Reading Plays: Jack and the Beanstalk by INNOVATIVEKIDS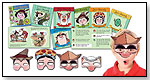 This innovative spin on the classic story of "Jack and the Beanstalk" helps build reading confidence and fluency. With Jack, Jack's mother, the giant and the giant's wife, kids can experience the excitement of reading and acting at the same time. The kit includes four masks so kids can put on a real performance.
Awards: Father's Day 2011 Mr. Dad and Great Dad Seals of Approval.
6/22/2011 (Price: $16.99; Age: 5 and up) ENTER INNOVATIVEKIDS TOYSHOW [Add to my Inquiry Basket][?]



Related Video:
Following are some of the programs represented in TDmonthly.com's section of award winners: Dr. Toy, iParenting Media Awards, TIA T.O.T.Y., Oppenheim Toy Portfolio, The National Parenting Center, and Parents' Choice Awards.

You may also access TDmonthly's review section to see which products earned 5 TD stars.