The Few, The Proud...The Award-Winning Toys!
Who Made the Cut This Year?
By Alison Marek and Julie L. Jones
---
Thousands of products are introduced to the toy industry every year, but only a limited number are good enough, playable enough and innovative enough to garner an award.

In addition to issuing TDmonthly Awards, TDmonthly Magazine regularly asks manufacturers to present their award winners to our readers so that retailers can quickly identify products with great potential and manufacturers can learn and be inspired by others' successes. Here are the most recent responses:
Reversible Knight/Dragon Cape & Reversible Knight/Dragon Hood by CREATIVE EDUCATION OF CANADA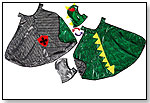 This product was a 2009 ASTRA Best Toys for Kids Winner — the only costume to win this award in 2009 in the Pretend/Fantasy Play category. The green Dragon side is made with shimmering scales and a yellow dragon tail. The silver Knight side emulates a glittering armor and is embellished with a red and black emblem. The Reversible Dragon/Knight Hood (sold separately) completes the look of this fiery dragon and a feisty knight. "This is a truly unique and high-quality design and it's sold for the specialty market only," Veesha Knight, sales and marketing manager for Creative Education of Canada, Inc., told TDmonthly. Launch date: February 2009.
Awards: 2010 Children's Choice Award by the Canadian Toy Testing Council.
— Donna Frederick, owner of The Play House Toy Store in Durham, N.C., told TDmonthly in a December 2011 survey that "We ran out of capes this year," and that she will definitely order capes from the Great Pretenders line by Creative Education again for Halloween next year.
10/29/2009 (Price: $31.99; Age: 3 to 7) [Add to my Inquiry Basket][?]



Related Video:
Automoblox S9 Mini Sedan by AUTOMOBLOX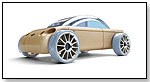 With a future-retro design, and connectable, interchangeable parts, this sleek toy vehicle can fit in the palm of a hand. Automoblox Minis received a TDmonthly Top Toy Award 2007.
— Automoblox has been a best-selling line, according to retailers surveyed by TDmonthly, since 2007.
— "That little three-piece Automoblox set sold extremely well. I've sold about 40 of them in two months," Janet Gregory, owner of Over the Rainbow in Anchorage, Alaska, told TDmonthly leading up to Christmas 2009. Two of 44 specialty retailers named Automoblox as an overall best seller in late 2009.
— In a February 2012 survey about wooden toys, two out of 14 retailers said that Automoblox were their bestseller in the category. Pam Byrd, manager and buyer at The Little Cottage Toy Shop in Franklin, Tenn., told TDmonthly that "Automoblox is still strong."
Where to Buy: Blue Turtle Toys; Camelot Kids; The Satin Button
10/29/2009 (Price: $10.00; Age: 3 and up) [Add to my Inquiry Basket][?]



Related Video:
Chimalong® by WOODSTOCK CHIMES

Tuned to a C Major scale, the Chimalong is an 8-note metallophone that can be played by number, color or notes. The youngest children will use the included 15-song songbook to play by color; older children can play by number. As they progress, they'll learn to read the music and play by note. Additional songs are available on the Woodstock Chimes website. Packaged in a 4-color window box. Comes with 2-mallets, 15-song songbook and an extra #7 tube, which changes the B (for key of C) to B flat (for key of G), giving greater musical flexibility. Chimalong is "recommended for its educational value by many professional musicians, including John Sebastian, Marilyn Horne, André Watts, Peter Schickele and the late Jim Henson," Peggy Daniel, Web Development Director of Woodstock Chimes, told TDmonthly. The Chimalong has received the following awards: 2003 Parent's Choice Top 25 Toys in 25 Years; 1995 Oppenheim Toy Portfolio Classic Toy, Blue Chip Award; 1995 Oppenheim Toy Portfolio Best Toy Award, Platinum; 1995 Oppenheim Toy Portfolio Best Toy Award, Gold Seal; and 1987 Parent's Choice Gold Award. Launch date: 1986.
― Karen Park, owner of Zaks Gifts in Manchester-by-the-Sea, Mass., only recently began selling Chimalongs, she told TDmonthly in 4Q 2010; she sells about four per month.
— Patti Tepper-Rasmussen, owner of Learning Tree Toys, Games & Books, Inc. in Oklahoma City, Ok., told TDmonthly in a January 2015 survey that the Woodstock Chimalong is their store's best-selling musical toy.
10/28/2009 (Price: $40.00; Age: 3 and up) [Add to my Inquiry Basket][?]



Related Video:
P.U! The Guessing Game of Smells™ by TALICOR / ARISTOPLAY

Stinky Smells the Skunk™ is on the loose with his stinky Smellorator! In P.U! The Guessing Game of Smells™, players race around a large exciting board full of good, bad and mystery smells. Whose nose knows best? Be the first to cross the finish line and stop Stinky from polluting and ruining the town fair. For 2 to 8 players. Winner of the National Parenting Center 2009 Seal of Approval.
10/23/2009 (Price: $29.99; Age: 5 and up) [Add to my Inquiry Basket][?]



Related Video:
Thoughts and Feelings - Sentence Completion Card Game by BRIGHT SPOTS GAMES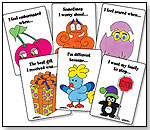 This cheerfully illustrated therapeutic tool for parents, teachers, and mental health professionals is designed to engage children of all ages.The deck contains 35 cards especially effective in helping children identify, process and work through a variety of issues, including changes within the family, trauma, grief, anger, depression, anxiety and fears. It's also available in Spanish. This product was named one of Dr. Toy's 100 Best Children's Products 2009.
10/20/2009 (Price: $19.95; Age: All Ages) [Add to my Inquiry Basket][?]



Related Video:
Pumponator Balloon Pumping Station by PUMPONATOR INC.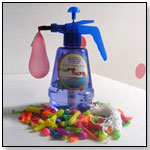 The Pumponator Balloon Pumping Station is designed to make filling balloons with water or air easily. The Pumponator Balloon Pumping Station is filled with 500 balloons and strings for tying. Just fill the container with water, pump, press and fill the balloon. Leave out the water for indoor balloon fun.
— Two of 43 specialty retailers named Pumponator as a top seller in late spring 2010. Four of 40 surveyed retailers claimed Pumponator as an overall top seller in June 2010.
— "I order 144 at a time (and am on my) fourth order since May," Barbara Fineblum, owner of Barston's Child's Play in Baltimore, Md., told TDmonthly in early summer 2010.
— In a summer 2010 survey, seven of 38 toy and gift retailers named Pumponator an overall top seller. Terri Bracken, owner of Earth Explorer Toys in Zionsville, Ind., told TDmonthly in July 2010 that her store sold 120 Pumponator stations in less than two months. The same month, Kathy Burns, manager of My Favorite Toy Store in Downers Grove, Ill., called Pumponator "a neat, neat item, and very price-appropriate."
— ''We sell about 500 per year at all 3 stores,'' Marc Holcomb, owner of owner of Toys & Co. in Greensboro, S.C., told TDmonthly in autumn 2010.
AWARDS: 2010 TDmonthly Top Seller
10/16/2009 (Price: $19.95) [Add to my Inquiry Basket][?]



Related Video:
Sea Play Creative Drama Kit: Ensemble by PIPPEROOS™ LLC

Designed for children ages three to eight years old, Pipperoos' creative drama kits include dress-up materials and illustrated storybook. Each kit focuses on one theme, and includes either a single or an ensemble set of character costumes. Costumes include Opus the Octopus, Terry the Turtle, Julie the Jelly, and Mark the Shark. This product was named one of Dr. Toy's 100 Best Children's Products 2009 and 10 Best Creative Products 2009. Launch date: 2009.
10/16/2009 (Price: $65.95; Age: 3 to 8) [Add to my Inquiry Basket][?]



Related Video:
Musical Jingle Bell Rock Skirt by ACTING OUT



The holiday season would not be as joyous without the musical composition "Jingle Bell Rock" written by Joe Beal and Jim Boothe. The Jingle Bell Rock petticoat style skirt is made of red and white soft tulle. The skirt is adorned with a candy cane striped bow finished off with a silver jingle bell. This fun flowing skirt is perfect to rock around the Christmas tree or pose for a holiday picture. Skirt also features an adjustable waistband, which allows for maximum size versatility. Skirts fits most little girls aged three to eight. Music device is hidden within an interior front pocket. Press on for music and it continues with motion. Three AAA batteries included. Winner of the Oppenheim Platinum Best Toy 2008.
10/16/2009 (Price: $44.00; Age: 3 to 8) [Add to my Inquiry Basket][?]



Related Video:
Come Dance With Us by First Wave, LLC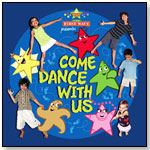 Through story-telling and song, children learn by listening and singing along with Come Dance With Us. This vocabulary-building CD from the producers of the award-winning DVD series, Fundamentals, teaches young children about time, geography, ecology, phonetics, arithmetic, emotions, and many more subjects. Educators have discovered that children can learn and remember concepts particularly when these concepts are set to music and rhythm. This CD has received the following awards: Dr. Toy's 100 Best Children's Products 2009, Dr. Toy's 10 Best Audio/Video Products, and Creative Child Magazine's CD of the Year 2009. Launch date: October 2008.
10/14/2009 (Price: $12.99; Age: 2 to 6) [Add to my Inquiry Basket][?]



Related Video:
BuckleyLion by BuckleyBoo, LLC



For ages 15 months and up, each BuckleyBoo is designed to teach babies and toddlers visual matching, small motor coordination and problem solving as they match brightly patterned ribbons and configure five different types of plastic buckles. An internal motion activated chime will delight young ears as little fingers buckle their way to mastery. "BuckleyBoo is a unique, one-of-a-kind find that has been embraced by moms, educators, special needs educators, the media and more. BuckleyBoo is the ONLY toy that gives toddlers a platform to practice essential developmental tasks in an using the every day buckles that they are surrounded by and love to play with," Emily Ross, CEO of BuckleyBoo LLC, told TDmonthly. BuckleyLion was named one of Dr. Toy's Top 10 Toys of 2009. Launch date: September 2009.
10/5/2009 (Price: $29.99; Age: 1 to 4) [Add to my Inquiry Basket][?]



Related Video:
Following are some of the programs represented in TDmonthly.com's section of award winners: Dr. Toy, iParenting Media Awards, TIA T.O.T.Y., Oppenheim Toy Portfolio, The National Parenting Center, and Parents' Choice Awards.

You may also access TDmonthly's review section to see which products earned 5 TD stars.