The Few, The Proud...The Award-Winning Toys!
Who Made the Cut This Year?
By Alison Marek and Julie L. Jones
---
Thousands of products are introduced to the toy industry every year, but only a limited number are good enough, playable enough and innovative enough to garner an award.

In addition to issuing TDmonthly Awards, TDmonthly Magazine regularly asks manufacturers to present their award winners to our readers so that retailers can quickly identify products with great potential and manufacturers can learn and be inspired by others' successes. Here are the most recent responses:
Sticky Mosaics Happily Ever After Jewelry Box by THE ORB FACTORY LIMITED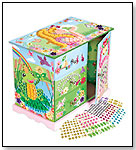 Kids can custom design this jewelry box with shimmering faux jewels and colorful foam tiles. Includes more than 750 sparkling tiles and jewel pieces. Launch date: 2011.
Awards: 2011 ASTRA Best Toys for Kids
— In a January 2012 survey about arts and crafts toys, ten of 13 retailers said Sticky Mosaics from the Orb Factory were among their top two best sellers in the category. Retailers reported selling anywhere from 10 to 150 each month.
— In a March 2012 survey, 2 out of 12 retailers told TDmonthly that Sticky Mosaics from The Orb Factory were their best selling product. Elmer Caranza, manager of Doodlehopper 4 Kids in Springfield, Va., told TDmonthly that they sell about 2 dozen items from the Sticky Mosaics line each month, and that it's been a best seller for almost a year now.
1/6/2012 (Price: $19.99; Age: 5 to 9) ENTER THE ORB FACTORY LIMITED TOYSHOW [Add to my Inquiry Basket][?]



Related Video:
LEGO Friends Olivia's Tree House 3065 by LEGO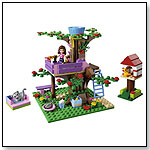 Take the Lego Friends fun to the tree tops with Olivia's Tree House. All of the friends love meeting in this treetop retreat to play games and camp out under the stars. Climb the folding ladders to watch the ladybirds, catch butterflies and feed the cat. Watch the ocean waves or wish on stars through the telescope. Stash secret treasures in the hidden compartment and decorate the whole fort with wildflowers. Includes Olivia mini-doll figure, and features the tree house pet cat Maxie, 4 ladybirds, a bird Goldie with birdhouse, 4 butterflies, hidden compartment and folding ladders.
— As of 02/28/2012 this product had 4.9 out of 5 stars from 19 reviews on Amazon.com.
Awards: 2012 Dr. Toy Best Classic Toys
1/3/2012 (Price: $19.99; Age: 6 to 12) [Add to my Inquiry Basket][?]



Related Video:
Mungi Bands by MUNGI BANDS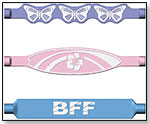 Mungi Bands are magnetically connectable designer bands. Each halfband is designed to interchange and connect to any other half band, and are connected by a magnet to create a whole band. "Mungi Bands allow the user to express themselves by choosing which design combination to wear," Chad Anger, owner/Inventor of Mungi Bands, told TDmonthly. Launch date: December 2011.
Awards: 2011 Best of Show
— As of 09/13/2012 this product had 5 out of 5 stars from 1 review on Amazon.com.
12/21/2011 (Price: $6.99; Age: 5 and up) [Add to my Inquiry Basket][?]



Related Video:
Sassy Developmental Sensory Ball Set by SASSY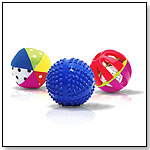 The Sassy sensory ball set has three unique balls inspire all of baby's senses. One ball engages baby's sense of touch with its fabric textures and baby's vision with its bold colors and patterns. The next ball captures baby's sense of hearing with an easy-to-grasp hard plastic ball with a chime ball inside. The third ball is made of squeezable BPA-free plastic that has been scented to smell like vanilla, a calming scent that appeals to the baby's sense of taste.
Awards: 2011 Oppenheim Toy Portfolio Platinum Award; Snap Award.
— As of 12/13/2011 this product had 4.3 out of 5 stars from 10 reviews on Amazon.com.
12/16/2011 (Price: $9.99) [Add to my Inquiry Basket][?]



Related Video:
Spot It! JR Animals by BLUE ORANGE GAMES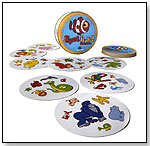 Finally, a Spot It for little ones. With a scaled down card deck and 6 symbols instead of 8, Spot It Jr. Animals is accessible for kids under 6. Adorable animals appear on all the cards, with one big animal centered on each card for easier spotting.
Awards: 2014 TDmonthly Top Toy Debut Award, 2013 TDmonthly Seal of Approval
12/16/2011 (Price: $11.99; Age: 4 and up) ENTER BLUE ORANGE GAMES TOYSHOW [Add to my Inquiry Basket][?]



Related Video:
Green Toys Salad Set by GREEN TOYS INC.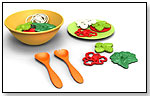 Kids can practice healthy eating habits with the fresh and fun Green Toys Salad Set. Toss up lettuce and veggies and top with a dash of dressing or salt & pepper for the greenest salad around. In this 20-piece stackable set, each realistic part is made in the USA from food-safe, 100% recycled plastic milk containers that save energy and reduce greenhouse gas emissions. Sized for Green Toys kitchen sets and interchangeable with other Green Toys play food products, the Salad Set includes a serving bowl, salad plate, 2 serving utensils, 3 lettuce leaves, 3 sets of cucumbers, 2 tomatoes, 2 red peppers, onions, mushrooms, and fold-your-own oil & vinegar and salt & pepper. No BPA, phthalates, PVC or external coatings. Meets FDA food contact standards. Dishwasher Safe. Launch date: 2012.
Awards: 2012 Dr. Toy Best Green Toys, 2012 Dr.Toy Best 20 for $20
12/13/2011 (Price: $19.99; Age: 2 and up) [Add to my Inquiry Basket][?]



Related Video:
Ghost Blitz by LION RAMPANT IMPORTS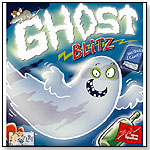 A lightning fast shape and color recognition game for kids, families and gamers alike. In Ghost Blitz, five wooden items sit on the table waiting to be caught: a white ghost, a green bottle, a cute grey mouse, a blue book, and a comfortable red chair. Each card in the deck shows pictures of two objects, with one or both objects colored the wrong way. With all players playing at the same time, someone reveals a card, then players grab for the "right" object - but which object is right? The first player to grab the correct object keeps the card, then reveals the next card from the deck. If a player grabs the wrong object, she must discard one card previously collected. Once the card deck runs out, the game ends and whoever has collected the most cards wins. Launch date: 2011.
Awards: 2011 Deutscher Lernspielpreis "6 years and up" Nominee; 2011 Golden Geek Best Children's Board Game Nominee; 2011 Spiel des Jahres Recommended.
12/12/2011 (Price: $17.99; Age: 8 and up) [Add to my Inquiry Basket][?]



Related Video:
Donkey - It's a Kick! by CLEVELAND KIDS LLC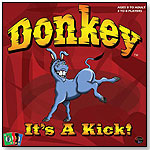 Donkey - It's a Kick! is an all-play, action-packed, process of elimination card game (with plastic components) that will have up to 8 players (ages 8 to adult) engaging in simultaneous social interaction while at the same time sharpening their hand-eye coordination skills with every round of play. In addition to the playing cards, the "Kicker Cards" present group challenges for each round of play; this not only adds diversity to each round, it creates a platform on which players feel "safe" and "eager" to show off their unique creative talents. "Donkey It's a Kick! is the only game that makes "losing" FUN!... The losers get to stay in the game and wreak havoc on the remaining players! Although the game will only produce one champion, everyone walks away feeling like a winner," Jayne Cleveland-Kolesar, secretary at Cleveland Kids, LLC., told TDmonthly. Launch date: March 2011.
Awards: 2011 The Toy Man™ Seal of Approval, 2011 The Toy Man™ Award of Excellence, 2011 The Toy Man™ Recommends Award, 2011 The Toy Man™ eChoice™ Award.
12/8/2011 (Price: $24.99; Age: 8 and up) [Add to my Inquiry Basket][?]



Related Video:
Everythingland Mailbox by METAMORPHIC TOYS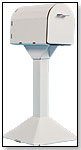 The Everythingland Mailbox is a kid-sized mailbox that will fit standard cards and letters. Made from sturdy 275# corrugated cardboard with white paper linerboard the mailbox can be decorated using paint, markers, crayons, glued on paper, fabric, photographs, beads, stones, seashells and sculptural media. The mailbox is made personal and important to them and when the art project is complete the mailbox is a great prop for pretend play or daily family communications. "The design details of our product sets us apart; material selection, shape, fit, scale and function separates our toys from other corrugated cardboard toys as well as other toy mailboxes," David Berglund, president of Metamorphic Toys, Inc., told TDmonthly. Launch date: August 2011.
Awards: 2012 Dr. Toy Best Green Toys, 2012 Dr.Toy Best 20 for $20
12/8/2011 (Price: $19.95; Age: 2 and up) [Add to my Inquiry Basket][?]



Related Video:
Got 'Em! by CALLIOPE GAMES

Players must trap their opponents' pawns in one of two games of escape and capture. In Bright Got 'Em! players must outsmart and corner their opponents through savvy card play, sly movement, and clever placement of blocking walls. In the still-casual but even-trickier Brainy Got 'Em!™ players toss aside card actions in favor of a purely strategic challenge. Both games share the same goal, the same exciting intrigue, and the same social fun. Contents: One game board, The side with colored squares is used for Bright Got 'Em!, The side with white squares is used for Brainy Got 'Em!, 84 wall pieces, 55 Got 'Em!™ cards, 4 pawns.
Awards: Major Fun Award; 2011 Creative Child's Seal of Excellence
12/2/2011 (Price: $28.00) [Add to my Inquiry Basket][?]



Related Video:
Following are some of the programs represented in TDmonthly.com's section of award winners: Dr. Toy, iParenting Media Awards, TIA T.O.T.Y., Oppenheim Toy Portfolio, The National Parenting Center, and Parents' Choice Awards.

You may also access TDmonthly's review section to see which products earned 5 TD stars.