The Few, The Proud...The Award-Winning Toys!
Who Made the Cut This Year?
By Alison Marek and Julie L. Jones
---
Thousands of products are introduced to the toy industry every year, but only a limited number are good enough, playable enough and innovative enough to garner an award.

In addition to issuing TDmonthly Awards, TDmonthly Magazine regularly asks manufacturers to present their award winners to our readers so that retailers can quickly identify products with great potential and manufacturers can learn and be inspired by others' successes. Here are the most recent responses:

Eco-friendly 4 Seasons Block Puzzle by BOIKIDO



iParenting Media Award Winner! Winner of 2009 Parents' Choice Approved Award! Winner of 2009 Creative Child Toy of the Year Award! The environmentally friendly 4 Seasons Block Puzzle is made of wood from FSC-monitored sources, painted with water-based paints, packaged in a box made of recycled materials, and printed with soy bean ink. This colorful block puzzle will help kids learn the four seasons, colors, shapes and characters, as well as develop motor skills and memory. The product meets European and U.S. safety standards.


2/10/2009 (Price: $29.99; Age: 2 to 4) [Add to my Inquiry Basket][?]



Related Video:
Hobby-Bike - Blue by INTER-AXION INC.

Hobby-Bike, a learning bicycle for children with a removable drive system (crank, pedals,chain, etc.), allows for two modes of operation: learning and riding. The bicycle's primary purpose in the learning mode (without drive system) is to teach young children the basic skills (balancing, braking and control) needed to ride a bicycle without the use of training wheels. Without the pedal system it is lighter and easier for a child to maintain balance and steer. Once these skills are mastered, the drive system is fastened and the bicycle is ready for use in the riding mode. The Hobby plush toy serves as the handlebars protective padding to protect the child from direct impact with the handlebar. Available in red, blue, yellow, and pink. Comes with a comfortable saddle and pneumatic rubber tires, making rough and bumpy paths comfortable for the rider. Awards: Mom's Best Award 2010
2/9/2009 [Add to my Inquiry Basket][?]



Related Video:
Super Scratch & Sketch by PETER PAUPER PRESS



This product includes 20 super-cool drawing and design projects, from hieroglyphics to superheroes to Van Gogh. It comes with punch-out, reusable stencils kids can use in their designs. "Easy-to-handle wire-o binding makes each book user friendly," Rasheen Hewlett, marketing assistant for Peter Pauper Press, told TDmonthly. It was a 2006 NAPPA Honors award winner. Launch date: 2003.
— Debbie Rogers, owner of Bear and Friends in Johnson City, Tenn., told TDmonthly in a January 2012 survey that they sell a dozen or so Scratch and Sketch books each month, making them a top selling arts and crafts item.
— In an April 2015 survey, two out of 10 retailers told TDmonthly that scratch art was a best-selling travel toy.
1/30/2009 (Price: $12.99; Age: 8 to 14) [Add to my Inquiry Basket][?]



Related Video:
Body Bingo by KIMBO EDUCATIONAL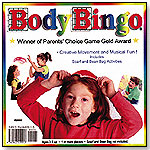 The "Body Bingo" CD, by Diane Cantwell, a specialist in education and dance, offers fun-filled manipulative activities using a bean and scarf, making it perfect for home and school activity time. The upbeat music and easy-to-follow verbal cues help teach body identification, locomotor and non-locomotor movement skills, improve coordination, balance and agility, and stimulate the imagination. It includes a guide, and Body Bingo cards are also available. "It feels like a game, but offers educational music and movement value," Elaine Murphy, director of sales and marketing for Kimbo Educational, told TDmonthly. This product received a 2003 Parents' Choice Gold Award. Launch date: 2003.
1/30/2009 (Price: $15.95; Age: 3 to 8) [Add to my Inquiry Basket][?]



Related Video:
BANDthology - "This Game Rocks" by BANDthology Inc.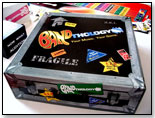 BANDthology is the fun and interactive board game that challenges your musical knowledge and creativity. Play as individuals or teams and get ready to have the most fun you've had with a board game in years! The object of BANDthology, is to be the first individual or team to win 6 musicians to form your own Supergroup. Bandthology appeals to music lovers of all ages and different musical interests. It plays very well as a party game or with large groups. There is no limit to the fun because BANDthology is a different game every time you play. You don't need to be a music expert to be great at this game. Our fun and funky band members will have you trying harder to collect your favorite first. So whether you like pop, rock, metal, alternative, blues, jazz, rap, hip hop or country music... BANDthology is... Your Music. Your Game.
Awards: Creative Child Magazine 2009 Preferred Choice Award.
1/29/2009 (Age: 8 and up) [Add to my Inquiry Basket][?]



Related Video:
First Toddle® — The 5-in-1 Infant/Toddler Play, Entertainment and Development System by First Toddle, Inc.



Created to be fun, supportive and safe for baby's first steps and toddler play, this entertainment and developmental system provides an area where baby can crawl and later aids the child in learning to stand and walk. It was named 2009 Toy of the Year in the Toddler Educational System category by Creative Child Magazine.
Awards: 2010 NAPPA Honors Award Winner, "Best Bang For The Buck."

Past Videos: Toy Fair 2009
1/29/2009 (Price: $149.95; Age: 0 to 3) [Add to my Inquiry Basket][?]



Related Video:
Alphabet Rockers by SCHOOL TIME MUSIC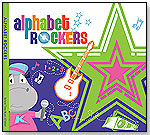 Alphabet Rockers is a cool educational music CD for pre-K to early elementary school children. It incorporates original hip-hop beats, DJ-style scratching, reggae grooves, contemporary urban sounds and rock guitar. Singer Kaitlin McGaw and former "4 Non Blondes" drummer Dawn Richardson collaborated on the high-energy beats and contagious lyrics that will keep parents and their kids dancing and moving while they learn. "Alphabet Rockers" is a 2008 Parents' Choice and 2008 National Parenting Publications award winner. "The hip, urban sounds appeal to both adults and children," Barbara Zamost, owner of Zamost Public Relations, told TDmonthly. Launch date: October 2007.
1/23/2009 (Price: $14.99; Age: 2 and up) [Add to my Inquiry Basket][?]



Related Video:
YAMSLAM, Roll to Win by BLUE ORANGE GAMES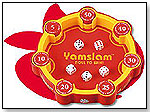 Calculated chances and strategic choices will place the odds in favor of players as they let the five dice roll them to a win with Yamslam. After each roll, a player chooses the dice that will get the best combination. Each combination is worth a different value and has only four chips, so it's important to take the best ones before they run out. Players race to get special bonuses before their friends do, keeping the suspense rolling until the end. The game has appeal for all ages and is convenient for travel, as it is "self contained in a beautiful tin box," Adeline Bertrix, sales manager for Blue Orange Games, told TDmonthly. Launch date: February 15, 2009.
Awards: Dr. Toy's 100 Best Children's Products 2009; 2012 TDmonthly Top Toy Award. Why it won: This dice-rolling game from Blue Orange is fun for both kids and adults. With each roll of the dice players must strategize how they can win the chip with the highest point value. Without even realizing it, kids are learning basic math skills like addition and probability. The game is self-contained in a red tin, making it easy to play on the road or tote along to a party.
— Yamslam is on the best-seller list at Golden Apple Learning Store in Pleasanton, Calif., Owner John MacDougall told TDmonthly in summer 2009.
— "Right now, a game called Yamslam is our best-selling game," said Sue Banducci of Games Unlimited in Danville, Calif., in late 2009. She was anticipating sales of about 250 units during December.
— Three of 38 retailers cited Yamslam as a best-selling game in Feb. 2010.

1/23/2009 (Price: $19.99; Age: 7 and up) ENTER BLUE ORANGE GAMES TOYSHOW [Add to my Inquiry Basket][?]



Related Video:
Incredible Creatures Pangolin by SAFARI LTD.®


An amazing replica of an unlikely creature! This armored and armadillo-like anteater inhabits the tropical forests in parts of Africa and Asia. Safari Ltd. brings yet another interesting animal to the Incredible Creatures Collection. Replica measures 7.25" H x 3" H. Hand painted, phthalate and lead free. Ages 3+. Includes a 5 language educational hangtag. Safari Ltd. exceeds all safety standards. Safari Ltd's products are 100% guaranteed.
Awards: A TDmonthly Classics Award for being an all-time favorite toy.
1/22/2009 (Price: $9.50; Age: 3 and up) ENTER SAFARI LTD.® TOYSHOW [Add to my Inquiry Basket][?]



Related Video:
Good Luck Mini Babies by SAFARI LTD.®


No one will be able to resist these cute, itty-bitty babies. Perfect impulse item as a souvenir for baby showers. Mini babies are available in two variations, pink and blue. Offered loose in sturdy acetate bins with 192 pieces per bin. Minis average .75" to 1" in length. Hand painted, phthalate and lead free. Ages 5+. Safari Ltd. exceeds all safety standards. Safari Ltd's products are 100% guaranteed.
Awards: A TDmonthly Classics Award for being an all-time favorite toy.
1/22/2009 (Price: $0.75; Age: 3 and up) ENTER SAFARI LTD.® TOYSHOW [Add to my Inquiry Basket][?]



Related Video:
Following are some of the programs represented in TDmonthly.com's section of award winners: Dr. Toy, iParenting Media Awards, TIA T.O.T.Y., Oppenheim Toy Portfolio, The National Parenting Center, and Parents' Choice Awards.

You may also access TDmonthly's review section to see which products earned 5 TD stars.