The Few, The Proud...The Award-Winning Toys!
Who Made the Cut This Year?
By Alison Marek and Julie L. Jones
---
Thousands of products are introduced to the toy industry every year, but only a limited number are good enough, playable enough and innovative enough to garner an award.

In addition to issuing TDmonthly Awards, TDmonthly Magazine regularly asks manufacturers to present their award winners to our readers so that retailers can quickly identify products with great potential and manufacturers can learn and be inspired by others' successes. Here are the most recent responses:
Teachers Scramble Squares® 9-Piece Puzzle by b. dazzle, inc.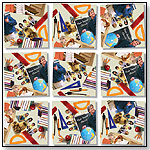 The value of education and the dedication of teachers who mold future generations and our society is honored by the new "TEACHERS" Scramble Squares® brainteaser puzzle from b. dazzle, inc.
9/14/2007 (Price: $8.95; Age: 4 and up) ENTER b. dazzle, inc. TOYSHOW [Add to my Inquiry Basket][?]



Related Video:
Florina Arranging Game by HABA USA/HABERMAASS CORP.



The German-made 3D wooden puzzle set includes 32 colorfully decorated puzzle pieces. The set comes packaged in a sturdy, solid wood frame. This product is a 2007 Parent's Choice Award and iParenting Media Award winner.
9/10/2007 (Price: $40.00; Age: 2 and up) [Add to my Inquiry Basket][?]



Related Video:
CHEM C500 by THAMES & KOSMOS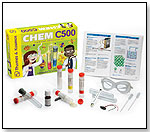 The kit is based on the CHEM C101 kit, but is now even easier and safer to use. This new and improved version takes children on an introductory tour through seven central areas in chemistry with more than 30 classic experiments. The kit comes with a 32-page, full-color manual that is replete with pictures and diagrams. "CHEM C500 is ideal for children who are interested in chemistry but who are not yet ready for a more advanced chemistry set," Christa Raimondo Cronin, customer service representative at Thames & Kosmos, told TDmonthly. "Experiments are fun and engaging and emphasize the 'magic' behind chemical reactions." This product is a Fall 2007 Parent's Choice Award winner. Launch date: July 2007.
9/4/2007 (Price: $31.95; Age: 10 and up) [Add to my Inquiry Basket][?]



Related Video:
SWAP! by PATCH PRODUCTS INC.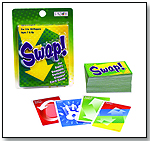 In this lightning-fast game, players must quickly try to get rid of all their cards. Players must attempt to match colors on cards, swap hands and race to slap the pile. This product is a National Parenting Center Seal of Approval Award winner. "The slapping and exchanging of hands adds a new dimension to today's card games," Patch Products Inc. Public Relations Manager Barbara Uebelacker told TDmonthly. Launch date: 2003.
― Swap is a good seller for Lisa Bennett, owner of Peacock Feathers in Needham, Mass., she told TDmonthly in summer 2007.
9/4/2007 (Price: $6.99; Age: 7 and up) [Add to my Inquiry Basket][?]



Related Video:
Take Along Castle by PLAYMOBIL INC.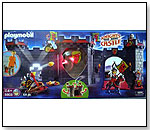 This 73-piece set includes a gray "stone" castle measuring 28.75" across, four knights, a horse, weapons, flags and more. It folds into a handy carrying case. This product is a 2007 iParenting Media Award winner.
8/29/2007 (Price: $29.99; Age: 4 and up) [Add to my Inquiry Basket][?]



Related Video:
OnGuard Kids Personal Emergency Alert System Watch - Pink by CONCORD CAMERA CORP.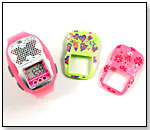 This watch features a 110 decibel emergency alarm, a high-intensity SOS light signal, a Safe & Secure watch band, parental alarm controls and a child ID label on the back. It comes with three interchangeable faceplates (metallic silver, pink flowers and hearts in lime), a lightweight safety flashlight that snaps onto the watch band, an educational safety DVD and a video that helps parents set up the watch. Styles for boys ages 5 to 8 and for boys and girls ages 9 and up are also available. This product received a 2007 iParenting Media Award and was named to Dr. Toy's Best Products List for summer 2007.
8/29/2007 (Price: $29.99; Age: 5 to 8) [Add to my Inquiry Basket][?]



Related Video:
Mini Super Sports OgoDisks Set by OGOSPORT, LLC



Award-winning, active-play device that adapts for many sports and games. Catches and throws balls up to 150 ft., Mini Super Spots Disk Set comes with two sports disks 12-in in diameter and a soft, rubber filaments, ball.

Where to buy:
NORTH EAST
8/27/2007 (Price: $33.00; Age: 3 and up) [Add to my Inquiry Basket][?]



Related Video:
Marvel Heroes Breakout DVD Game by BRIGHTER MINDS MEDIA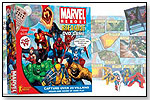 Intended for the whole family, this game, starring Marvel favorites such as Spider-Man, The Hulk, The X-Men and more, features footage from Marvel TV shows as well as hours of brand-new animation, hundreds of trivia questions, and seven interactive DVD activities. Each game comes with a game board, a game DVD, 25 villain fact cards, four playing pieces and a six-sided die. Players can select from three skill levels for each player and can select how long they want the game to be. This product is a winner of the 2007 Creative Child Preferred Choice Award.
8/24/2007 (Price: $24.95; Age: 6 and up) [Add to my Inquiry Basket][?]



Related Video:
Cookware and Dining Set by GREEN TOYS INC.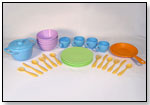 Make-believe culinary treats benefit the earth when young chefs concoct them with this environmentally friendly Cookware and Dining Set made of natural bioplastic. The 27-piece set comes with a stock pot and lid, a skillet, four plates, four bowls, four cups, and four place settings (fork, spoon and knife). It is made from annually renewable, sustainable resources (such as corn), helping to reduce fossil fuel use and CO2 emissions. This company received a 2008 Green Toy Company Award from Dr. Toy. Launch date: September 2007.
8/21/2007 (Price: $44.99; Age: 3 and up) [Add to my Inquiry Basket][?]



Related Video:
Sizzletoad! by WIZERGAMES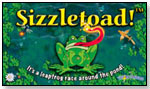 This fast-paced, portable game for two to four players combines the timeless fun of "Rock-Paper-Scissors" and "TIC-TAC-TOE" to create an exciting leapfrog race around the pond. It takes just a minute to learn and only eight to 15 minutes to play. The set includes one folding gameboard, 24 playing cards, four durable, colored glass game pieces and one instruction sheet. This product was on Dr. Toy's Spring 2007 Best Products List and received a 2007 MAJOR FUN Award.
8/21/2007 (Price: $19.99; Age: 4 to 7) [Add to my Inquiry Basket][?]



Related Video:
Following are some of the programs represented in TDmonthly.com's section of award winners: Dr. Toy, iParenting Media Awards, TIA T.O.T.Y., Oppenheim Toy Portfolio, The National Parenting Center, and Parents' Choice Awards.

You may also access TDmonthly's review section to see which products earned 5 TD stars.