The Few, The Proud...The Award-Winning Toys!
Who Made the Cut This Year?
By Alison Marek and Julie L. Jones
---
Thousands of products are introduced to the toy industry every year, but only a limited number are good enough, playable enough and innovative enough to garner an award.

In addition to issuing TDmonthly Awards, TDmonthly Magazine regularly asks manufacturers to present their award winners to our readers so that retailers can quickly identify products with great potential and manufacturers can learn and be inspired by others' successes. Here are the most recent responses:
Knowledge Adventure Books by You™ by KNOWLEDGE ADVENTURE, INC



Knowledge Adventure Books by You™ is a make-your-own-book software experience that inspires the love of reading in children as they create their own books. Award-winning actor and author John Lithgow guides the way as children choose a story line and transform it with their own ideas. Users can publish a real book that children will love to read and the family will treasure for years to come. This product received a spring 2007 Parents' Choice Recommended seal in the software category.
9/18/2006 (Price: $19.99; Age: 8 and up) [Add to my Inquiry Basket][?]



Related Video:
New Orleans Playground by PUTUMAYO KIDS



New Orleans is one of the world's great cultural crossroads, and children who grow up there are steeped in the music of the city. Now, kids everywhere can enjoy the mood-lifting music of the Big Easy with "New Orleans Playground." Part of Putumayo's efforts to offer relief to victims of 2005's Hurricane Katrina, New Orleans Playground lifts everyone's spirits as artists from Fats Domino and Hack Bartholomew get their toes tapping. "A portion of the proceeds benefits the Louisiana Children's Museum," Manager Mona Kayhan of Putumayo Kids told TDmonthly. Beth Blenz-Clucas of Sugar Mountain PR called attention to the native distinctiveness of the CD: "There really isn't another collection of New Orleans songs geared specifically toward children." This product received a spring 2007 Parents' Choice Gold Award. Launch date: May 22, 2007.
9/5/2006 (Price: $14.98; Age: 2 and up) [Add to my Inquiry Basket][?]



Related Video:
Ball of Whacks by U.S. GAMES SYSTEMS, INC.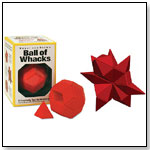 A marvel of engineering, the Ball of Whacks is made up of 30 magnetic rhombic pyramids that can be taken apart and rearranged in endless creative ways. More versatile than a puzzle and lots more fun than a brainteaser, there's no right or wrong way to use it. Just pick it up and play with it! Designed to be a creativity workshop in a box, Ball of Whacks comes with a 96-page illustrated guidebook providing exercises for creative brainstorming, strategies for problem solving, insights into the creative process challenges to construct shapes and mosaics, and to invent new ones. The game is also a good stress reliever for active individuals working under pressure.
8/21/2006 (Price: $29.95) [Add to my Inquiry Basket][?]



Related Video:
Word Sweep by INTELLINITIATIVE INC.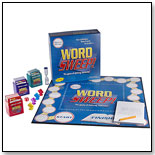 For two to four players, Word Sweep is the first board game to feature official content from America's leading language reference publisher, Merriam-Webster. To play, one player reads a card that contains three definitions of words that appear consecutively in the dictionary. Another player tries to guess all three to make a "Word Sweep" before the timer runs out. If the "Word Sweep" isn't solved completely, opponents can "steal" the remaining words. The more words guessed correctly, the faster players advance around the board. Word Sweep was co-invented by Intellinitiative and Steve Smith, a former middle school teacher from the Boston area who is an annual participant in the American Crossword Puzzle Tournament hosted by New York Times crossword puzzle editor, Will Shortz. The tournament is the subject of the 2006 movie "Wordplay." The game received the 2007 Teachers' Choice Award, the 2006 Parents' Choice Recommended Award and the 2006 National Parenting Center Seal of Approval. Launch date: August 2006. (See Review)
8/21/2006 (Price: $29.95; Age: 10 and up) [Add to my Inquiry Basket][?]



Related Video:
My Traveling ABCs by BABE EASE LLC


These 26 individually designed plush alphabet letters have been created with baby's senses in mind. Rich fabric textures enhance tactile stimulation and individually appliqued facial expressions foster creative play. The package comes complete with 26 brightly colored straps for added versatility, an original board book entitled Shopping With My ABCs, and a colorful carrying tote. This product is an iParenting Media Award winner. Launch date: October 15, 2006.
8/7/2006 (Price: $34.95) [Add to my Inquiry Basket][?]



Related Video:
Webs to Whales Nature Tales by BLOCK PUBLISHING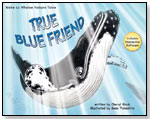 This series of illustrated storybooks with interactive CD-ROMs teaches the science behind imaginative stories of a little spider's colorful web and a young whale's rescue. The companion CD uses a variety of
activities, photos and video to introduce kids to the fascinating worlds of spiders or whales. Children mix colors, compare spiders with insects, catch flies, watch whales leap and dive, hear a whale song, or
put together puzzles. Printable activities in math, reading and science are included. This series won a 2007 Teachers' Choice Award for the Family. And "True Blue Friend" won a Learning Magazine Teachers' Choice Award for 2007.
— President Cheryl Block noted that her company has integrated the tangible quality of books with technology. Children begin with the story, use the computer as a tool, and then use printable activity pages for hands-on activity.
7/28/2006 (Price: $21.95) [Add to my Inquiry Basket][?]



Related Video:
Around the World - the Ultimate Global Board Game by AROUND THE WORLD LLC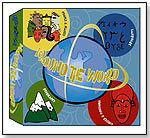 Around the World: By rolling the dice and circumnavigating the board, kids ride the Channel Tunnel through Paris, walk through the streets of Bangkok, visit temples in Nepal, and dive among sea turtles in Australia as they voyage the board game's primary categories of People and Places, Culture, World Bank, Geography, Language and World Wonders and attempt to answer questions about those categories. Questions answered correctly earn tokens; the ultimate goal is to fill up one's Global Scorecard. The Ultimate Global Board Game is lauded by teachers, librarians, parents, travelers and students. This product is a 2007 Dr. Toy Best Children's Product Award winner.
7/24/2006 (Price: $26.99; Age: 8 and up) [Add to my Inquiry Basket][?]



Related Video:
Schoenhut® 18-Key Mini Baby Grand by SCHOENHUT PIANO COMPANY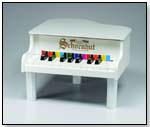 Schoenhut's new Mini-Grand is the perfect choice for a toddler's first piano. It is just the right size for a child's favorite doll, too. Both fun and educational, it is an ideal instrument to encourage musical creativity.
Awards: A TDmonthly Classics Award for being an all-time favorite toy.
— As of 7/21/2011 this product had 5 out of 5 stars from 1 review on Amazon.com.
7/14/2006 (Price: $59.95; Age: 3 and up) ENTER SCHOENHUT PIANO COMPANY TOYSHOW [Add to my Inquiry Basket][?]



Related Video:
Nighty Night Dolls by THE CHILDREN'S FACTORY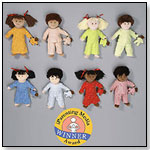 These 14" tall multicultural rag dolls have adorable embroidered faces. The boy wears pajamas and holds a teddy bear with matching PJs and the girl wears a nightgown and holds a matching teddy bear. It is perfect for accompanying child to bed. It is machine washable and dryable. The Nighty Night Doll "is sweetly appealing, soft and cuddly. Nowadays, when so many dolls talk, burp, sing, move and do things that are possible with electronics, it's good to have a back-to-basics doll," Fanny Wong of Fanny's Play House told TDmonthly. It was named one of the 100 Best Children's Products of 2006 by Dr. Toy and received a 2007 iParenting Media Award.
6/27/2006 (Price: $27.95; Age: 2 and up) [Add to my Inquiry Basket][?]



Related Video:
BANANAGRAMS® by BANANAGRAMS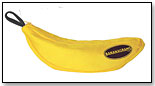 The fast-moving word game consists of 144 ivory-like letter tiles in a zippered banana pouch. Players place the tiles face down on the table and randomly select 21 tiles. They turn their letters right-side up simultaneously and proceed to form as many intersecting and interconnecting words as possible, rearranging their own letters as many times as desired throughout the game. Awards: TDmonthly Top Seller 2007; 2009 TOTY Game of the YEAR, 2006 Oppenheim Toy Portfolio Gold Seal; 2007 iParenting; 2007 Parents' Choice Recommended; 2007 Dr. Toy Best Products. (Read Review)
— This product has been making the TDmonthly Best-sellers lists since 2007.
— As of 05/13/2011 this product had 4.8 out of 5 stars from 456 reviews on Amazon.com.
— Eight of 66 retailers vouched for its best-selling status in May 2008; seven of 63 did in Sept. 2008. Shani Watmough of Planet Toys in Rockland, Maine, said her store sells 60 per month. Fifteen of 38 named it a top-selling game in Feb. 2010.
— As of April 5, 2010, Bananagrams had spent 570 days in the top-100 best-selling toys and games on Amazon.com.
— According to owner Brett Sommer of Figpickels Toy Emporium in Coeur d'Alene, Idaho, "It was the 2009 game of the year. The brilliant packaging definitely helps this product." 6/19/2006 (Price: $14.99; Age: 7 and up) [Add to my Inquiry Basket][?]



Related Video:
Following are some of the programs represented in TDmonthly.com's section of award winners: Dr. Toy, iParenting Media Awards, TIA T.O.T.Y., Oppenheim Toy Portfolio, The National Parenting Center, and Parents' Choice Awards.

You may also access TDmonthly's review section to see which products earned 5 TD stars.