The Few, The Proud...The Award-Winning Toys!
Who Made the Cut This Year?
By Alison Marek and Julie L. Jones
---
Thousands of products are introduced to the toy industry every year, but only a limited number are good enough, playable enough and innovative enough to garner an award.

In addition to issuing TDmonthly Awards, TDmonthly Magazine regularly asks manufacturers to present their award winners to our readers so that retailers can quickly identify products with great potential and manufacturers can learn and be inspired by others' successes. Here are the most recent responses:
Hats Off by GAMEWRIGHT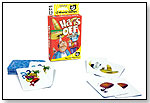 Players must put on their game caps for a frenzied round of hat matching mania, holding three hat cards in their hand and balancing one on top of their head. The goal is to be the first to match the center hat card and collect the pair. But if a hat is dropped, someone else can yell "Hats Off" and steal a card. Whoever wins the most cards is crowned the top hat.
— "Not only does [this game] work on memory skills trying to match the cards; it also works with improving hand-eye coordination," Cara Newbitt of Aigner Associates told TDmonthly. This game received a 2007 Oppenheim Toy Portfolio Gold Award. Launch date: February 2007.
4/13/2007 (Price: $5.99; Age: 6 and up) [Add to my Inquiry Basket][?]



Related Video:
27" x 47" Sandtable by SANDLOCK SANDBOXES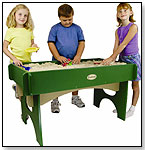 The SandLock Sandtable is made from all commercial-grade plastic with a simple interlocking design. It is designed for easy assembly and long-lasting durability. With an attractive design and color, it fits easily into any surrounding. To enhance the sand play experience, a variety of accessories such as casters, umbrellas, a waterliner, a watertub and covers are also available for this model. According to Chris Freres of SandLock Sandboxes, "quality and durability" set this product apart. It received the 2007 Teachers' Choice Award from Learning Magazine. Launch date: March 5, 2005.
4/13/2007 (Price: $299.99; Age: 2 and up) [Add to my Inquiry Basket][?]



Related Video:
Explorer Ops Binoculars by WILD PLANET


The small, lightweight, durable binoculars offer magnification at six times the power of the naked eye. They are sized for small faces and feature rubberized grips, a wrist strap and a carrying case. Kids can watch birds in a nest, squirrels in the trees, or mom heading into the backyard to bring them another bowl of popcorn. "Specialty toy stores look for products that provide kids with fun, lasting and educational experiences. The Explorer Ops Binoculars are playful and practical — they motivate kids to go outdoors and explore nature or create their own imaginative play scenarios," Kim Bratcher of Wild Planet told TDmonthly. The product received a 2007 Oppenheim Toy Portfolio "Best Toy Award" Gold Seal. Launch date: March 2007.
4/13/2007 (Price: $9.99; Age: 5 and up) [Add to my Inquiry Basket][?]



Related Video:
Lamaze Balancing Bug Stacker by LEARNING CURVE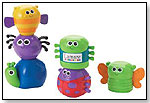 These adorable bugs are made to be kept inside the house. They each have their own "magnetic" personality and serve as colorful stacking blocks. The built-in magnets make stacking easier and encourage spatial development. Each cute creature features a rattle, allowing for individual piece play as well. "Lamaze toys … appeal to developmental stages. This product is in Stage 2: Exploring and Experimenting," Andrew Sroufe of Salmon Borre Group told TDmonthly. The Bug Stacker received the 2007 Oppenheim Toy Portfolio Gold Seal Award. Launch date: February 2007.
4/13/2007 (Price: $16.99; Age: 1 and up) [Add to my Inquiry Basket][?]



Related Video:
Banzai Double Drop Raceway by TOYQUEST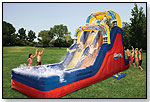 Kids can challenge a friend to a race, scale the climbing wall of this huge 21'3"-long slide, and slide down the two steep drops, through the cascading waterfalls into the giant splash pool. The Double Drop Raceway inflates in less than three minutes with the included continuous-airflow blower motor and easily attaches to any hose for a powerful water spray. The heavy-duty Dura-Tech construction ensures lasting strength and durability while the constant airflow helps resist small tears and punctures. The product was named one of Toy Wishes Hot Dozen toys for Summer 2007. Launch date: Spring 2007.
4/6/2007 (Price: $399.99; Age: 5 and up) [Add to my Inquiry Basket][?]



Related Video:
Juno's Rhythm Adventure by JUNO BABY INC.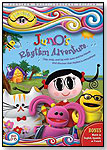 Featuring the Emmy Award winning original classical music of mom and composer Belinda Takahashi, PhD, young children laugh, sing and learn as they interact with Juno and her lovable puppet friends. Kids can join Juno and the gang as they discover rhythm in everyday things. Teaching both music appreciation and creative wile, Juno's Rhythm Adventure blends classical music, Latin and African beats, masterful puppetry and colorful animation to entertain and inspire. Includes sing-along in English, Spanish and French. For every product sold, the Juno Company donates a very special music DVD to a child in need. Launch date: July 2006.
Awards: 2006 iParenting Media Award; 2007 Parents' Choice Recommended Award; 2006 Telly Award; 2006 Creative Child Magazine Preferred Choice Award.
4/6/2007 (Price: $17.99; Age: 0 to 5) [Add to my Inquiry Basket][?]



Related Video:
The Learning Tower by LITTLE PARTNERS INC.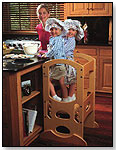 Constructed of sturdy, high-quality layered birch, The Learning Tower is solid and made to last. Its four-sided design and roomy platform foster both the child's and caregivers' feelings of security and safety while enabling the child's desire to be independent and inquisitive. To accommodate different aged children, the platform height adjusts quickly and easily. And its durable, high-gloss, natural finish cleans easily with a damp cloth. It can serve as a step-stool, a desk, a fort or even a puppet theater. The tower is available in its original Natural color, Rich Ebony, Soft White and Dark Cherry. This product is a winner of four national awards including Dr. Toy's Best 10 Active Toys Award, iParenting Media's 2007 Outstanding Products Award, Mr. Dad Father's Day's 2007 Seal of Approval Award and a 2007 National Parenting Publications (NAPPA) Award. Launch date: 1998.
4/6/2007 (Price: $169.95; Age: 2 to 6) [Add to my Inquiry Basket][?]



Related Video:
Carpet Bocce by SIMTEC CO.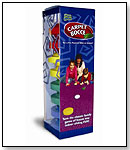 Featuring a specially designed carpet puck, Carpet Bocce takes the traditional lawn sport to a whole new playing field — indoors. This game for two to four players combines skill, strategy and competition. It works on hard floors, too. "Carpet Bocce turns a traditional lawn sport into an indoor game for the entire family — adults and children," Tradeshow Coordinator Linda Willrich of Simtec told TDmonthly. This item is a National Parenting Center Seal of Approval Award winner. Launch date: August 2007.
4/3/2007 (Price: $16.99; Age: 6 and up) [Add to my Inquiry Basket][?]



Related Video:
Learn Magic With Lyn by LYN DILLIES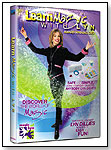 Master illusionist Lyn Dillies makes it easy and fun for kids to discover the world of magic. In this 53-minute educational DVD, she provides step-by-step instructions for safe and simple magic tricks with everyday objects. Children can make objects disappear with "Wonder Wand," create a bouncing toy in "Newspaper Ball," astound audiences with "Mindreading Crayons" and more. For the first time in DVD history, a female role model and professional illusionist effectively teaches the how-to process of 11 clever and entertaining tricks to her magic students. The DVD has received several awards for excellence in children's programming: an iParenting Media Award, the Film Advisory Board's Award of Excellence, Parents' Choice Approval and the Dove Foundation's Family Approved Seal. Launch date: May 15, 2007.
3/29/2007 (Price: $18.95; Age: 7 and up) [Add to my Inquiry Basket][?]



Related Video:
UberBots 621 by UBERSTIX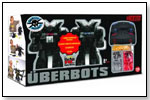 "Kids" can create radio-controlled, rumbling robots and pit up to six of them against each other at a time, thanks to six interchangeable RC frequencies. Working with sturdy, yet flexible interlocking Uberstix components, builders utilize physics, engineering and creative skills to design robots that can trounce their opponents. In the heat of battle, UberBots employ jabs and hooks and even speak preprogrammed Japanese phrases designed to conquer all foes. Knocking down an opponent three times is a win. Then the fighters retire to redesign their Bots and devise another unbeatable strategy for victory. The 621 kit includes two UberBots, 250 Uberstix pieces, two remote controls, two flags, 14 rechargeable Ni-Cad batteries, two chargers and building instructions.
— These Japanese-speaking robotic construction toys received a TDmonthly Top Toy 2007 award for many reasons: the scientific knowledge they invite in construction and redesign, their RC capability to fight multiple robots at one time, the creativity and inventiveness required when reprogramming the UberBots, and the signature, interlocking Überstix parts that make up their distinctive structure. Finally, Überstix are made from recycled plastic and can be combined with other building toys, setting their kits on a higher plane than other construction toys.
3/28/2007 (Price: $149.99; Age: 8 and up) [Add to my Inquiry Basket][?]



Related Video:
Following are some of the programs represented in TDmonthly.com's section of award winners: Dr. Toy, iParenting Media Awards, TIA T.O.T.Y., Oppenheim Toy Portfolio, The National Parenting Center, and Parents' Choice Awards.

You may also access TDmonthly's review section to see which products earned 5 TD stars.