The Few, The Proud...The Award-Winning Toys!
Who Made the Cut This Year?
By Alison Marek and Julie L. Jones
---
Thousands of products are introduced to the toy industry every year, but only a limited number are good enough, playable enough and innovative enough to garner an award.

In addition to issuing TDmonthly Awards, TDmonthly Magazine regularly asks manufacturers to present their award winners to our readers so that retailers can quickly identify products with great potential and manufacturers can learn and be inspired by others' successes. Here are the most recent responses:
Piano for Preschoolers by PIANO FOR PRESCHOOLERS



The fun and easy system allows parents without any musical background to teach their children beginning piano at home. The basic course includes a 17-song music book with color-coded notes, a parent/teacher guide, a 17-track "count aloud" CD and two color strips to guide children to the correct key for each note. This product is a winner of a Dr. Toy Best Products Award, an Adding Wisdom Award and an Amazing Toy Award. Launch date: October 2005.
7/16/2007 (Price: $39.95; Age: 3 to 8) [Add to my Inquiry Basket][?]



Related Video:
Your Child's Health & Wellness Record by HR PRESS


This gift-quality health journal is for parents to record health, wellness and educational information for their child. It is perfect for the expectant or experienced parent and has been designed for children who are developing typically or those with complex health issues. Each child should have his or her own record as each will experience different health events. The journal includes nine main sections, black-and-white photographs and pockets on the inside front and back covers. It measures 8.75" H x 10.5" W x 1.25" D. "It is written by a health professional and mother of three who learned ... that children whose parents are organized and informed receive the best healthcare," a representative of HR Press told TDmonthly. This product made Dr. Toy's Summer 2007 Best Products List and received a 2007 iParenting Media Award. Launch date: October 2006.
7/13/2007 (Price: $24.99; Age: 0 and up) [Add to my Inquiry Basket][?]



Related Video:
Sixteen by ALPINE GAMES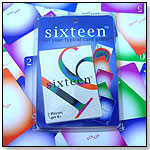 This two-player, high-quality card game offers head-to-head fun as players take calculated risks to win sets by forcing their opponent to "bust." Yet, players must also play their cards defensively at the right time, or the tables will turn. The player who wins the most sets wins the game. Sixteen is easy to learn, while cribbage-like counting and a distinctive combination of cards yield high strategy and replay value. Playing time is about 15 minutes. Sixteen won the Dr. Toy 2007 Best Products Award, the Major Fun Family Award and the Creative Child Magazine Seal of Excellence Award. MSRP: $6.99 to $9.99. Launch date: July 2007.
7/13/2007 (Age: 8 and up) [Add to my Inquiry Basket][?]



Related Video:
"CAMP" Outdoor Activity Book by EDUCATION OUTDOORS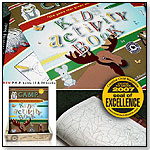 This 48-page activity book allows kids to color their favorite animal characters from the CAMP game while learning fun facts about the great outdoors. It includes animal camouflage pages, drawing lessons, trivia, CAMP stories and more. "Our CAMP Activity book 'grows with you' just like the CAMP board game — beginning with simple coloring pages and increasing in difficulty," Jesse DenHerder of Education Outdoors told TDmonthly. "The interior pages are printed on a durable 50# offset paper that will adhere to ink, pencil and crayons with ease."

This product received The Family Review Center/Magazine Gold Medal award. Launch date: September 12, 2007.
7/13/2007 (Price: $5.99; Age: 3 and up) ENTER EDUCATION OUTDOORS TOYSHOW [Add to my Inquiry Basket][?]



Related Video:
Character Creator: Robots by PLAY ODYSSEY INC.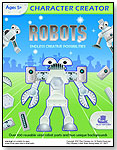 With this static cling playset, children can create unique robot characters from reusable vinyl stickers. The set includes two backgrounds and more than 100 reusable robot parts. "Most sticker sets are primarily designed to foster imaginary play, and include a variety of self-contained pieces to assemble a scene," Designer Meera Gill of Play Odyssey told TDmonthly. "Character Creator is more versatile in that it both an imaginary play and construction toy. This unique sticker set of unidirectional mechanical parts can be arranged in numerous combinations for maximum creative freedom." This product is a 2008 iParenting Media Award winner. Launch date: September 2007.
7/6/2007 (Price: $12.99; Age: 6 and up) [Add to my Inquiry Basket][?]



Related Video:
Playful Chef by PLAYFUL LIFE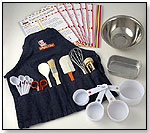 The Playful Chef set includes 10 kid-sized cooking tools, one toolbelt apron and five healthy hands-on recipes, all packed in a backpack for easy storage. The Chef gives children safety tips, color-coded measurements, 10-step instructions and 11 illustrated learning lessons. It also helps them learn how to plan a healthy meal, shop for nourishing ingredients and cook with the right tools. This cooking kit received a 2007 iParenting Media Outstanding Product Award and was selected for Dr. Toy's Best Products Resource Program Spring 2007. Launch date: November 2006.
— Lots of companies make cooking toys and accessories, but Playful Chef was awarded a TDmonthly Top Toy 2007 award for giving kids a chance to try to their hand at the real thing. With authentic tools, recipe guides and a sturdy apron, this quality set prepares children for a true chef's experience in the kitchen, including attention to safety.
Where to Buy: The Satin Button
7/6/2007 (Price: $39.99; Age: 3 and up) [Add to my Inquiry Basket][?]



Related Video:
Happi Tummi by HOUSEHOLD Name products Inc.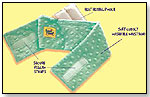 Happi Tummi is a 100 percent natural external remedy specifically formulated to help relieve colic discomfort and fussy babies. Suitable for birth to 8 months, it features aromatherapy herbs that also calm the caregiver, and it is ready to use in just 30 seconds. Caregivers simply heat the pouch in the microwave, insert the pouch into the fabric waist band, and place it on baby's abdomen. The waistband is washable and comes in blue velour, pink velour, pink stars and polka dots versions. The product has received iParenting Media and iParenting Media HOT awards.
7/5/2007 (Price: $19.95; Age: 0 to 1) [Add to my Inquiry Basket][?]



Related Video:
Seed Paper Flowers Activity Set by ARNOLD GRUMMER'S PAPER MAKING



"Seed Paper" is paper that contains seeds in it. Individuals simply plant the paper and watch it grow into flowers. The kit includes pulp, seeds and craft supplies to make seed paper and to do six fun projects. There are simple, clear directions, and no blender is needed. The kit makes four jumbo cards and two giant flowers. This product received the Spring 2007 Best Products Award from Dr. Toy. Launch date: 2007.
7/3/2007 (Price: $9.95; Age: 6 and up) [Add to my Inquiry Basket][?]



Related Video:
The 2008 Learning Calendar by FAT BRAIN TOY CO.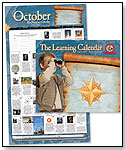 The award-winning Learning Calendar is now available as a 17-month school calendar. The Learning Calendar has distinguished itself as the optimal fun learning tool for on-the-go children and adults. It's full of activities and trivia in science, history, geography, art, politics, music, literature and culture. In addition to large-scale photography, detailed maps and historically accurate text, educators and families can find endless creative teaching possibilities. It's easy to understand and fun for all ages. Themes for 2007-2008 include Artists, International Holidays and History Now. It received a 2007 Teachers' Choice Award for the Family and a 2007 iParenting Media Excellent Products Award. Launch date: July 23, 2007.
6/29/2007 (Price: $14.95; Age: 5 to 12) [Add to my Inquiry Basket][?]



Related Video:
Abalone Classic by FOXMIND GAMES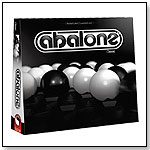 Abalone is a fast-paced strategy board game that has sold more than 4 million copies worldwide. Players compete to push six of their opponents' marbles off the board. The game can be learned in one to two minutes, and the game itself lasts approximately 15 minutes. Each purchase order comes in a carton of six games. This game is a winner of Europe's Game of the Decade Award.
6/27/2007 (Price: $32.95; Age: 7 and up) [Add to my Inquiry Basket][?]



Related Video:
Following are some of the programs represented in TDmonthly.com's section of award winners: Dr. Toy, iParenting Media Awards, TIA T.O.T.Y., Oppenheim Toy Portfolio, The National Parenting Center, and Parents' Choice Awards.

You may also access TDmonthly's review section to see which products earned 5 TD stars.