The Few, The Proud...The Award-Winning Toys!
Who Made the Cut This Year?
By Alison Marek and Julie L. Jones
---
Thousands of products are introduced to the toy industry every year, but only a limited number are good enough, playable enough and innovative enough to garner an award.

In addition to issuing TDmonthly Awards, TDmonthly Magazine regularly asks manufacturers to present their award winners to our readers so that retailers can quickly identify products with great potential and manufacturers can learn and be inspired by others' successes. Here are the most recent responses:
Santa's Happy Christmas Scribble Book by SCRIBBLE MATS



Kids can join Santa on his Christmas journey in this Scribble Book that comes with 10 color-on, wipe-off board book pages and six crayons. The pages can be colored again and again, and the product may be used at meal time, home, school and restaurants, and for travel and kids on the go. "Our special surface wipes clean with a dry cloth, so children can color over and over," Andi Thea, COTS of Scribble-Mats!, told TDmonthly. It received a 2009 Dr. Toy Best Vacation Children's Products Award. Launch date: 2006.
7/7/2009 (Price: $6.00; Age: 3 to 8) [Add to my Inquiry Basket][?]



Wonderworld Rainbow Sound Blocks by SMART GEAR LLC



Babies can learn sorting, matching and association skills. Looking through the blocks, children will see the world in different colors. The Wonderworld Rainbow Sound Blocks are comprised of wood and transparent multi-colored plastic, and filled with rattling beads that produce different tones when shaken. "Wonderworld, as a strong advocate of protecting the environment, insists on using only rubber-wood that is of replenishable source[s]... Wonderworld strictly uses only non-toxic color and laquer constituent for all our products," Jason Cohen, president of Smart Gear, told TDmonthly. This product received a National Parenting Publications Award. Launch date: September 2007.
7/7/2009 (Price: $34.99; Age: 2 and up) ENTER SMART GEAR LLC TOYSHOW [Add to my Inquiry Basket][?]



Thumbuddy To Love - Fireman Fred by THUMBUDDY TO LOVE LLC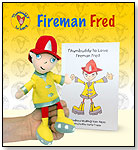 "Thumbuddy To Love" is an illustrated story book that comes with a thumb puppet to help children stop thumb sucking. Fireman Fred (for boys) matches the character in the book. A calendar at the end of the book allows kids to mark off the days they do not suck their thumb. "Thumbuddy To Love is a positive teaching tool for kids to help them break the thumb-sucking habit," Andrea, president of Thumbuddy To Love, told TDmonthly. Launch date: 2009. This product received a 2009 Mom's Choice Award.
7/7/2009 (Price: $19.95; Age: 3 to 6) [Add to my Inquiry Basket][?]



Moonjar's Family Kit (financial literacy for the family) by MOONJAR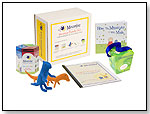 This kit is designed to help parents teach kids about money — specifically saving, spending and sharing. It comes with a lesson plan, a book about how people approach money differently, a game to encourage money talk, and a Moonjar Moneybox to promote goal setting and budgeting. "This kit is designed to break open the money conversation at home and to help parents find staightforward, fun and meaningful ways to help the children sustain smart saving, spending and sharing for a lifetime," Mary Ryan Karges, vice president of Moonjar LLC, told TDmonthly. This product has received the following awards: 2009 Creative Child Seal of Excellence, Oppenheim Best Toy, Teachers Choice Award, IP award, and Global Learning Initiative award. Launch date: June 12, 2009.
7/7/2009 (Price: $50.00; Age: 5 to 13) [Add to my Inquiry Basket][?]



Meltdown by SANDMAN RECORDS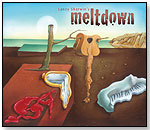 "Meltdown" has 12 original, groovy songs for children by award-winning singer-songwriter Lanny Sherwin. The songs are created to be positive, funny and thought-provoking, and each comes backed by Lanny Sherwin's personal motto: "Don't Drive Parents Crazy!" Launch date: July 12, 2009.

Awards: Winner of nine children's music awards; TDmonthly Top Toy 2009
7/6/2009 (Price: $12.98; Age: 4 to 12) [Add to my Inquiry Basket][?]



WhisperPhone® Duet by HAREBRAIN INC.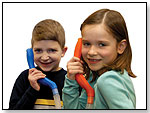 WhisperPhone Duet uses the power of auditory learning while also allowing students to learn together in pairs. Duet also can keep classrooms quieter. Duet is Title I and Reading First funds qualified, dishwasher safe and battery free. It received a 2009 Dr. Toy's Best Vacation Products award. Launch date: May 2009.
6/29/2009 (Price: $15.95; Age: All Ages) [Add to my Inquiry Basket][?]



myPC Stage I Keyboard - 2nd Generation by TARGETED TECH SOLUTIONS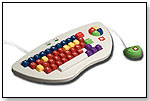 The myPC Stage I Keyboard is a personalized computer keyboard designed especially for toddlers' learning styles and lifestyles. "Unique features include large, rubberized keys and a tough spill-proof exterior," Elizabeth Tarpley, CEO of Targeted Technology Solutions, told TDmonthly. It received a 2008 Toy Man Award of Excellence and Seal of Approval. Launch date: September 2009.
6/29/2009 (Price: $69.99; Age: 2 to 5) [Add to my Inquiry Basket][?]



Ferret Puppet by FOLKMANIS INC.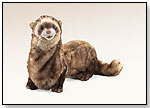 Kids can slip their hand through the opening of this soft, slinky ferret puppet's chest to work his mouth. There's an additional rear pocket for extra wriggling. Launch date: August 4, 2009.
Awards: A TDmonthly Classics Award for being an all-time favorite toy.
— As of 7/21/2011 this product had 4.8 out of 5 stars from 4 review on Amazon.com.
— In late Spring 2011, eight out of 15 retailers surveyed said that puppets from Folkmanis were best-sellers in the category. "They have all kinds, and people can get odd things, like a ferret," Lisa LeStrange, owner of Lucky Duck Toys in Wayne, Pa., told TDmonthly. She sells 10-15 Folkmanis puppets each month.
6/29/2009 (Price: $29.99; Age: 3 and up) ENTER FOLKMANIS INC. TOYSHOW [Add to my Inquiry Basket][?]



Discovery Box by D & D DISTRIBUTING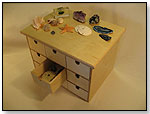 This hands-on, interactive science collection is full of fossils, minerals, marine life and insects that children can touch and examine. The wooden box includes more than 30 items, such as trilobites fossils, pyrite, geode, sand dollar, starfish, murex shells and an insect in lucite. Also included is a hand lens and activity guide. "It stimulates a child's sense of curiosity and encourages kids to make discoveries in the back yard, at the beach or on a hike. The Discovery Box becomes an heirloom that children will share with their own children and grandchildren in the future. The activity guide provides parents with great activities to do with their kids," John Skowlund, president of World Discovery Box, told TDmonthly. This product received a 2009 Dr. Toy Best Classic Toy award and was named a Homeschool.com Best Educational Gift 2008. Launch date: November 2008.
6/29/2009 (Price: $129.00; Age: 4 to 15) [Add to my Inquiry Basket][?]



The Tea House by DUNECRAFT INC.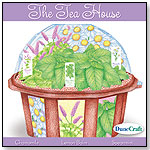 Individuals can grow ingredients to make their own herbal teas. Plants include Lemon Balm, German Chamomile and Spearmint. These three herbs have many medicinal qualities, including promoting sleep, encouraging relaxation and lifting spirits. All make light, refreshing, aromatic teas. Decorative accents include natural gravel, decals, planting stakes, an instructions and recipe booklet and more. "The Tea House is completely manufactured in the United States, contains three types of herbal teas that can be harvested right from the terrarium, and has great educational value," Alicia Borley, PR manager for DuneCraft, told TDmonthly. It received a 2009 iParenting Media Award. Launch date: February 2009.
6/29/2009 (Price: $24.99; Age: 4 and up) [Add to my Inquiry Basket][?]



Following are some of the programs represented in TDmonthly.com's section of award winners: Dr. Toy, iParenting Media Awards, TIA T.O.T.Y., Oppenheim Toy Portfolio, The National Parenting Center, and Parents' Choice Awards.

You may also access TDmonthly's review section to see which products earned 5 TD stars.