The Few, The Proud...The Award-Winning Toys!
Who Made the Cut This Year?
By Alison Marek and Julie L. Jones
---
Thousands of products are introduced to the toy industry every year, but only a limited number are good enough, playable enough and innovative enough to garner an award.

In addition to issuing TDmonthly Awards, TDmonthly Magazine regularly asks manufacturers to present their award winners to our readers so that retailers can quickly identify products with great potential and manufacturers can learn and be inspired by others' successes. Here are the most recent responses:
Magnetix MagnaCase by MEGA BRANDS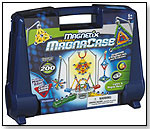 This 200-piece easy-to-carry magnetic building case features a base with a silver platform and four metal poles with adjusting bars of metallic colors. Children can design planets, stars and other shapes, then hook them, spin them or hang them. Parts include curves, flexors, twisters, lateral rods, bars, lights, extenders and a chain. The MagnaCase is compatible with all Magnetix Building Sets. It was named one of the 100 Best Children's Products of 2006 by Dr. Toy and received a Spring 2007 Best Products iParenting Media Award. "For the first time, [Magnetix] features a MagnaBase for base and aerial building. The MagnaCase is a creative factory," Stephanie Santini of MEGA Brands Inc. told TDmonthly. Launch date: January 2006.
11/9/2006 (Price: $49.99; Age: 6 and up) [Add to my Inquiry Basket][?]



Related Video:
Perler Beads Bead Blast by DIMENSIONS/PERLER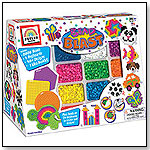 The set features two handy sorting and storage trays, 8,000 beads, four fun pegboard shapes, an idea booklet and ironing paper. The contents of the box are enough to create over 40 cool bead designs. The MSRP is between $19.99 and $22.99. This product is a 2006 FamilyFun Toy of the Year Grand Prize Winner. Launch date: March 2006.
11/8/2006 (Price: $19.99; Age: 5 and up) [Add to my Inquiry Basket][?]



Related Video:
Mad Dog Motors Derby Set by KID GALAXY INC.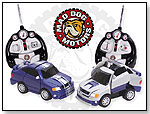 Now kids can get real bang-up demolition derby action anytime, anywhere. They just power up the Mad Dogs cars and crash 'em together or smash 'em into objects, and instantly the car will crack up. When the car crashes head on, the roof, hood and a door will be dislodged. If it smashes and hits the rear bumper, the trunk and a door pop open. Kids can drive them "busted up" or push on the ejected parts to restore. This product is a 2007 Creative Child Seal of Excellence Award winner.
— "Remote control cars by Kid Galaxy: we sell them all the time. There are lots of different kinds for all age groups. Boys love them because they work well and they're fun," said Katie Culotta, owner of Victoria's Toy Station in Baton Rouge, La., about last-minute gifts for boys.
— When asked about trends in her store, Jill Jernigan, owner of J. Christopher Toys in Jonesboro, Ark., replied, "Remote control toys. We do a whole lot of Kid Galaxy....Kids like it because they're clever and unique remote control cars."
— Four of 48 retailers who spoke to TDmonthly named Kid Galaxy remote-control cars as among the favorites in their stores.
11/1/2006 (Price: $30.00) [Add to my Inquiry Basket][?]



Related Video:
Poppo! by POPPO BRANDS LLC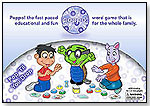 Poppo! is a fast-paced word game that is educational and fun for the whole family. Parents want fun, challenging and educational activities for their kids. Kids want to play right away, hate to wait, love challenges and definitely want to win. Peter Poppo and his pals come together in this exciting, new game specially designed for emerging readers. Your child pops the lettered dice in the poppers and matches them with the word or picture on the card. Being able to rearrange and assemble letters into words in a fast-paced setting is challenging and fun. Once children master the fundamental connection among the letters, the words and the pictures they see, they will be well on their way to becoming excellent readers. Poppo! received a 2007 Major FUN Award, The National Parenting Center's 2007 Seal of Approval and a Spring 2007 Best Products Award from Dr. Toy.
— "We offer educational, character-building products that help to bring adults and kids together," Chief Executive Optimist Michael Vien told TDmonthly. "Specialty stores are going to be able to create a Poppo! package of games, books, toys and plush characters in a way that will let customers consume products in the way they want to, by interacting simultaneously across multiple-delivery methods." He added that there will soon be a Poppo Pals virtual online community for kids and parents to learn and play together.
— Poppo! garnered a TDmonthly Top Toy 2007 award for being a simple, yet useful, educational word game with the undeniable fun factor of poppers. It also introduces new characters and thrives off of the company's well-articulated and executed mission of enriching lives through play.
10/27/2006 (Price: $24.99; Age: 4 and up) [Add to my Inquiry Basket][?]



Related Video:
You've Been Sentenced! by McNEILL DESIGNS FOR BRIGHTER MINDS LLC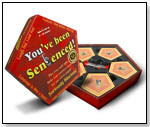 Using a deck of cards containing conjugations of funny words, famous names, places and wild cards, players make grammatically correct, justifiable sentences. They then read these aloud and explain their meaning to the jury (other players). The jury votes on whether the sentence and justification stand and then scores. The 540 cards, with more than 2,500 words, insure billions of possible sentences and laughs. "This is truly the first patented game in history to turn language into a seriously hilarious game," Chairman Don McNeill of McNeill Designs for Brighter Minds told TDmonthly. The game received the 2006 Oppenheim Toy Portfolio Gold Seal and the iParenting Media "HOT" Award, and was a winner of the FAO Schwarz Inventors Toy Audition. Launch date: May 5, 2005. Read Review
Awards: 2015 TDmonthly Top Toy Award
10/25/2006 (Price: $24.95; Age: 8 and up) [Add to my Inquiry Basket][?]



Related Video:
Dado Cubes by FAT BRAIN TOY CO.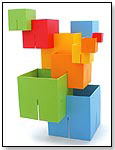 Dado will engage your imagination and help develop a keen eye for design, color, shape, size, space, balance, proportion and composition. Constructed horizontally, vertically or nested together, Dado invites unlimited visual spatial development and problem solving through design-centered play. Dado features ten cubes, scaled from 1" to 5". This game is "self-expression revealed through a contemporary palette of play, " Kathy Lorkovic, at Fat Brain Toys, told TDmonthly. This product has won numerous awards, including a 2007 National Parenting Center Seal of Approval Award, a Spring 2007 Dr. Toy Best Product Award, a 2007 iParenting Media Excellent Products Award and a Creative Child Preferred Choice Award. Launch date: September 1, 2006.
— "Dado Cubes forms the foundation of a series of design-centered educational toys," offered Mark Carson, developer and president of Fat Brain Toys. Dado is "that rare toy that combines intuitive fun with fine design. Equally rare is its ability to entertain young and old alike," he added. "Beyond Dado, we have a number of products in development that have been inspired by true educational research."

Past Videos: Toy Fair 2007
10/6/2006 (Price: $27.50; Age: 3 and up) [Add to my Inquiry Basket][?]



Related Video:
Toddler Table and Chair by TAG TOYS INC.



TAG's Toddler Table, with fully rounded, child safe edges, is designed so childred can sit up close for playtime. The extra large, durable and washable high impact laminate surface can take all the pounding and spilling a child can deliver. The matching Toddler Chair (sold separately) is designed for comfort and safety. Feature include: wide, tip-resistant legs, smooth, rounded edges and corners, extra wide seat, angled backrest, and easy-grip tote handles
Awards: A TDmonthly Classics Award for being an all-time favorite children's product.
— As of 7/21/2011 this product had 4.7 out of 5 stars from 16 reviews on Amazon.com.
10/5/2006 (Price: $105.95; Age: 2 to 4) [Add to my Inquiry Basket][?]



Related Video:
Fairy Triad by DUNECRAFT INC.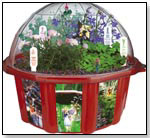 The Fairy Triad is one of four new additions to the Dome Terrarium line. Learn about the history and lore of fairies with the included fairy-inspired plants (Lobelia, Clover, Evening Star and Thyme), a decorative fairy, multi-colored gravel, fairy bells, stakes, decals and more. Informative instructions detail sprouting and growing methods as well as a plethora of information about fairies and fairy gardens.
Awards: 2012 Dr. Toy Best Classic Toys; 2007 Parent to Parent Adding Wisdom Award; 2007 Seal of Approval from The National Parenting Center
10/4/2006 (Price: $24.99; Age: 4 and up) [Add to my Inquiry Basket][?]



Related Video:
Super-Soft Clean Shopper by BABE EASE LLC



Designed to comfortably cover the entire seating area of a shopping cart, the Super-Soft Clean Shopper snuggles baby in super softness. It's 40 percent fluffier than the Original Clean Shopper and comes complete with a matching drawstring tote and a safety strap to help baby sit more securely. This product is an iParenting Media Award winner.
9/22/2006 (Price: $34.95) [Add to my Inquiry Basket][?]



Related Video:
Thumb Piano — Model 1204 by SCHOENHUT PIANO COMPANY



The Schoenhut Thumb Piano has twelve metal tongues or keys. It is primarily a percussion rhythm instrument. Simple songs are easily tapped out using only your thumbs. It is tuned to the C key. Each instrument is handcrafted, serialized and signed by the artist. The thumb piano or marimba is easy to play and has a quiet soothing sound. By gently striking the ends of the keys with your thumbs, you can play familiar melodies and rhythms or improvise your own. It is a fun instrument to play since anything you play on it sounds good. Made of Birch and plywood, it is 7.5" L x 5.7" W x 1.8" H and weighs 12 oz. It received a Best Vacation Children's Product Award from Dr. Toy in 2005. Launch date: 2005.
9/19/2006 (Price: $44.95; Age: 6 and up) ENTER SCHOENHUT PIANO COMPANY TOYSHOW [Add to my Inquiry Basket][?]



Related Video:
Following are some of the programs represented in TDmonthly.com's section of award winners: Dr. Toy, iParenting Media Awards, TIA T.O.T.Y., Oppenheim Toy Portfolio, The National Parenting Center, and Parents' Choice Awards.

You may also access TDmonthly's review section to see which products earned 5 TD stars.