The Few, The Proud...The Award-Winning Toys!
Who Made the Cut This Year?
By Alison Marek and Julie L. Jones
---
Thousands of products are introduced to the toy industry every year, but only a limited number are good enough, playable enough and innovative enough to garner an award.

In addition to issuing TDmonthly Awards, TDmonthly Magazine regularly asks manufacturers to present their award winners to our readers so that retailers can quickly identify products with great potential and manufacturers can learn and be inspired by others' successes. Here are the most recent responses:
10 Cheeky Monkeys by Kat Michels by IN HEELS PUBLISHING



What kind of trouble can 10 cheeky monkeys, with nothing else to do, get into? Find out when you meet these mischievous, penitent and sassy monkeys, then check out the glossary in the back for the definitions of 18 fun vocabulary words. Toddlers love the rhymes and bright illustrations, while kids as old as seven or eight are drawn in by the fun new words for them to learn. Perfect for whole family story time! Now available at Seattle Book Company with bulk discounts for retailers - 30% off MSRP for any purchase of 5+ copies, or 40% off MSRP for any purchase of 20+ copies. Also available through the Seattle Book Company.
Awards: 2015 TDmonthly Top Choice Award
6/30/2015 (Price: $25.00; Age: 2 to 101) ENTER IN HEELS PUBLISHING TOYSHOW [Add to my Inquiry Basket][?]



Related Video:
Tranquil Frog by CLOUD B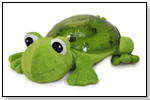 Like his cousin, the award-winning Tranquil Turtle, Tranquil Frog transforms any room into a serene oasis. Glowing in a relaxing lily pad green, the shell projects a magical underwater light effect and plays the soothing sounds of ocean waves and a seaside serenade. The total effect provides for a calm and relaxing environment giving children a peaceful night's sleep. Tranquil Frog features a 23-minute timer with auto shut-off to ensure complete darkness during deep sleep, as recommended by pediatricians.
Awards: 2015 TDmonthly Top Toy Award
6/19/2015 (Price: $44.95) [Add to my Inquiry Basket][?]



Related Video:
Kids' Picnic Table by AMERICAN PLASTIC TOYS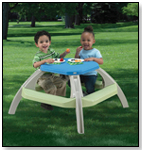 American Plastic Toys offers a new design to the classic picnic table with this all-in-one-piece square-shaped table and benches, super stable with room for four children. The four-sided design is super easy to assemble and does not require tools or screws (32.5" x 32.5" x 17.5"). Made in America.
Awards: 2015 TDmonthly Top Toy Award
6/19/2015 (Price: $25.00; Age: 2 and up) [Add to my Inquiry Basket][?]



Related Video:
Radz Skate Toy Candy Dispensers by RADZ BRANDS LLC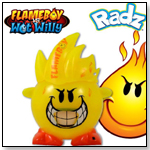 The Radz co-branded licensed Skate collection is made up of the top skate brands: Santa Cruz, Real, World Industries, Foundation, Spirtfire and many more! The Radz Series One (Grinder Series) collection includes six characters: Spitfire, Turtle Face, Roskopp, Flame Boy, World-At Night, and Monster Face. Each Skate character comes with a candy refill pack and a mini poster featuring iconic skateboard graphics. Radz candy is gluten-free, peanut-free, and kosher certified so it's safe for everyone to enjoy. To operate, pull the character's hair or hat back and the tongue pops out with candy! All Radz hair and hats are interchangeable so as fans collect more Radz, they can mix and match to create their own unique characters.
Awards: 2015 TDmonthly Top Toy Award
6/19/2015 (Age: 4 and up) [Add to my Inquiry Basket][?]



Related Video:
IlluStory Junior by LULU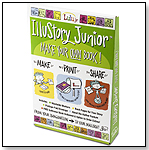 IlluStory Junior is the perfect introduction to creative storytelling for younger children. Children write and illustrate their story using the materials provided in the book-making kit and receive a full-color, professionally bound and printed 5.5"x8.5" paperback book. The kit includes 14 book pages, two cover pages, markers, instructions, book redemption form and a prepaid envelope to mail-in completed pages. Additionally, a dedication page and an "About the Author" feature on the back cover help young children transform their first stories into a real book that will be treasured by family members for years to come.
Awards: 2015 TDmonthly Choice Award
6/12/2015 (Price: $19.99; Age: 4 to 8) [Add to my Inquiry Basket][?]



Related Video:
ThumbThings Handmade Finger Puppets by FINGER PUPPETS INC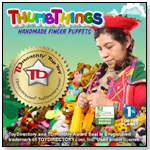 Over 200 characters to collect - New Characters all the time!
Awards: 2015 TDmonthly Top Toy Award
6/3/2015 (Price: $3.99; Age: 3 and up) [Add to my Inquiry Basket][?]



Related Video:
3D Head Case Wall Art by FASHION ANGELS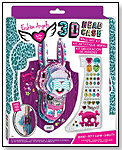 Looking for unique, and interesting décor for your tween's room? It's easy and affordable to get the latest in modern interior design trends with the 3D Head Case™ Wall Art Kits by Fashion Angels. Simply punch out and follow the instructions to slide the bright and colorful patterned pieces together to form the coolest cruelty-free, cardboard wall décor. Then use the decorative stickers, gems, and puffy glitter appliques included with the kit to create the perfect accent and customize your Head Case. Remember: You don't have to be a head case to love our Head Case Wall Art kits… but it helps! Each Kit Includes: laser-cut puzzle boards, puffy glitter sticker sheet, decorative gems, paper flower, charm, lace trim, and instructions. There are 4 styles of Head Case Wall art kits - choose from a deer, dog, cat, or bunny – or collect them all to make a major statement (4 styles sold separate).
Awards: 2015 TDmonthly Top Toy Award
5/28/2015 (Price: $9.99; Age: 8 and up) ENTER FASHION ANGELS TOYSHOW [Add to my Inquiry Basket][?]



Related Video:
Razor Jr. Kitten Kix Scooter by RAZOR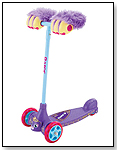 Unleash the latest in adorable role-play with the Kitten Kix scooter! Featuring an extra-wide, slip resistant deck with playful design, this "tilt-to-turn" scooter is the perfect ride to help younger riders develop balance and coordination while indulging their creative side. The Kitten Kix features giant fur paws and glittery wheels for the ultimate playtime ride for big adventures and imaginative fun. Ages: 3 and up (up to 44 pounds)
5/21/2015 (Price: $44.99; Age: 3 and up) [Add to my Inquiry Basket][?]



Related Video:
Digiplush BirthdayLand "Cupcake" Birthdaykin Plush by KIDS PREFERRED INC.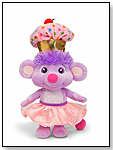 Product Description: Birthdaykins are the fun friends in BirthdayLand, the place where birthday wishes come true. Some say Cupcake is one of the most delicious Birthdaykin because she's topped with a yummy golden cupcake! She bakes cupcakes for everyone in BirthdayLand with a big heap of love. Like the rest of the Birthdaykins, Cupcake comes with a special code that unlocks premium features in the BirthdayLand app. The app is a free download in iTunes Store, Google Play and Amazon Apps.
5/21/2015 (Price: $12.99; Age: 3 to 7) [Add to my Inquiry Basket][?]



Related Video:
Giantte Deco by MINILAND EDUCATIONAL CORP


A new fun version of Miniland's giant stacking and nesting game formed by 10 progressively sized cups. Each cup has a happy animal shape and a number in relief making it easy to stack in order. The bucket has a perforated lid with the silhouettes of 4 different shapes to match and insert 4 included shape blocks though the lid. Made for children ages 12-24 months.
Awards: 2015 TDmonthly Top Toy Award
5/21/2015 (Age: 1 to 2) ENTER MINILAND EDUCATIONAL CORP TOYSHOW [Add to my Inquiry Basket][?]



Related Video:
Following are some of the programs represented in TDmonthly.com's section of award winners: Dr. Toy, iParenting Media Awards, TIA T.O.T.Y., Oppenheim Toy Portfolio, The National Parenting Center, and Parents' Choice Awards.

You may also access TDmonthly's review section to see which products earned 5 TD stars.