The Few, The Proud...The Award-Winning Toys!
Who Made the Cut This Year?
By Alison Marek and Julie L. Jones
---
Thousands of products are introduced to the toy industry every year, but only a limited number are good enough, playable enough and innovative enough to garner an award.

In addition to issuing TDmonthly Awards, TDmonthly Magazine regularly asks manufacturers to present their award winners to our readers so that retailers can quickly identify products with great potential and manufacturers can learn and be inspired by others' successes. Here are the most recent responses:
Complete Cook Set by ALEX BRANDS



Young chefs will enjoy this 9 piece play cookware set and find that it's just the right size for them to stir up some fun. Set contains oven mitt, pot holder, whisk, measuring spoon set, wooden spoon, saute pan, 4 1/2" pot with lid and sauce pan.
Awards: 2012 Dr. Toy Best Classic Toys
6/19/2012 (Price: $25.95; Age: 3 to 5) ENTER ALEX BRANDS TOYSHOW [Add to my Inquiry Basket][?]



Related Video:
Match It! - First Words Memory by THE LEARNING JOURNEY INTERNATIONAL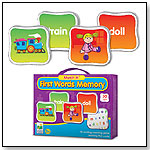 Match It! First Words Memory is a fun memory game that will challenge problem solving and develop memory skills of young children as they try to find a pair of matching cards. Bright, colorful illustrations help children learn first words through images and reading.
Awards: 2013 TDmonthly Seal of Approval
6/8/2012 (Price: $11.99; Age: 3 and up) [Add to my Inquiry Basket][?]



Related Video:
Little Lion by FOLKMANIS INC.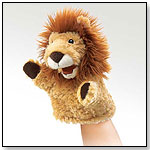 Folkmanis Little Puppets are small hand puppets that are perfect for younger children. This puppet is 7" tall and 5" wide. Fluffy golden lion has an orange tufted mane and expressive, movable mouth.
Awards: 2012 Dr.Toy Best 20 for $20
— In a May 2012 survey, four out of 11 retailers told TDmonthly that Folkmanis was their best selling brand of plush or puppets.
6/5/2012 (Price: $12.99) ENTER FOLKMANIS INC. TOYSHOW [Add to my Inquiry Basket][?]



Related Video:
Find It® Deluxe Edition by FIND IT GAMES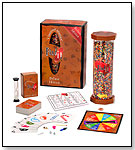 Now the whole family can play a fast paced hidden object game with the Deluxe Find It Game containing over 70 hidden items. The Deluxe Find It hidden object game includes a deck of cards, a spinner, a timer, the check off pad, and instructions for 6 ways to play and variations to adapt to younger players. The basic play starts with each player being dealt seven cards that vary in point value. At the beginning of each turn use the spinner to determine the action required prior to play (add points, miss a turn, trade hands etc.) Look fast! Players will have 30 seconds to try to find a many items as possible. Play continues until someone finds all of their items and runs out of cards.
Awards: 2010 Creative Child Magazine Seal of Excellence; Tillywig Sterling Fun Award Winner
5/30/2012 (Price: $32.00; Age: 8 and up) [Add to my Inquiry Basket][?]



Related Video:
Joanie Leeds and the Nighlights - What a Zoo! by LIMBOSTAR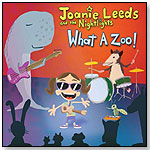 These 14 songs are all about animals. Children's musician Joanie Leeds belts it out with songs that are intended to make kids more interested in the well being of the animal kingdom.
Awards: 2013 TDmonthly Seal of Approval, 2011 Parents Magazine Top Children's CD
5/30/2012 (Price: $15.00) [Add to my Inquiry Basket][?]



Related Video:
Grandkid Rock by DADDY A GO GO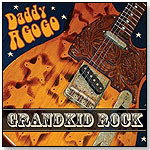 A "greatest hits" album comprised of 16 remixed tunes that John Boydston considers his "rockingest rockers" from six previous Daddy A Go Go CDs, Grandkid Rock cheerfully continues the Daddy A Go Go alterna-rock tradition of what Stomp & Stammer described as "upbeat, wildly entertaining rave-ups, sing-alongs and silly puns that have endeared the group to kids (and their parents) nationwide." While Boydston's most recent release, Come On, Get Happy, focused on softer songs for younger children, Grandkid Rock goes the other direction, rocking out for the bigger kids with lots of electric guitars, drums, driving rhythms and power chords.
Awards: 2013 TDmonthly Seal of Approval
5/30/2012 (Price: $12.00; Age: 3 to 10) [Add to my Inquiry Basket][?]



Related Video:
Moey's Music Party - Princess Revolution! by LEMONADE PRODUCTIONS LLC/ MOEY'S MUSIC PARTY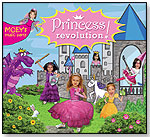 Princess Revolution! is a rocking girl-power concept album by NYC's multiple award-winning Mommy Rocker, Moey. The songs on this 15-track CD feature subjects like sharing, body image and standing up to bullies while encouraging girls to celebrate their intelligence, confidence and style. The CD also includes musical re-tellings of Sleeping Beauty, The Princess and the Pea, and The Little Mermaid with new endings that provide an empowering twist. The album inspires girls to be helpful heroes who can slay their own dragons or wake themselves up with their own magical kiss. "Princess Revolution is not only 'sparkle-tacular' girly fun, it instills girls with a positive social message that makes them see themselves as confident leaders and achievers," Melissa Levis, president of Lemonade Productions LLC, told TDmonthly. Launch date: April 2012.
Awards: 2013 TDmonthly Seal of Approval, 2012 Dr. Toy 100 Best Children's Products; 2012 Dr. Toy 10 Best Audio/DVD; 2012 Parent's Choice Gold Award
5/30/2012 (Price: $13.98; Age: 0 to 10) [Add to my Inquiry Basket][?]



Related Video:
85 Piece Bristle Blocks by TOYSMITH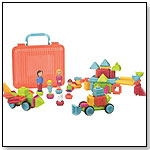 This 85-piece set contains 72 easy-to-handle building blocks in a variety of brightly colored, interlocking geometric shapes, 8 wheels to construct buildings and vehicles with and 5 figurines. A convenient handled carrying case stores all the blocks neatly away when not in use.
Awards: 2013 TDmonthly Seal of Approval
— Mary Porter Green, owner of Curiostiy Zone in Ashburn, Va., told TDmonthly in a May 2015 survey that this was a best-selling construction toy at their store.

5/25/2012 (Age: 3 and up) [Add to my Inquiry Basket][?]



Related Video:
Snap Circuits LIGHT by ELENCO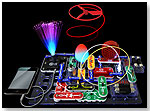 Snap parts together to build different circuits, and watch the different pieces light up. Includes fiber optics over a light organ that can be connected to an iPod; the lights will flash to the beat of the music. Includes strobe lights with different plates so kids can experiment with strobe patterns, white LED lights, glow in the dark and lighted fan blades, a light up egg, and more.
Awards: 2013 TDmonthly Seal of Approval

Where to buy:
NORTH EAST
SOUTH
5/25/2012 (Price: $75.00) ENTER ELENCO TOYSHOW [Add to my Inquiry Basket][?]



Related Video:
Puppet-on-a-Stick™ by EDUCATIONAL INSIGHTS INC.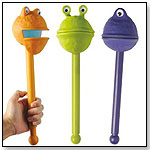 Three oversized puppets on sticks inspire dramatic play with silly faces, movable mouths and endless possibilities.
Awards: 2012 Oppenheim Toy Portfolio Gold Toy Award Seal; 2012 Oppenheim SNAP (Special Needs Adaptable Products) Award.
5/25/2012 (Price: $23.99; Age: 4 to 10) [Add to my Inquiry Basket][?]



Related Video:
Following are some of the programs represented in TDmonthly.com's section of award winners: Dr. Toy, iParenting Media Awards, TIA T.O.T.Y., Oppenheim Toy Portfolio, The National Parenting Center, and Parents' Choice Awards.

You may also access TDmonthly's review section to see which products earned 5 TD stars.