The Few, The Proud...The Award-Winning Toys!
Who Made the Cut This Year?
By Alison Marek and Julie L. Jones
---
Thousands of products are introduced to the toy industry every year, but only a limited number are good enough, playable enough and innovative enough to garner an award.

In addition to issuing TDmonthly Awards, TDmonthly Magazine regularly asks manufacturers to present their award winners to our readers so that retailers can quickly identify products with great potential and manufacturers can learn and be inspired by others' successes. Here are the most recent responses:
Portable Play Yard Sheet by CLOUDS AND STARS INC.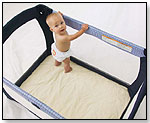 This play yard sheet is made of high-quality fabric for supreme comfort. The company quilted together two layers of 200 thread-count pre-shrunk cotton for the top surface and then created a sheet that works like a pillow case. Simply remove the mattress from the play yard, slip it into the soft, durable sheet, and secure the hook-and-loop closures for an easy fit. It measures 27" x 38" x 1" and fits most play yard mattresses, including PackNPlay and CoSleeper brands. This product won a 2007 iParenting Media Award. Launch date: August 2002.
1/10/2008 (Price: $17.99; Age: 0 to 2) [Add to my Inquiry Basket][?]



Related Video:
Likewise! by BUFFALO GAMES INC.


Likewise! is a thought provoking party game where it pays to think alike. In this game, individuals are presented with a random pairing of a Description and Subject Cards and attempt to match answers with words or doodles. With over 5,000 possible category combinations, this is the laughable, lively, like-minded party game that everyone will enjoy. Launch date: March 1, 2008.
Awards: A TDmonthly Classics Award for being an all-time favorite toy.
— As of 7/21/2011 this product had 4.6 out of 5 stars from 16 reviews on Amazon.com.
1/8/2008 (Price: $24.99; Age: 14 and up) [Add to my Inquiry Basket][?]



Related Video:
Friends Forever Girl - Reina by FRIENDS FOREVER GIRLS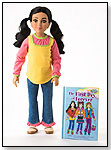 This doll and book set is all about Reina. Reina means "Queen" in Spanish. Reina wants to be a veterinarian when she grows up because of her love for animals. She works really hard in school so she can get good grades to become an animal doctor. She became friends with Marlee and Natalie when she and her family moved to the new neighborhood and became neighbors. Reina received a 10 Best Educational Products for 2008 Award from Dr. Toy.
1/8/2008 (Price: $89.00) [Add to my Inquiry Basket][?]



Related Video:
Moby Wrap Baby Carrier by MOBY WRAP INC.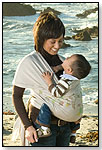 This ultra-soft carrier is made from 100-percent stretchy cotton and instantly customizes to fit every baby and baby wearer in complete comfort and security. Each wrap comes with a full-color instructional booklet that features many different carrying positions, as well as helpful hints on breastfeeding, baby wearing and exercise. Wraps are available in a variety of colors, styles and prices and are intended for babies weighing between 5 lbs. and 35 lbs. This product is a 2007 iParenting Media Award winner. Launch date: April 2003.
1/8/2008 (Price: $55.00; Age: 0 to 3) [Add to my Inquiry Basket][?]



Related Video:
Anamalz Rhino by HAPE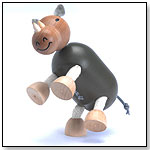 Amusing faces and poses make Anamalz simply irresistible. The Australian-designed animals can be moved to look left, right and run or stand on their legs and perform. Each animal is made of renewable wood and textiles and are entirely environmentally-friendly and child safe. Launch date: February 2008.
Awards: Dr. Toy 10 Best Creative Products for 2011; Dr. Toy 100 Best Children's Products for 2011.
— "No two pieces of Anamalz are the same, as each are handcrafted from grained wood, resulting in individual toys of character and originality," Robin Lehnert of HaPe International told TDmonthly. "In addition, every animal also bears a unique code on the bottom of one of their feet, allowing the proud new owner to register the toy online, name the animals and print out a personal certificate."
THIS PRODUCT IS NO LONGER SOLD BY HAPE
1/3/2008 (Price: $5.95; Age: 3 and up) [Add to my Inquiry Basket][?]



Related Video:
Character Creator: Robots JR by PLAY ODYSSEY INC.


With this set, young children can create quirky robot characters and simple machines from a variety of easy to handle reusable stickers. This travel friendly play set is packaged in a practical folder/booklet that includes plenty of models for inspiration, a generous play surface and more than 100 mechanical parts. This product is a 2008 iParenting Media Award winner. Launch date: November 2007.
— "Most sticker sets are primarily designed to foster imaginary play, and include a variety of self contained pieces to assemble a scene," Meera Gill of Play Odyssey Inc. told TDmonthly. "Character Creator is more versatile in that it is both an imaginary play and construction toy."
1/2/2008 (Price: $12.99; Age: 4 and up) [Add to my Inquiry Basket][?]



Related Video:
Roll 'n Divide by EMINES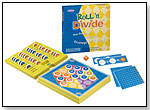 This unique game that combines math and strategy for building division skill. Players work together to solve division problems, yet they challenge each other's strategies. Simply roll the die, form the division equation, check the answer against the division table and plan one's strategy. The real fun begins with capturing and flipping the playing pieces of one's opponent. This product is a Dr. Toy Summer 2007 Best Products Award winner. Launch date: August 2007.
— "Roll 'n Divide is one of the few division learning games that involves more than a simple twist with flash cards" Kathy Tee of Emines Inc. told TDmonthly.
1/2/2008 (Price: $24.99; Age: 8 and up) [Add to my Inquiry Basket][?]



Related Video:
The Legend Of The Quetzal - Tales And Tunes Of Latin America by MOTHERLOTUS RECORDS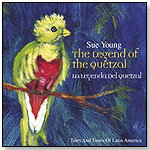 This record takes kids on a fun trip around Latin America through story and song. Four folktales, three classic Latin American songs and two original bilingual songs will engage and delight children with many lessons and inspirational messages. It is also a fun way for children to learn Spanish. This product is a 2007 Parents' Choice Silver Honor Award winner. Launch date: February 2007.
12/28/2007 (Price: $14.99; Age: 5 and up) [Add to my Inquiry Basket][?]



Related Video:
ZipBin® Street Racer PlayPack by NEAT-OH! INTERNATIONAL LLC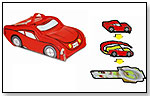 The portable playset is shaped like a race car and opens to reveals a small villagescape with drivable roadways. The set features two sturdy die-cast vehicles and a wipe-clean surface. It was named "Most Innovative Product at the Show" at the 2008 Middle East Toy Fair in Dubai. Launch date: January 2008. This product was previously catalogued under the name ZipBin® Softie™ Racer (changed January 2009).
— This is "another example of a toy box that's also a toy!" Neat-Oh! International LLC Director of Marketing Gerry Linda told TDmonthly.
12/28/2007 (Price: $19.99; Age: 3 and up) ENTER NEAT-OH! INTERNATIONAL LLC TOYSHOW [Add to my Inquiry Basket][?]



Related Video:
Anywhere Anytime® Paddle Ball Game by CELL TAG USA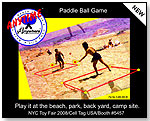 This outdoor paddle ball game adds a twist to the traditional beach game. Players play the game without a net, with opposing game squares placed 12' apart. The product received a 2008 Seal of Excellence award in the Outdoor Fun category from Creative Child Magazine. Launch date: April 2008.
— "If you like table or outdoor tennis, you will love this game because it incorporates the action-sport quality of continuous ball play while outdoors on the beach, in the backyard, at the park or campsite … total outdoor fun!" Daniel Deppen of Cell Tag USA told TDmonthly.
12/28/2007 (Price: $19.99; Age: 8 and up) [Add to my Inquiry Basket][?]



Related Video:
Following are some of the programs represented in TDmonthly.com's section of award winners: Dr. Toy, iParenting Media Awards, TIA T.O.T.Y., Oppenheim Toy Portfolio, The National Parenting Center, and Parents' Choice Awards.

You may also access TDmonthly's review section to see which products earned 5 TD stars.