The Few, The Proud...The Award-Winning Toys!
Who Made the Cut This Year?
By Alison Marek and Julie L. Jones
---
Thousands of products are introduced to the toy industry every year, but only a limited number are good enough, playable enough and innovative enough to garner an award.

In addition to issuing TDmonthly Awards, TDmonthly Magazine regularly asks manufacturers to present their award winners to our readers so that retailers can quickly identify products with great potential and manufacturers can learn and be inspired by others' successes. Here are the most recent responses:
Kimochis™ ... Toys with Feelings Inside - Kimochi Lovey Dove by PLUSHY FEELY CORP.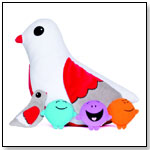 Kimochis are small pillows with a feeling (happy, sad, silly, brave) printed on one side and a corresponding facial expression on the other. Each Kimochis plush character comes with a set of three feelings and a how-to Kimochis Feel Guide. The characters — Cat, Huggtopus, Cloud, Bug and Lovey Dove — have a special pocket where kids can store their "Kimochis" or feelings. Using the characters and their Kimochis, kids can get in touch with their emotions through puppetry and play. "Getting back to the basics by playing and communicating with Kimochis™ is a simple, yet powerful way to teach children how to: be aware of feelings, choose how to communicate in emotional moments, and redo mistakes. Children will be drawn to the fun, adorable, accessible characters. Parents will be drawn to the high-quality craftsmanship and the valuable educational content," Susan Schroeder, director of marketing and communications for Plushy Feely Corp., told TDmonthly. Awards: 2009 Creative Child Magazine Seal of Excellence, Best Vacation Products by Dr. Toy, and Kaboose.com's Top 13 Amazing Toys for Preschoolers. Launch date for Lovey Dove: 2010.
12/28/2009 (Price: $25.00; Age: 3 to 8) [Add to my Inquiry Basket][?]



Related Video:
The County Fair Game by J. BELL-JONES LLC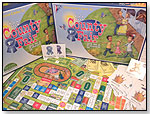 This family board game celebrates the important heritage of American county fairs. Designed for two to four players ages 8 to adult, the illustrated game includes many of the fun activites, contests, events and livestock featured at county fairs from coast to coast. "The game appeals to all reading ages and can be played several times in a row; its base idea is national and new and attracts men, women and children alike," Joanne Zwingler Farinacci, owner of J. Bell-Jones LLC, told TDmonthly. Awards: Creative Child Magazine Preferred Choice Award 2009. Launch date: August 27, 2008.
12/28/2009 (Price: $25.00; Age: 8 and up) [Add to my Inquiry Basket][?]



Related Video:
Kids' Business Stand by Little Green Money Machine

If kids can play business, they can learn business. Kids will have fun earning money in their neighborhoods and communities while starting their very first business with this unique mobile business stand. The business stand comes with wheels, dry/erase magnetic banner areas, built-in locking money tray, literature storage tray, solar-powered built-in calculator, hooks, keys, magnets, and dry erase marker set. Launch date: November 2011.
Awards: 2011 Dr.Toy Best Classic Toys; 2011 NAPPA Gold Award; 2011 Oppenheim Award
12/28/2009 (Price: $249.00; Age: 6 to 16) [Add to my Inquiry Basket][?]



Related Video:
Color and Forms Blocks by LEARNING MATERIALS WORKSHOP

A classic, open ended building toy has a new twist via vibrantly colored, wood cylinders, cubes, and triangular prism blocks and little wood trays. Builders of all ages can create an infinite number of abstract and representational structures and play with the connections between color and form. The design was inspired by a survey conducted at the Bauhaus by the artist and teacher, Wassily Kandinsky, on the relationship between basic forms and primary colors. Designed by Karen Hewitt for the Museum of Modern Art [MoMA] Design Stores in conjunction with the Bauhaus 1919-1933: Workshops for Modernity exhibition. Set includes 9 hardwood blocks in 3 primary colors, 9 small hardwood trays, 1 hardwood tray/container, and descriptive booklet. Winner of the Best Picks 2009 Dr. Toy Award.
12/22/2009 [Add to my Inquiry Basket][?]



Related Video:
Crocodile Stage Puppet by FOLKMANIS INC.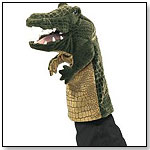 The CROCODILE STAGE PUPPET features an easily animated mouth and operable arms. Design details include soft-sculpted plush with molded claws and teeth that are lots of fun to snap. Awards: 2007 iPARENTING MEDIA Best Products Award, NAPPA 2007 Gold Award, 2007 CREATIVE CHILD AWARDS Preferred Choice - Puppets for Kids, CTTC BEST BET AWARD for TOY REPORT 2008. Launch date: 2007.
12/16/2009 (Price: $23.99; Age: 3 and up) ENTER FOLKMANIS INC. TOYSHOW [Add to my Inquiry Basket][?]



Related Video:
Joe and the Pirates by BOGGLENOGGIN MEDIA INC.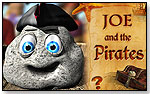 The award-winning Joe Rock and Friends interactive stories are now available on iPhone and iPod Touch. Featuring two languages (English and Spanish), original fun songs, 3D graphics, instant switching between languages, optional narration, and word tracking, these stories can provide a great reading experience for emerging readers (ages 3-8) and a great tool for language learners. "The multi-language features ... allow instant switching of any page between the two languages," Allan Crossley, CEO, BoggleNoggin Media Inc., told TDmonthly. Awards: 2008 Outstanding Product - iParenting Media Awards, Preferred Choice Award - Creative Child Magazine, June 2008, Editor's Choice Award - Children's Technology Review, June 2008 & Dec 2006, Recommended - Parent's Choice FOundation, March 2008. Launch date: September 2009.
12/16/2009 (Price: $2.99; Age: 3 to 8) [Add to my Inquiry Basket][?]



Related Video:
My First Bilingual Notebook by SMART PLAY LLC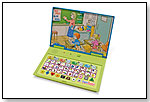 This toy looks like the real thing and is designed to be very sturdy. It is also lightweight, compact and portable. There are eight early learning activities in English and Spanish. The interactive bilingual toy teaches the alphabet, words, numbers, shapes and colors. Includes 3 AAA batteries. "The Ingenio line is affordable and innovative, making it attractive for the specialty market," Ilango Sankaralingam, President, Smart Play, LLC, told TDmonthly. Awards: 2009 Creative Child Toy of The Year. Launch date: October 2009.
12/16/2009 (Price: $19.99; Age: 3 to 8) [Add to my Inquiry Basket][?]



Related Video:
SPELLABLE by SMART PLAY LLC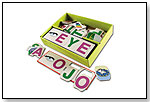 This bilingual puzzle game is designed to help players learn the alphabet and spell three-letter words. It has bright colored letters and picture cards to captivate a child's attention, and it grows with the child by starting with the alphabet and continuing on to spelling simple words. Children can play a self-checking spelling game and learn to spell three-letter words in both English and Spanish. It includes 22 spelling cards and 68 letters. "Ingenio is the first educational bilingual toy brand committed to bilingual learning. All Ingenio products are bilingual — product, packaging and website. This line offers parents a great opportunity to teach a second language to their child at an early age," Ilango Sankaralingam, president of Smart Play, LLC, told TDmonthly. Award: Dr. Toy's Best Vacation Products 2009. Launch date: September 2009.
12/16/2009 (Price: $14.99; Age: 3 to 8) [Add to my Inquiry Basket][?]



Related Video:
Book Box Animal Stories by MASTER COMMUNICATIONS

Conceived by child literacy expert Dr. Brij Kothari, BookBox Series stories are designed for child entertainment while simultaneously improving reading skills. Using scientifically tested same language subtitling (SLS), children are assisted in the improvement of listening comprehension and reading and foreign language skills — while watching fascinating "Stories from Around the World" that bring cultural and educational values to children. The "Animal Stories" DVD features three stories: Based on an ancient Indian fable, "Four Friends" is about animal friends that work together to outwit a hunter and protect each other. "The Turtle's Flute" is about a turtle that is a gifted flutist. When the turtle played her flute, everyone danced. One day, she is trapped by a greedy man. How will she escape? "Zippy the Zebra" is about a zebra that is bugged by a hide full of fleas. No amount of tail swishing or tree trunk scratching would give him any relief. Finally a pair of birds help him out by making a meal of his unwelcome guests. "This DVD helps children to read in English, Spanish, Chinese, French, German or Italian. With three ways to use the program - Read to me, Let me read and Let me listen plus you can print the PDF of the book from a computer," Selina Yoon, President, Master Communications, told TDmonthly. Launch date: October 6, 2009. Awards: Kids First, Dr. Toy's 100 Best Products, Dr. Toy's 10 Best Audio/Video.
12/16/2009 (Price: $24.95; Age: 3 to 8) [Add to my Inquiry Basket][?]



Related Video:
Mini Chimalong by WOODSTOCK CHIMES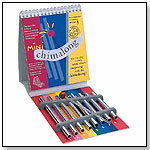 A smaller version of the Chimalong, the Mini Chimalong comes attached to an illustrated full-color spiral-bound songbook that can be propped up for both the player and the singers to read their parts simultaneously. It folds into a traveling toy.
12/14/2009 (Age: 3 and up) [Add to my Inquiry Basket][?]



Related Video:
Following are some of the programs represented in TDmonthly.com's section of award winners: Dr. Toy, iParenting Media Awards, TIA T.O.T.Y., Oppenheim Toy Portfolio, The National Parenting Center, and Parents' Choice Awards.

You may also access TDmonthly's review section to see which products earned 5 TD stars.