The Few, The Proud...The Award-Winning Toys!
Who Made the Cut This Year?
By Alison Marek and Julie L. Jones
---
Thousands of products are introduced to the toy industry every year, but only a limited number are good enough, playable enough and innovative enough to garner an award.

In addition to issuing TDmonthly Awards, TDmonthly Magazine regularly asks manufacturers to present their award winners to our readers so that retailers can quickly identify products with great potential and manufacturers can learn and be inspired by others' successes. Here are the most recent responses:
Educational Nutritional Books by H & T IMAGINATIONS UNLIMITED INC.


Educational Nutritional Books are accompanied by a read-along CD. Three titles are available: "Professor Woodpecker Loves Cereal," "Banana Sandwiches" and "Apples." Each provides a wholesome and fun adventure that teaches about healthy and nutritious foods and snacks. A bonus unique song on each title is included, and kids will be able to sing along and dance. (The set of three is $25.) This product received a 2007 Media of the Year Award from Creative Child Magazine.
— "The book/CD is almost like a kid-friendly cookbook!" said Gail Richardson upon reviewing "Banana Sandwiches" with her children (ages 6 and 8) for a TDmonthly Roundtable.
6/13/2006 (Price: $10.00) [Add to my Inquiry Basket][?]



Related Video:
JellLoopdeLoops Sparkle Jelly Jewelry Kit by FASHION ANGELS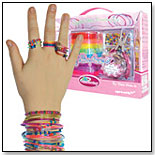 Girls can make an armload of bracelets with the JellLoopdeLoops kit. Using 48 feet of glitter tubing, jewelry makers will be able to design 36 bracelets and 20 rings. Of course, we added our signature glass beads to make each bracelet totally divine. Jewelry pliers are included. This product received a 2007 Oppenheim Toy Portfolio Gold Seal Best Toy Award.
6/12/2006 (Price: $14.00; Age: 8 and up) ENTER FASHION ANGELS TOYSHOW [Add to my Inquiry Basket][?]



Related Video:
UberPult™ - Science Project Series™ by UBERSTIX


Kids can build a functional catapult and learn the physics that make launching objects through the air possible. The catapult itself only requires 90 of the kit's 181 pieces, leaving plenty of extra pieces to upgrade and explore new design options. As part of the company's Science Project Series, this kit includes a Lab Sheet to test and record a series of suggested experiments."Our construction system is much more diverse than other products, offering integration with other construction sets (Lego, K'nex, Zoobs, Zomes) as well as with recycled materials (Popsicle sticks, McDonald's straws, egg cartons, water bottles). This offers limitless possibilities for children (and adults) to build structures taller than themselves. [Our products] are not available in the mass-market stores," COO Julie Bell of Uberstix told TDmonthly. The Uberpult received the 2007 Parent to Parent Adding Wisdom Award in both Toys/Games and Educational Products categories. It also received The Toy Man Online 2007 Seal of Approval, Award of Excellence and eChoice Award. Launch date: September 2006.


5/22/2006 (Price: $21.99; Age: 8 and up) [Add to my Inquiry Basket][?]



Related Video:
Magformers by MAGFORMERS LLC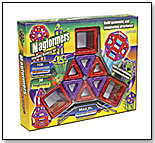 This magnetic construction set features 108 powerful magnets permanently encapsulated inside 18 jewel-toned square Magformers and 12 triangle Magformers. The magnets rotate to their attraction position upon contact, so Magformers always connect regardless of their polarity. Watch in amazement as Magformers "form" into three-dimensional structures. Magformers received an Oppenheim Gold Award as well as the 2007 Oppenheim Toy Portfolio Platinum Award. The product's "magnetic connector concept allows the end user to create quick, magical 3-D models," President Larry Hunt of Rainbow Products told TDmonthly. Launch date: April 2006.
— Lynda Blankenship, owner of Smart Toys & Books in Knoxville, Tenn. told TDmonthly in late Spring 2011 that Magformers were a best-selling construction toy.
— Magformers are a best seller at Piccolo Mondo Toys in Portland, Ore., Owner Michelle Smith told TDmonthly in Dec. 2008. "We have them on a play table," she said. Magformers have been best sellers for at least a year at Pufferbellies in Staunton, Va., Co-owner Susan Blanton said in September 2009.
— Mike DiAndrea, manager of Hardware Centre in Paoli, Pa., told TDmonthly during an April 2009 survey that he sells between 100 and 150 sets of Magformers per month. Magformers are also a best seller at Golden Apple Learning Store in Pleasanton, Calif., Owner John MacDougall told TDmonthly in August 2009.
— Want this? As of 05/10/2011, this product was available for purchase at Smart Toys & Books
4/14/2006 (Price: $34.98; Age: 5 to 11) ENTER MAGFORMERS LLC TOYSHOW [Add to my Inquiry Basket][?]



Related Video:
Toss the Taggies by TAGGIES INC.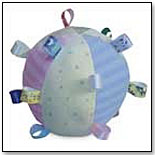 Toss the Taggies is approximately 8" in diameter and comes adorned with loads of multi-colored, multi-textured tags that babies and children love to rub and grab. It is designed to benefit children developmentally as they are enticed to explore the various tactile and visually stimulating looped satin tags. The colors and material are both soothing and comforting. This product recently received an iParenting Media Awards editorial inclusion and an Oppenheim Toy Portfolio Gold Seal Award. It also received the 2007 Oppenheim Toy Portfolio Platinum Award and the 2007 Oppenheim SNAP (Special Needs Adaptable Product) Award. "The patented functionality and multiple tactile and developmental opportunities offered by our unique, looped tags…set this product apart," Shirley Conner of Taggies Inc. told TDmonthly.
— "Anything by Taggies; those sell like crazy," Holly Anvers, manager of Ages & Stages Toy Box in Golden, Colo., told TDmonthly about her best-selling infant product in March 2010. "Especially the Toss the Taggies ball." Two of 39 retailers named Taggies as a top-selling baby product.
3/3/2006 (Price: $19.95; Age: 0 to 3) [Add to my Inquiry Basket][?]



Related Video:
Turn Up the Music! by SANDMAN RECORDS

"Turn Up the Music!" is a delightful musical treat for children ages 4 to 9 featuring 12 original songs by singer-songwriter Lanny Sherwin, a Nashville songwriter for 11 years. "Turn Up the Music!" encompasses a full musical spectrum, from Motown and Latin to doo-wop and country rock. Designed for toe-tapping fun, "Turn Up the Music!" also delivers many positive messages for children. The CD has received eight awards, including an iParenting Media Award, a Dr. Toy Award and a Teachers' Choice Award for the Family from Learning Magazine.
11/9/2005 (Price: $9.98; Age: 4 to 9) [Add to my Inquiry Basket][?]



Related Video:
Indie's Great Teddy Bear Hunt by JUNO BABY INC.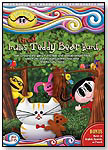 Featuring the Emmy Award winning original classical music of mom and composer Belinda Takahashi, PhD, young children laugh, sing and learn as they interact with Juno and her lovable puppet friends. Indie lost his teddy bear, and needs the viewer's help to find it by solving clues and playing along. This musical journey features interactive learning concepts to engage your children while exposing them to foreign language and classical music. Sing along in English, Spanish and French. For every product sold, the Juno Company donates a very special music DVD to a child in need. "We know infants, toddlers and children are capable of enjoying, appreciating and learning so much more than what has been offered to them," Dr. Takahashi told TDmonthly.
Awards: 2006 Dr. Toy Top 10 award; 2006 iParenting Media Award; 2007 Parents' Choice Award; 2006 Creative Child Magazine Preferred Choice Award.
9/23/2005 (Price: $17.99; Age: 0 to 5) [Add to my Inquiry Basket][?]



Related Video:
Fashion Angels: Living Dolls by FASHION ANGELS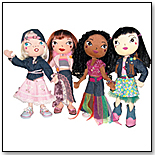 They're plushy with the cutest embroidered faces. They're poseable with a full body armature. They stand 15" tall and pose from head to toe. Don't tell anyone, but their 'dos are wigs and are interchangeable with each other. New 'dos sold separately. Last but not least, their wardrobe is to die for and the proof is in the details. They have great jewelry, accessories and shoes (made in a real shoe factory). The Fashion Angels are hip, sweet, intelligent and soulful. Pictured are Lulu, Bebe, Debo and Izzy. This product received a 2007 Oppenheim Toy Portfolio Gold Seal Best Toy Award.
— As of 05/13/2011 this product had 5 out of 5 stars from 2 reviews on Amazon.com. Cons: Wig may lose shape if not placed on the Fashion Angels wig stand.


8/30/2005 (Price: $36.00; Age: 8 and up) ENTER FASHION ANGELS TOYSHOW [Add to my Inquiry Basket][?]



Related Video:
Baffle Gab by DISCOVERY BAY GAMES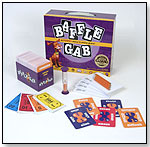 The fast, funny and easy-to-play creative writing game will appeal to classroom teachers who are looking for a fun way to supplement the language arts curriculum as well as families who like to have fun while challenging their creative writing abilities. To play, each player uses five Gabby words to write a story in less than one minute. A Spanish version of the game is also be available. This product is a winner of numerous awards, including a 2005, 2006 and 2007 Creative Child Magazine Game of the Year Award, 2005, 2006 and 2007 Parent to Parent Foundation Adding Wisdom Award, a 2006 Earlychildhood NEWS Director's Choice Award and a 2005 iParenting Media Best New Products Hot Award.
2/25/2005 (Price: $29.95; Age: 7 and up) [Add to my Inquiry Basket][?]



Related Video:
Gazillion Bubble Linkz by FUNRISE INC.

Kids can create a never-ending stream of colorful bubbles with the Bubble Linkz bubble blower. This motorized bubble blower allows users to blow tons of bubbles without running out of breath. It includes a 4 oz. bottle of Gazillion Bubble solution. This product received a 2007 Best Product iParenting Media Award.
11/8/2004 (Price: $7.99) [Add to my Inquiry Basket][?]



Related Video:
Following are some of the programs represented in TDmonthly.com's section of award winners: Dr. Toy, iParenting Media Awards, TIA T.O.T.Y., Oppenheim Toy Portfolio, The National Parenting Center, and Parents' Choice Awards.

You may also access TDmonthly's review section to see which products earned 5 TD stars.