The Few, The Proud...The Award-Winning Toys!
Who Made the Cut This Year?
By Alison Marek and Julie L. Jones
---
Thousands of products are introduced to the toy industry every year, but only a limited number are good enough, playable enough and innovative enough to garner an award.

In addition to issuing TDmonthly Awards, TDmonthly Magazine regularly asks manufacturers to present their award winners to our readers so that retailers can quickly identify products with great potential and manufacturers can learn and be inspired by others' successes. Here are the most recent responses:
Parenting with Purpose: Five Keys to Raising Children with Values and Vision by PERSONHOOD PRESS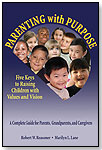 Written by Robert W. Reasoner and Marilyn L. Lane, this guide for parents, grandparents and other caregivers offers strategies and suggestions that can contribute to raising children who are responsible, respectful, happy, motivated, caring and successful. "The ideas, suggestions and strategies in this book offer a roadmap to allow a family to choose their destination and truly enjoy their journey together," Publisher Cathy Winch of Personhood Press told TDmonthly. "Readers will find chapters that focus on specific needs and situations such as parenting the gifted child, the foster child, and the child with learning disabilities, special physical needs, ADHD or the spectrum of Autism." This title received an iParenting Media Award. Launch date: May 2007.
11/28/2007 (Price: $14.95; ) [Add to my Inquiry Basket][?]



Related Video:
You Can Dance! by THE LEARNING STATION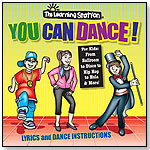 This 69-minute dance fitness CD features 19 songs that go with various styles of dance — ballroom, disco, hip hop, free form clogging and much more. It includes a 24-page booklet with lyrics and dance instructions, and is designed to introduce children to basic dance moves that help with natural rhythm and motor skills. "Creative movement and dance is an enjoyable way for kids to develop their physical strength, channel their energy, stimulate their imagination, promote their creativity and foster their social skills — especially if adults and other children get involved," Laurie Monopoli of The Learning Station told TDmonthly. Launch date: August 31, 2007.
Awards: A TDmonthly Classics Award for being an all-time favorite children's product.
11/27/2007 (Price: $15.00; Age: 3 to 8) [Add to my Inquiry Basket][?]



Related Video:
Blunders™ - Make Learning Manners Fun by SUCCESSFUL KIDS INC.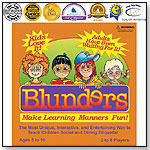 The adorable characters of Becky, Bobby, Brenda and Billy Blunder revolutionize the way manners are taught. The game includes a game board, a story book and 300 fun and interactive charade, multiple-choice, scenario and true/false questions covering social and dining etiquette. "Blunders™ is the only board game on the market today that makes learning manners interactive and fun!" Successful Kids Inc. President Aimee Symington told TDmonthly. This game has received the following awards: Dr. Toy, National Parenting Center Seal of Approval, iParenting Media, Creative Child Preferred Choice, Mr. Dad Seal of Approval, eChoice, and The Toy Man Award of Excellence and Seal of Approval. Launch date: February 17, 2008.
— "I've loved the Blunders Game from the moment I was introduced to it. Now you can reinforce manners at one of the places where manners are key. Manner Mats takes the blunders concept and turns it into a set of 38 table mats. The mats include tones of games including word searches, challenges, multiple choice, what is wrong with the picture, complete the sentence and many more. Another innovative way to teach manners without having to point your finger," Jennifer Shuman, owner of 1SmartNoodle, told TDmonthly at Toy Fair 2010.

Past videos: Toy Fair 2009


11/27/2007 (Price: $24.95; Age: 5 to 10) [Add to my Inquiry Basket][?]



Related Video:
Goosie Cards® by GOOSIE CARDS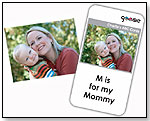 Each flashcard can be customized with personal photos and text to fit the needs of each specific child, making it a powerful teaching tool for autistic children. The innovative flash cards teach children about the world around them through their personal photos. This item, made in the U.S., is recommended for children ages 3 months and up. "Goosie Cards are the first and only custom flash cards on the market!" Goosie LLC Founder and CEO Jennifer Marchetti told TDmonthly. This product received a 2008 Product of the Year Award from Creative Child Magazine, a 2008 Baby Planners Seal of Approval and a 2008 Family Review Center Editors' Choice Award. Launch date: May 2007.
11/21/2007 (Price: $34.00; Age: 0 and up) [Add to my Inquiry Basket][?]



Related Video:
FeltTales™ Let's Go to the Ballet Storyboard by BABALU INC.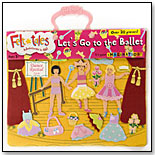 These ballerinas practiced so hard in class, learning a beautiful dance, and now they can't wait to perform for their friends and families. This 15" x 13" feltboard includes more than 20 themed felt pieces. It received a 2008 iParenting Media Award.
11/21/2007 (Price: $19.99; Age: 3 and up) [Add to my Inquiry Basket][?]



Related Video:
Hop Ball by TMI TOYMARKETING INTERNATIONAL INC.



Made in Italy, the Gymnic Line's Hop ball is the very best quality in hopping balls. Made of super strong, yet soft latex-free vinyl, for long lasting use and durability. Great exercise product for indoors and smooth safe outdoor surfaces. Promotes children's body coordination, balance, lymph circulation and provides a fun workout while hopping on the ball.
Awards: A TDmonthly Classics Award for being an all-time favorite toy.
— As of 7/21/2011 this product had 5 out of 5 stars from 2 reviews on Amazon.com.
11/20/2007 (Age: 3 and up) ENTER TMI TOYMARKETING INTERNATIONAL INC. TOYSHOW [Add to my Inquiry Basket][?]



Related Video:
Scout, the Cloud Idbid Kit by IDBIDS LLC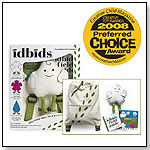 Yes, he's a little out there. But that's a good thing. It gives him a "big picture" view of what's happening on Earth. (The reason he claims to be group leader – much to the chagrin of the others.) He's loyal, honest and a good listener. But fair warning, he can get a little cranky on the subject of air pollution.
AREA OF EXPERTISE: The air we breathe
INTERESTING FACT: A bird watcher of great renown (he runs into them all day, every day)
Scout is a huggable, soft, plush toy handcrafted in Egypt with 100% organic Egyptian cotton. No two are alike - just like children!
— "Idbids are made of organic cotton and all kit components are made from Earth-friendly materials – and they're incredibly adorable!" Idbids LLC representative Tracey Smith told TDmonthly. Launch date: February 2008. The product line received a 2008 Preferred Choice Award from Creative Child Magazine.
11/19/2007 (Price: $39.99; Age: 3 and up) [Add to my Inquiry Basket][?]



Related Video:
JARTS™ by FUNDEX GAMES

The classic lawn game has returned for more backyard fun. Players take turns tossing two safe Jarts into the target ring 35 feet away. Score a ringer and nab three points. The player closest to the ring earns one point. This aerodynamic take on Horseshoes is guaranteed to save backyard barbecues, one toss at a time! Includes four Jarts, two target rings and instructions. This product is a 2008 iParenting Media Award winner. Launch date: January 2008.
11/19/2007 (Price: $19.99; Age: 8 and up) [Add to my Inquiry Basket][?]



Related Video:
Bob the Builder™: On-Site Roads & Bridges DVD by HIT ENTERTAINMENT

Hit Entertainment and Twentieth Century Fox presents this 60-minute video of Bob and his first adventure to a real-life construction site. This product received a 2008 Parents' Choice Recommended award and a Dove Family Approved Seal. Launch date: February 5, 2008.
11/14/2007 (Price: $19.98) [Add to my Inquiry Basket][?]



Related Video:
TruKid™ Healthy Habits Pack by TRUKID INC.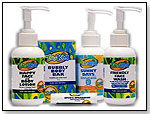 The pack includes the Happy Face and Body Lotion, the Bubbly Body Bar, the Sunny Days SPF 30" Natural Mineral Sunscreen, the Friendly Face Wash and the Spiffy Spearmint Lip Balm. These products are developed specially for kids, and are free of harmful chemicals like parabens and sodium lauryl sulfate. All items can also be purchased individually. This set received a 2008 iParenting Media Award.
11/14/2007 (Price: $38.50) [Add to my Inquiry Basket][?]



Related Video:
Following are some of the programs represented in TDmonthly.com's section of award winners: Dr. Toy, iParenting Media Awards, TIA T.O.T.Y., Oppenheim Toy Portfolio, The National Parenting Center, and Parents' Choice Awards.

You may also access TDmonthly's review section to see which products earned 5 TD stars.